_____________________________
Secret follows secret in this exploration of marriage, identity, feminism, and passion. Book clubs will love the story of Angela Dunnewald's romantic and artistic journey in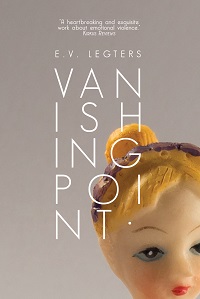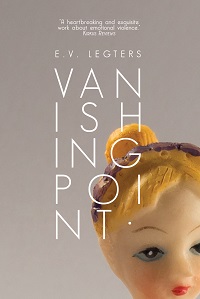 Vanishing Point by E. V. Legters
Years into a secure marriage, Angela feels she's fraying. Her attorney husband can be controlling, and her best friend demanding; Angela's days, at one time full, but perhaps at no time satisfying, have become difficult to face. Just as she discovers how fragile she's become, she looks through the pristine glass of her window to see . . . a shadow? An intruder?
It's Daniel, a young man with a complicated present and past. Through him, she fights the temptation to vanish inside the demands of her marriage, and, with him, strives towards a better understanding of herself. Desire – for love, for connection, for meaning – bubbles to the surface. No one is as they seem.
Emerging from a life without truth, Angela can no longer tolerate anything less than raw, unfiltered reality. Who will define her life now? Kirkus Reviews calls Vanishing Point "A heartbreaking and exquisite story about emotional violence." Book clubs will find much to discuss.

Purchase Links
_____________________________
The insanity and intensity of first love is the theme of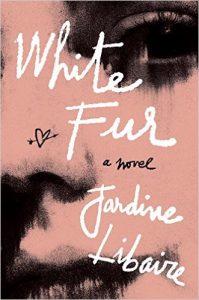 White Fur by Jardine LiBaire
A stunning star-crossed love story set against the glitz and grit of 1980s New York City
When Elise Perez meets Jamey Hyde on a desolate winter afternoon, fate implodes, and neither of their lives will ever be the same. Although they are next-door neighbors in New Haven, they come from different worlds. Elise grew up in public housing without a father and didn't graduate from high school; Jamey is a junior at Yale, heir to a private investment bank fortune and beholden to high family expectations. Nevertheless, the attraction is instant, and what starts out as sexual obsession turns into something greater, stranger, and impossible to ignore.
The unlikely couple moves to Manhattan in hopes of forging an adult life together, but Jamey's family intervenes in desperation, and the consequences of staying together are suddenly severe. And when a night out with old friends takes a shocking turn, Jamey and Elise find themselves fighting not just for their love, but also for their lives.
White Fur follows these indelible characters on their wild race through Newport mansions and downtown NYC nightspots, SoHo bars and WASP-establishment yacht clubs, through bedrooms and hospital rooms, as they explore, love, play, and suffer. Jardine Libaire combines the electricity of Less Than Zero with the timeless intensity of Romeo and Juliet in this searing, gorgeously written novel that perfectly captures the ferocity of young love.
.
"Each page crackles with the intensity, fury, lust, and pure insane pleasure of first love. Jardine Libaire has written a chronicle of one couple's wild romance: its highs and lows, its delights and contractions, its beauty and its messiness. A delight to read."—Nathan Hill, author of The Nix
"Brilliantly written and deeply felt, this is a love story by turns comic and tragic, but always moving. Whether her characters are on the social register or the welfare roll, Libaire is a keen observer of human nature."—Philipp Meyer
"White Fur is glorious: dark, dirty, and sexy, lit up with yearning and raw, young love. Libaire's sentences left me breathless. This is a Roman candle of a novel. I absolutely loved it."—Amanda Eyre Ward, author of The Nearness of You and What Was Lost
"This sexy American fairytale about a star-crossed couple solidifies Jardine Libaire's status as poet laureate of late nights and young love."—Ada Calhoun, author of St. Marks Is Dead 
.


Purchase Links
_____________________________
Book clubs will discuss scandal and racial prejudice, privilege and class in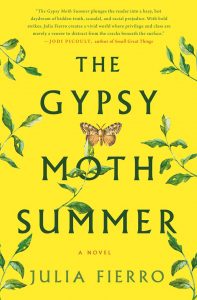 The Gypsy Moth Summer by Julia Fierro
ONE OF THE MOST ANTICIPATED BOOKS OF 2017
The Huffington Post: 2017 Book Preview: 33 Titles To Add To Your Shelf
The Week: 28 books to read in 2017
The Millions: The Great 2017 Book Preview
Nylon Magazine: 50 Books We Can't Wait To Read In 2017
Read It Forward: 17 Books We're Excited to Read in 2017
"Fierro doesn't just observe, she knows. Like all great novelists, she gives us the world." – Amy Bloom, bestselling author of Away and Lucky Us
It is the summer of 1992 and a gypsy moth invasion blankets Avalon Island. Ravenous caterpillars disrupt early summer serenity on Avalon, an islet off the coast of Long Island–dropping onto novels left open on picnic blankets, crawling across the T-shirts of children playing games of tag and capture the flag in the island's leafy woods. The caterpillars become a relentless topic of island conversation and the inescapable soundtrack of the season.
It is also the summer Leslie Day Marshall–only daughter of Avalon's most prominent family–returns with her husband, a botanist, and their children to live in "The Castle," the island's grandest estate. Leslie's husband Jules is African-American, and their children bi-racial, and islanders from both sides of the tracks form fast and dangerous opinions about the new arrivals.
Maddie Pencott LaRosa straddles those tracks: a teen queen with roots in the tony precincts of East Avalon and the crowded working class corner of West Avalon, home to Grudder Aviation factory, the island's bread-and-butter and birthplace of generations of bombers and war machines. Maddie falls in love with Brooks, Leslie's and Jules' son, and that love feels as urgent to Maddie as the questions about the new and deadly cancers showing up across the island. Could Grudder Aviation, the pride of the island–and its patriarch, the Colonel–be to blame?
As the gypsy moths burst from cocoons in flocks that seem to eclipse the sun, Maddie's and Brooks' passion for each other grows and she begins planning a life for them off Avalon Island.
Vivid with young lovers, gangs of anxious outsiders; a plotting aged matriarch and her husband, a demented military patriarch; and a troubled young boy, each seeking his or her own refuge, escape and revenge, The Gypsy Moth Summer is about love, gaps in understanding, and the struggle to connect: within families; among friends; between neighbors and entire generations.
"THE GYPSY MOTH SUMMER plunges the reader into a hazy, hot daydream of hidden truth, scandal, and racial prejudice. With bold strokes, Julia Fierro creates a vivid world where privilege and class are merely a veneer to distract from the cracks beneath the surface." — Jodi Picoult, NYT bestselling author of SMALL GREAT THINGS and LEAVING TIME

Purchase Links
_____________________________
Book clubs will enjoy this story of second chances and unconditional love!
Hunter is the author of A December Bride and A Convenient Groom, now Hallmark Channel Original Movies!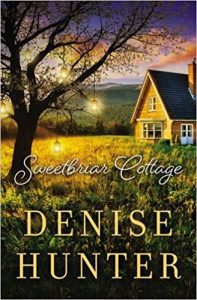 Sweetbriar Cottage by Denise Hunter
When Noah and Josephine Mitchell discover their divorce was never actually finalized, their lives are turned upside down.
Following his divorce, Noah gave up his dream job, settling at a remote horse ranch in the Blue Ridge Mountains of northern Georgia, putting much-needed distance between himself and the former love of his life. But then Noah gets a letter from the IRS claiming he and Josephine are still married. When he confronts Josephine for the first time in months, they discover that she missed the final step in filing the paperwork and they are, in fact, still married.
Josephine is no happier about the news than Noah. Maybe the failed marriage—and okay, the botched divorce—was her fault, but her heart was shattered right alongside his, more than he would ever believe. The sooner they put this marriage behind them, the better for both of their sakes.
But when Josephine delivers the final paperwork to his ranch, the two become stranded in his cottage during the worst spring snowstorm in a decade. Being trapped with Josephine is a test of Noah's endurance. He wrestles with resentment and an unmistakable pull to his wife—still beautiful, still brave, and still more intriguing than any woman he's ever known.
As they find themselves confronted with each other and their shared past, old wounds surface and tempers flare. But when they are forced out into the storm, they must rely on each other in a way they never have before. Josephine finally opens up about her tragic past, and Noah realizes she's never been loved unconditionally by anyone—including him. Will Noah accept the challenge to pursue Josephine's heart? And can she finally find the courage to trust Noah?
"Sweetbriar Cottage is a wonderful story, full of emotional tension and evocative prose. Josephine and Noah, though deeply wounded, are easy to love in this story of second chances and unconditional love. Hunter slowly feeds critical pieces of backstory to keep the pages turning. You'll feel involved in these characters' lives and carried along by their story as tension ratchets up to a climactic and satisfying conclusion. Terrific read. I thoroughly enjoyed it." —FRANCINE RIVERS, bestselling author of Redeeming Love
"Denise Hunter's newest novel, Sweetbriar Cottage, is a story to fall in love with. True-to-life characters, high stakes, and powerful chemistry blend to tell an emotional story of reconciliation. Readers will sympathize with Josephine's tragic past and root for a happy ending as old wounds give way to new beginnings." –BRENDA NOVAK, NYT bestselling author
"Hunter crafts Noah and Josephine's convoluted relationship with remarkable depth, immersing readers into a fragile and soul-searching experience." —Publisher's Weekly
.

Purchase Links
_____________________________
A National Book Award Finalist, book clubs will find deep meaning in this historical of honor and family in its unconventional forms in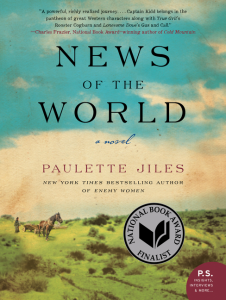 News of the World by Paulette Jiles
In the aftermath of the Civil War, an aging itinerant news reader agrees to transport a young captive of the Kiowa back to her people in this exquisitely rendered, morally complex, multilayered novel of historical fiction from the author of Enemy Women that explores the boundaries of family, responsibility, honor, and trust.
In the wake of the Civil War, Captain Jefferson Kyle Kidd travels through northern Texas, giving live readings from newspapers to paying audiences hungry for news of the world. An elderly widower who has lived through three wars and fought in two of them, the captain enjoys his rootless, solitary existence.
In Wichita Falls, he is offered a $50 gold piece to deliver a young orphan to her relatives in San Antonio. Four years earlier, a band of Kiowa raiders killed Johanna's parents and sister; sparing the little girl, they raised her as one of their own. Recently rescued by the U.S. army, the ten-year-old has once again been torn away from the only home she knows.
Their 400-mile journey south through unsettled territory and unforgiving terrain proves difficult and at times dangerous. Johanna has forgotten the English language, tries to escape at every opportunity, throws away her shoes, and refuses to act "civilized." Yet as the miles pass, the two lonely survivors tentatively begin to trust each other, forming a bond that marks the difference between life and death in this treacherous land.
Arriving in San Antonio, the reunion is neither happy nor welcome. The captain must hand Johanna over to an aunt and uncle she does not remember—strangers who regard her as an unwanted burden. A respectable man, Captain Kidd is faced with a terrible choice: abandon the girl to her fate or become—in the eyes of the law—a kidnapper himself.

Purchase Links
_____________________________
Please fill out our super short registration form (<—click here) by June 30th for a chance to win a set of up to ten copies of one of these great books for your book club! We will randomly choose a winner at the end of the month. This contest is open to clubs in the US only (our apologies to friends in other countries). 
.
Best of luck!
We 
LOVE

 Book Clubs!