_____________________________
Book clubs will love this mystery about a crime reporter searching for her kidnapped son who must untangle the connection to her brother's long-ago disappearance.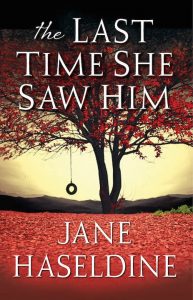 The Last Time She Saw Him by Jane Haseldine
Julia Gooden remembers nothing about the worst night of her life. Thirty years ago, her nine-year-old brother Ben—the person who promised he would always protect her—was abducted from the room they shared. Try as she might to recall any clue or detail, there is a black hole where Julia's memories of that terrible event should be.
Now a crime reporter at a Detroit newspaper, Julia tries to give others the closure she's never found. But guilt and grief over Ben's disappearance have left her fearful that whoever took her brother is going to come back. Nowhere seems safe—not the city, not the suburbs, not even the secluded lake town where she plans to raise her children. And then, on the anniversary of Ben's disappearance, Julia's worst fears are realized when her two-year-old son, Will, is snatched from his bed.
Convinced that the crimes are related, Julia tries to piece together memories from her final day with Ben. Are the sudden reminders of her brother clues that will lead her to her son's abductor, or merely coincidence? Julia knows she has hours at best to find Will alive, but the deeper she digs, the more personal and terrifying the battle becomes, and an undying promise may be her only hope of saving herself and her son.

Purchase Links
_____________________________
With themes like identity, ethics, parenthood and art, book clubs will find much to discuss in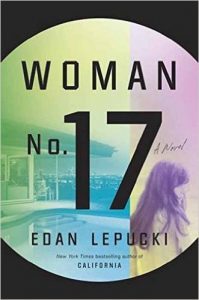 Woman No. 17 by Edan Lepucki
A sinister, sexy noir about art, motherhood, and the intensity of female friendships, set in the posh hills above Los Angeles, from the New York Times bestselling author of California
 
High in the Hollywood Hills, writer Lady Daniels has decided to take a break from her husband. Left alone with her children, she's going to need a hand taking care of her young son if she's ever going to finish her memoir. In response to a Craigslist ad, S arrives, a magnetic young artist who will live in the secluded guest house out back, care for Lady's toddler, Devin, and keep a watchful eye on her older, teenage son, Seth. S performs her day job beautifully, quickly drawing the entire family into her orbit, and becoming a confidante for Lady.
But in the heat of the summer, S's connection to Lady's older son takes a disturbing, and possibly destructive, turn. And as Lady and S move closer to one another, the glossy veneer of Lady's privileged life begins to crack, threatening to expose old secrets that she has been keeping from her family. Meanwhile, S is protecting secrets of her own, about her real motivation for taking the job. S and Lady are both playing a careful game, and every move they make endangers the things they hold most dear.
Darkly comic, twisty and tense, this mesmerizing new novel defies expectation and proves Edan Lepucki to be one of the most talented and exciting voices of her generation.
"In Woman No. 17, Lepucki has crafted an intricate, gripping story of people behaving very badly. You will want to race to the end to see what happens, but don't cheat yourself. This book deserves to be savored –gorgeously written, darkly comic, smart and thrilling."– CYNTHIA D'APRIX SWEENEY, New York Times bestselling author of The Nest
"Woman No. 17 fizzes with references to contemporary culture and sparks with larger, timeless questions: Where is the line between performance and identity? What separates life from art? And can we ever escape the gravitational pull of our parents? Edan Lepucki shows herself to be a sharp-eyed chronicler of our modern world."– CELESTE NG, New York Times bestselling author of Everything I Never Told You
"Woman No. 17 is a provocative and timely meditation on art, authenticity and representation in a digital age. The increasingly gripping plot suggests the outcomes of a thriller, but at the crucial moment the novel swerves toward subtly profound truths about our capacity for self-sabotage and self-reinvention, the power of trauma to shape lives, and the inexorable gravity of family secrets. Lepucki's smooth prose and deft handling of point of view reveal a writer fully in command."
—MATTHEW THOMAS, New York Times bestselling author of We Are Not Ourselves
"Taut as a thriller (with plenty of sex and secrets), Woman No. 17 raises big questions about identity, art, ethics, parenthood, and more. In Edan Lepucki's hands, the philosophical is transformed into a page turner; I don't know how she does it." –RUMAAN ALAM, author of Rich & Pretty
.


Purchase Links
_____________________________
Is death really the final goodbye?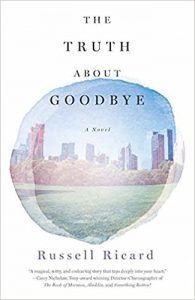 The Truth About Goodbye by Russell Ricard
Sebastian Hart has dealt with a lifetime of goodbyes. And now, a year after his husband Frank's death, the forty-year-old chorus boy still blames himself. After all, Sebastian started the argument that night over one of Frank's former date items, someone younger than Sebastian who still wanted Frank.
Challenged by his best friend, the quirky ex-Rockettes dancer Chloe, Sebastian struggles toward his dream of becoming a choreographer and grapples with romantic feelings for Reid, a new student in his tap class.
Ultimately, Sebastian begins to wonder whether it's his imagination, or not, that Frank's ghost is here, warning him that he daren't move on with another love. He questions the truth: Is death really the final goodbye?
"Ricard offers a thoughtful debut novel . . . The narrative is endearing and impressively assured, and it will be an entertaining treat for fans of LGBT romantic fiction." –Kirkus Reviews
"A magical, witty, and endearing story that taps deeply into your heart." –Casey Nicholaw, Tony-award winning Director-Choreographer of The Book of Mormon, Aladdin, and Something Rotten!

Purchase Link:
_____________________________
Please fill out our super short registration form (<—click here) by May 31st for a chance to win a set of up to ten copies of one of these great books for your book club! We will randomly choose a winner at the end of the month. This contest is open to clubs in the US only (our apologies to friends in other countries). 
.
Best of luck!
We 
LOVE

 Book Clubs!