_____________________________
Every Wild Heart will capture the heart of your book club with its exploration of love and the strength of the bond between a mother and daughter.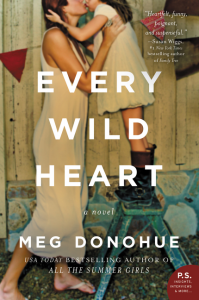 Every Wild Heart by Meg Donohue
From USA Today bestselling author Meg Donohue comes a mystery, a love story, and a mother-daughter tale about two women on a precarious journey to uncover their true selves.
Passionate and funny, radio personality Gail Gideon is a true original. Nine years ago when Gail's husband announced that he wanted a divorce, her ensuing on-air rant propelled her local radio show into the national spotlight. Now, "The Gail Gideon Show" is beloved by millions of single women who tune-in for her advice on the power of self-reinvention. But fame comes at a price. After all, what does a woman who has staked her career on being single do when she finds herself falling in love? And is the person who is harassing her in increasingly troubling ways a misguided fan or a true danger to Gail and her daughter, Nic?
Fourteen-year-old Nic has always felt that she pales in comparison to her vibrant, outgoing mother. Plagued by a fear of social situations, she is most comfortable at the stable where she spends her afternoons. But when a riding accident lands Nic in the hospital, she awakens from her coma changed. Suddenly, she has no fear at all and her disconcerting behavior lands her in one risky situation after another. And no one, least of all her mother, can guess what she will do next…

Purchase Links
_____________________________
Book clubs will love this fast paced mystery about a headstrong crime reporter haunted by her brother's childhood disappearance who will risk everything to protect her family from a notorious crime boss.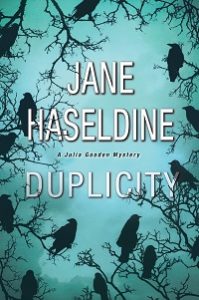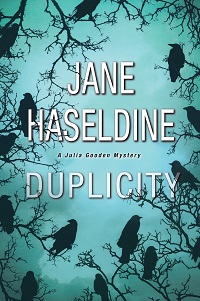 Duplicity by Jane Haseldine
In Jane Haseldine's new novel of riveting suspense, Detroit newspaper reporter Julia Gooden is up against the city's most devious criminal—and her own painful past.
Julia Gooden knows how to juggle different lives. A successful crime reporter, she covers the grittiest stories in the city while raising her two young boys in the suburbs. But beneath that accomplished façade is another Julia, still consumed by a tragedy that unfolded thirty years ago when her nine-year-old brother disappeared without a trace.
Julia's marriage, too, is a balancing act, as she tries to rekindle her relationship with her husband, Assistant District Attorney David Tanner, while maintaining professional boundaries. David is about to bring Nick Rossi to trial for crimes that include drug trafficking, illegal gambling, and bribery. But the story becomes much more urgent when a courthouse bomb claims several victims—including the prosecution's key witness—and leaves David critically injured.
Though Julia is certain that Rossi orchestrated the attack, the case against him is collapsing, and his power and connections run high and wide. With the help of Detective Raymond Navarro of the Detroit PD, she starts following a trail of blackmail, payback, and political ambition, little imagining where it will lead. Julia has risked her career before, but this time innocent lives—including her children's—hang in the balance, and justice may come too late to save what truly matters…

Purchase Links
_____________________________
The golden cowboy of Wrangler's Creek returns home to Texas to discover some old flames never fizzle…
Book clubs will love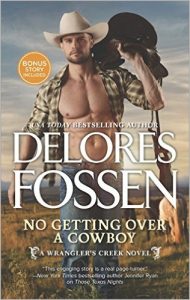 No Getting Over a Cowboy by Delores Fossen
There are plenty of things Garrett Granger hadn't counted on losing—his child to miscarriage, his wife to another man and the family business thanks to a crooked CFO. He also hadn't counted on moving back to the family ranch, where he's met by another surprise—former flame Nicky Marlow, who is renting his grandmother's old house.
Nicky's been rebuilding her shattered life since her husband's death two years ago. But Garrett's timely arrival in Wrangler's Creek doesn't automatically make him the missing piece of the puzzle. Even if he does seem to adore her two-year-old daughter… Even if seeing him again stirs up old feelings Nicky would gladly keep buried, forcing her to wonder if moving forward has to mean leaving everything behind…

Purchase Links
_____________________________
Book clubs will discuss friends and lovers in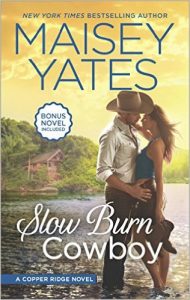 Slow Burn Cowboy by Maisey Yates
In Copper Ridge, Oregon, a cowboy's best friend might turn out to be the woman of his dreams… 
If Finn Donnelly makes a plan, he sticks to it. After his brothers left Copper Ridge, Finn stayed behind, determined to keep their ranch going by himself. And when he realized his feelings for Lane Jensen were more than platonic, he shoved that inconvenient desire away. It was easy…until it wasn't. Suddenly his brothers are coming home to claim their share of the property. And Lane is no longer just in his fantasies. She's in his arms, and their friendship is on the line…
He's been her buddy, her handyman, her rock. But until that one breathtaking kiss, Lane somehow overlooked the most important thing about Finn Donnelly—he's all man. They're right together, no matter how much his volatile past has bruised him. Finn wants to hold Lane's body, but he doesn't want to hold her heart. But Lane is falling fast and now she's got a plan of her own…to show Finn there's nothing hotter than friendship turned to slow-burning love.
Also includes a bonus Copper Ridge novel, Take Me, Cowboy!

Purchase Links
_____________________________
Please fill out our super short registration form (<—click here) by April 30th for a chance to win a set of up to ten copies of one of these great books for your book club! We will randomly choose a winner at the end of the month. This contest is open to clubs in the US only (our apologies to friends in other countries). 
.
Best of luck!
We 
LOVE

 Book Clubs!