_____________________________
Book Clubs will love this gripping story
about the power of friendship.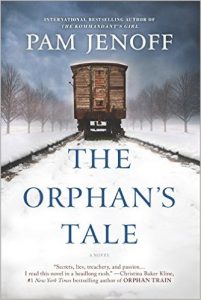 The Orphan's Tale by Pam Jenoff
A powerful novel of friendship set in a traveling circus during World War II, The Orphan's Tale introduces two extraordinary women and their harrowing stories of sacrifice and survival 
Sixteen-year-old Noa has been cast out in disgrace after becoming pregnant by a Nazi soldier and being forced to give up her baby. She lives above a small rail station, which she cleans in order to earn her keep… When Noa discovers a boxcar containing dozens of Jewish infants bound for a concentration camp, she is reminded of the child that was taken from her. And in a moment that will change the course of her life, she snatches one of the babies and flees into the snowy night.
Noa finds refuge with a German circus, but she must learn the flying trapeze act so she can blend in undetected, spurning the resentment of the lead aerialist, Astrid. At first rivals, Noa and Astrid soon forge a powerful bond. But as the facade that protects them proves increasingly tenuous, Noa and Astrid must decide whether their friendship is enough to save one another—or if the secrets that burn between them will destroy everything.
"I read this novel in a headlong rush, transported by the relationship between two vastly different women during World War II: a Jewish circus aerialist and a teenage runaway with a baby. Deftly juggling secrets, lies, treachery, and passion, Pam Jenoff vividly brings to life the agonizing choices and life-or-death consequences for a hardy band of travelers under Nazi occupation."—Christina Baker Kline, New York Times bestselling author of Orphan Train
"Readers who enjoyed Kristin Hannah's The Nightingale and Sara Gruen's Water for Elephants will embrace this novel."—Library Journal
"In prose that is beautiful, ethereal, and poignant, The Orphan's Tale is a novel you won't be able to put down."—Bustle
"A gripping story about the power of friendship to save and redeem even in the darkest of circumstances, The Orphan's Tale sheds light on one of the most colorful and inspiring stories of heroism in Nazi Germany. This is a book not to be missed."—Melanie Benjamin, New York Times bestselling author of The Swans of Fifth Avenue and The Aviator's Wife
"Jenoff expertly performs a pirouetting tale worthy of a standing ovation. A circus of hidden Jews, a powerful friendship, The Orphan's Tale proves that the human spirit defies hate, fear, and gravity with a triumphant ta-da!"—Sarah McCoy, New York Times bestselling author of The Mapmaker's Children
.


Purchase Links
_____________________________
A Greek American family saga – a multigenerational story of love, loyalty, and culture.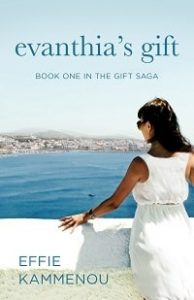 Evanthia's Gift by Effie Kammenou
In the year 1956, Anastacia Fotopoulos finds herself pregnant and betrayed, fleeing from a bad marriage. With the love and support of her dear friends Stavros and Soula Papadakis, Ana is able to face the challenges of single motherhood. Left with emotional wounds, she resists her growing affection for Alexandros Giannakos, an old acquaintance. But his persistence and unconditional love for Ana and her child is eventually rewarded and his love is returned. In a misguided, but well-intentioned effort to protect the ones they love, both Ana and Alex keep secrets – ones that could threaten the delicate balance of their family.
The story continues in the 1970's as Dean and Demi Papadakis, and Sophia Giannakos attempt to negotiate between two cultures. Now Greek-American teenagers, Sophia and Dean, who have shared a special connection since childhood, become lovers. Sophia is shattered when Dean rebels against the pressure his father places on him to uphold his Greek heritage and hides his feelings for her. When he pulls away from his family, culture and ultimately his love for her, Sophia is left with no choice but to find a life different from the one she'd hoped for.
Evanthia's Gift is a multigenerational love story spanning fifty years and crossing two continents, chronicling the lives that unify two families.

Purchase Links
_____________________________
Please fill out our super short registration form (<—click here) by March 31st for a chance to win a set of up to ten copies of one of these great books for your book club! We will randomly choose a winner at the end of the month. This contest is open to clubs in the US only (our apologies to friends in other countries). 
.
Best of luck!
We 
LOVE

 Book Clubs!