_____________________________
Book clubs will love the picture that bestselling author Christina Baker Kline paints about one of the most famous American paintings and the relationship between artist and subject in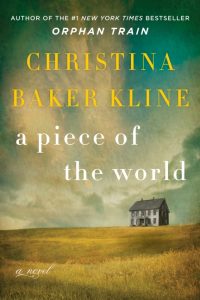 A Piece of the World by Christina Baker Kline
From the #1 New York Times bestselling author of the smash bestseller Orphan Train, a stunning and atmospheric novel of friendship, passion, and art, inspired by Andrew Wyeth's mysterious and iconic painting Christina's World.
"Later he told me that he'd been afraid to show me the painting. He thought I wouldn't like the way he portrayed me: dragging myself across the field, fingers clutching dirt, my legs twisted behind. The arid moonscape of wheatgrass and timothy. That dilapidated house in the distance, looming up like a secret that won't stay hidden."
To Christina Olson, the entire world was her family's remote farm in the small coastal town of Cushing, Maine. Born in the home her family had lived in for generations, and increasingly incapacitated by illness, Christina seemed destined for a small life. Instead, for more than twenty years, she was host and inspiration for the artist Andrew Wyeth, and became the subject of one of the best known American paintings of the twentieth century.
As she did in her beloved smash bestseller Orphan Train, Christina Baker Kline interweaves fact and fiction in a powerful novel that illuminates a little-known part of America's history. Bringing into focus the flesh-and-blood woman behind the portrait, she vividly imagines the life of a woman with a complicated relationship to her family and her past, and a special bond with one of our greatest modern artists.
Told in evocative and lucid prose, A Piece of the World is a story about the burdens and blessings of family history, and how artist and muse can come together to forge a new and timeless legacy.

Purchase Links
_____________________________
Parental love and a daughter's longing for connection
are themes in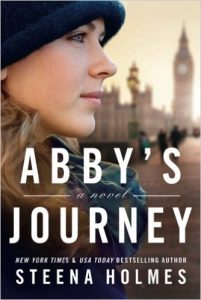 Abby's Journey by Steena Holmes
Twenty-year-old Abigail Turner has only known her mother, Claire—who died shortly after she was born—through letters, videos, postcards, and journals. Abby's father, Josh, has raised his precious daughter himself, but his overprotectiveness has become stifling. Abby longs to forge out on her own and see the world after a childhood trapped indoors: she suffers from bronchopulmonary dysplasia, which means a case of the sniffles can rapidly escalate into life-threatening pneumonia.
But when Abby's doctor declares her healthy—for now—her grandmother Millie whisks her away to Europe to visit the Christmas markets that her mother cherished and chronicled in her travel journals. Despite her father's objections, Abby and Millie embark on a journey of discovery in which Abby will learn secrets that force her to reevaluate her image of her mother and come to a more mature understanding of a parent-child bond that transcends death.
New York Times and USA Today bestselling author Steena Holmes offers a tender and heartfelt exploration of parental love and a daughter's longing for connection in the poignant next chapter following Saving Abby.
.


Purchase Links
_____________________________
What happens when life doesn't go as planned?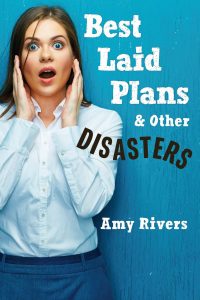 Best Laid Plans & Other Disasters by Amy Rivers
A year after she is elected mayor of a prosperous Colorado city, Gwen's career and life are fully on track, all according to plan. So why is she in such a slump emotionally and physically? New conflicts keep boiling over in city government, and her earlier allies no longer support her. She and her boyfriend have an ideal relationship, which she finds inexplicably dissatisfying. Without telling her, he decides to take a new job that has him traveling out of state every week. Suddenly unexpected developments turn everything topsy-turvy, and Gwen is forced to re-examine her carefully-planned life.
"Witty, warm, and compulsively readable.  Rivers has deftly created lovably flawed and relatable characters you don't want to miss." –Amy Avanzino, author of Wake-Up Call and From the Sideline

Purchase Link
_____________________________
Do you believe in miracles?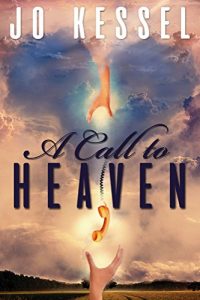 A Call to Heaven by Jo Kessel
If you loved the movie Ghost and the Time Traveler's Wife, or are fans of Mitch Albom, Karen Kingsbury, Jojo Moyes and Marian Keyes, then this is for you.
This story will also resonate with anyone who's lost someone close to them and wishes more than anything that they could speak to them again.
"Everybody's loved, everybody's lost.
Grief strips you raw and makes you feel as if you're sleepwalking through life, like the pain will never go away.
I'm Amy Tristan. I'm no different than anyone else. I've loved, I've lost and it sucks. I've got a five-year old son and an abusive husband. My mother died six months ago and I miss her like crazy.
I'm the biggest skeptic when it comes to other-worldly stuff, so when I'm told that I can pick up the phone and call my mum in Heaven, I should disbelieve it, right? Wrong. I pick up that phone, because there's nothing I want more than to hear her voice trickle into the receiver.
And you know what? It works. I get to speak to my mother. It's a miracle. If only it could stay this way, with those calls just for me, but someone up on high wants me to choose three other people to make a call to Heaven too. Who should I pick? How can I trust them to keep the phone secret? Making the choice is agonising – if I get it wrong, my calls will stop. I wish I hadn't told Daniel anything. He's this hot doctor that I've come to know. But doctors are scientists, and scientists are bigger sceptics than even me. He didn't believe in the phone. He thought I should be admitted to a sanatorium. Telling him was either the best decision of my life, or the worst. I'll let you decide…"
This story will appeal to lovers of paranormal romance, romantic comedies, general fiction and religious, spiritual and visionary fiction. It will also appeal to anyone who believes (or wants to believe) in miracles.
At the end of the book are questions for readers and book clubs to use as points of discussion.
.


Purchase Links
_____________________________
Please fill out our super short registration form (<—click here) by February 28th for a chance to win a set of up to ten copies of one of these great books for your book club! We will randomly choose a winner at the end of the month. This contest is open to clubs in the US only (our apologies to friends in other countries). 
Best of luck!
We 
LOVE

 Book Clubs!