_____________________________
Book Clubs will explore the special sibling relationship in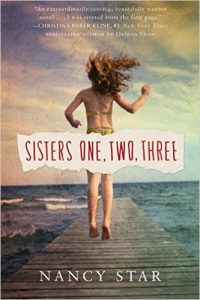 Sisters One, Two, Three by Nancy Star
After a tragic accident on Martha's Vineyard, keeping secrets becomes a way of life for the Tangle family. With memories locked away, the sisters take divergent paths. Callie disappears, Mimi keeps so busy she has no time to think, and Ginger develops a lifelong aversion to risk that threatens the relationships she holds most dear.
When a whispered comment overheard by her rebellious teenage daughter forces Ginger to reveal a long-held family secret, the Tangles' carefully constructed web of lies begins to unravel. Upon the death of Glory, the family's colorful matriarch, and the return of long-estranged Callie, Ginger resolves to return to Martha's Vineyard and piece together what really happened on that calamitous day when a shadow fell over four sun-kissed siblings playing at the shore. Along with Ginger's newfound understanding come the keys to reconciliation: with her mother, with her sisters, and with her daughter.
At turns heartbreaking, humorous, and hopeful, Sisters One, Two, Three explores not only the consequences of secrets—even secrets kept out of love—but also the courage it takes to speak the truth, to forgive, and to let go.
"An extraordinarily moving, beautifully written novel, Sisters One, Two, Three is a searing portrait of a family haunted by tragedy and fractured by the toxic power of secrets. As the story progresses, we grow to know and love the fierce and eccentric Tangles, a family at once familiar and like no other. I was riveted from the first page." —Christina Baker Kline, #1 New York Times bestselling author of Orphan Train
"With delightful wit and the prowess of an expert story teller, Star offers profound insight into the maternal heart in this deftly braided tale of the utterly original Tangles. Sisters One, Two, Three begs to be read in one big gulp—and will leave you with a lasting understanding of the treacherous balance between love and autonomy." —Lisa Gornick, author of Louisa Meets Bear
"Witty, compelling, and wise, Sisters One, Two, Three is the kind of novel I always crave but rarely find. Glory Tangle's relationship with her children, both as kids and as grown ups, is as real as it gets. She's a fantastic character, a match for the surprises to be found in the perfectly evoked island setting of Martha's Vineyard. I really loved each of the three sisters, too, and was very nervous for all of them! Nancy Star, thank you so much for the hours I spent in these pages." —Alice Elliott Dark, author of In The Gloaming and Think of England
"Nancy Star's gripping novel of mothers and daughters and sisters shows us how we can never escape our families—and why that may be our salvation. Full of surprising twists and deep emotional insights, Sisters One, Two, Three will keep you glued to your beach chair, casting worried glances at those little clouds threatening to gather into a storm. This book will transform the way you see your own family's past and its future along with the way you experience the power of now." —Pamela Redmond Satran, author of Younger
"What is it that fascinates us about the bonds between sisters? There have been many great stories about that special bond and this is no exception. Enter the Tangle sisters, held together by love, common experience, and a web of secrets. From cautious Ginger, to adventurous Callie, to busy bee Mimi, you won't be able to help seeing yourself in this family, the things that pull it apart and ultimately tie it back together. Set some time aside to read this gem; you won't regret it." —Catherine McKenzie, bestselling author of Hidden and Fractured

Purchase Links
_____________________________
Book Clubs will love this intimate portrait of the folly of the human heart!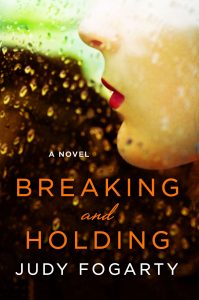 Breaking and Holding by Judy Fogarty
For Patricia Curren, the summer of 1978 begins with a devastating discovery: an unfamiliar black pearl button in the bed she shares with her controlling husband, Jack. Seeking the courage to end her desolate marriage, Patricia spends a quiet summer alone on beautiful Kiawah Island. But when she meets Terry Sloan, a collegiate tennis player trying to go pro, their physical attraction sparks a slow burn toward obsession.
Once Patricia and Terry share closely guarded secrets from their pasts, they want more than a summer together. But their love soon fractures, as a potential sponsor takes an unusually keen interest in Terry—both on court and off. And when single, career-driven Lynn Hewitt arrives, other secrets must surface, including the one Patricia has kept from Terry all summer.
An intimate portrait of the folly of the human heart, Breaking and Holding explores buried truths that are startlingly unveiled. What's left in their wake has the power not only to shatter lives…but to redeem them.
.


Purchase Links
_____________________________
Charming and entertaining! Book Clubs will love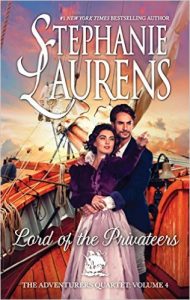 Lord of the Privateers by Stephanie Laurens
The eldest of the Frobisher brothers and widely known as the lord of the privateers, Royd Frobisher expects to execute the final leg of the rescue mission his brothers have been pursuing. What he does not expect is to be pressured into taking his emotional nemesis, childhood sweetheart, ex-handfasted bride, and current business partner, Isobel Carmichael, with him. But is it Isobel doing the pressuring, or his own restless unfulfilled psyche?
Resolute, determined, and an all but unstoppable force of nature, Isobel has a mission of her own—find her cousin Katherine and bring her safely home. And if, along the way, she can rid herself of the lingering dreams of a life with Royd that still haunt her, well and good.
Neither expects the shock that awaits them as they set sail aboard Royd's ship, much less the new horizons that open before them as they call into London, then, armed with the necessary orders and all arrangements in place, embark on a full-scale rescue-assault on the mining compound buried in the jungle.
Yet even with the support of his brothers and their ladies and, once rescued, all the ex-captives, Royd and Isobel discover that freeing the captives is only half the battle. In order to identify and convict the backers behind the illicit enterprise—and protect the government from catastrophic destabilization—they must return to the ballrooms of the haut ton, and with the help of a small army of supporters, hunt the villains on their home ground.
But having found each other again, having glimpsed the heaven that could be theirs again, how much are they willing to risk in the name of duty?
Praise for the works of Stephanie Laurens
"Stephanie Laurens' heroines are marvelous tributes to Georgette Heyer: feisty and strong." —Cathy Kelly
"Stephanie Laurens never fails to entertain and charm her readers with vibrant plots, snappy dialogue, and unforgettable characters." —Historical Romance Reviews
"Stephanie Laurens plays into readers' fantasies like a master and claims their hearts time and again." —Romantic Times Magazine
.


Purchase Links
_____________________________
Sharon Page sparkles in this poignant and irresistibly entertaining follow-up to her breakout novel, An American Duchess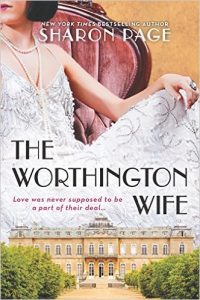 The Worthington Wife by Sharon Page
Sharon Page sparkles in this poignant and irresistibly entertaining follow-up to her breakout novel, An American Duchess 
Lady Julia Hazelton is the most dazzling among 1920s England's bright young things. But rather than choosing the thrill of wanton adventure like so many of her contemporaries, Julia shocks society with her bold business aspirations. Determined to usher the cursed Worthington estate into a prosperous, modern new era, and thus preserve her beloved late fiancé's legacy, the willful Julia tackles her wildest, most unexpected adventure in Cal Carstairs, the reluctant new Earl of Worthington.
The unconventional American artist threatens everything Julia seeks to protect while stirring desires she thought had died in the war. For reasons of his own, Cal has designed the ultimate revenge. Rather than see the estate prosper, he intends to destroy it. But their impulsive marriage—one that secures Julia's plans as well as Cal's secrets—proves that passion is ambition's greatest rival. Unless Cal ends his quest to satisfy his darkest vendetta, he stands to ruin his Worthington wife and all her glittering dreams.

Purchase Links
_____________________________
Please fill out our super short registration form (<—click here) by January 31st for a chance to win a set of up to ten copies of one of these great books for your book club! We will randomly choose a winner at the end of the month. This contest is open to clubs in the US only (our apologies to friends in other countries). 
Best of luck!
We 
LOVE

 Book Clubs!