_____________________________
Book clubs will love this story about the
families we choose for ourselves.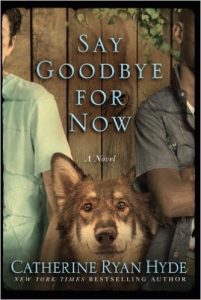 Say Goodbye for Now by Catherine Ryan Hyde
On an isolated Texas ranch, Dr. Lucy cares for abandoned animals. The solitude allows her to avoid the people and places that remind her of the past. Not that any of the townsfolk care. In 1959, no one is interested in a woman doctor. Nor are they welcoming Calvin and Justin Bell, a newly arrived African American father and son.
When Pete Solomon, a neglected twelve-year-old boy, and Justin bring a wounded wolf-dog hybrid to Dr. Lucy, the outcasts soon find refuge in one another. Lucy never thought she'd make connections again, never mind fall in love. Pete never imagined he'd find friends as loyal as Justin and the dog. But these four people aren't allowed to be friends, much less a family, when the whole town turns violently against them.
With heavy hearts, Dr. Lucy and Pete say goodbye to Calvin and Justin. But through the years they keep hope alive…waiting for the world to catch up with them.
"[A] heartwarming tale of transgression and redemption." —Kirkus Reviews
"A moving story about patience, trust, the families we choose, and the love it takes to let somebody go." —Booklist

Purchase Links
_____________________________
Book clubs will love this original story!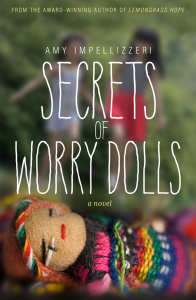 Secrets of Worry Dolls by Amy Impellizzeri
According to Mayan tradition, if you whisper your troubles to the Worry Dolls, they will do the worrying instead of you–therefore, it follows that Worry Dolls are the keepers of a great many secrets . . .
On the eve of the end of the world–according to the Mayan calendar–Mari Guarez Roselli's secrets are being unraveled by her daughter, Lu.
Lu's worry dolls are at-capacity as she tries to outrun the ghosts from her past–including loved ones stolen on 9/11–by traveling through her mother's homeland of Guatemala, to discover the painful reasons behind her own dysfunctional childhood, and why she must trust in the magic of the legend.
Early Praise for Secrets of Worry Dolls (Wyatt-MacKenzie, 2016):
.
"Spanning decades and continents, Secrets of Worry Dolls is a heartbreaking story about the ripple effect of our choices and the sometimes tragic consequence of survival. Mari and Lu will capture your imagination and your heart, and with Impellizzeri's signature magical touch, keep you flipping pages well into the night."–Kate Moretti, New York Times best-selling author of The Vanishing Year
"A truly original book – told with grace and style. Lu and Mari are vivid characters whose intertwining stories will move and surprise you."
–Sarah Pekkanen, Internationally best-selling author of The Opposite of Me
.
'In Secrets of Worry Dolls, masterful storyteller Amy Impellizzeri interweaves the tales of Mari and Lu to create an unforgettable, tender portrayal of mother – daughter relationships, love, and hope."–Cynthia Swanson, New York Times and USA Today best-selling author of The Bookseller: A Novel
"With heart, humor and her signature touch of magic, Amy Impellizzeri brings to life the tale of a mother and daughter each facing all together extraordinary circumstances. Secrets of Worry Dolls will make you laugh, cry, and, in the end, leave you completely spellbound. It is easily one of my favorite books of the year!"—Kristy Woodson Harvey, best-selling author of Dear Carolina and Lies and Other Acts of Love

Purchase Links
_____________________________
Heartbreak and hilarity! Book clubs will love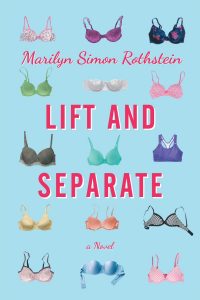 Lift And Separate by Marilyn Simon Rothstein
Marcy Hammer's life has been turned upside down. Her husband, the head of a global brassiere empire, didn't think twice about leaving her after thirty-three years of marriage for a 32DD lingerie model. Now Harvey the Home-Wrecker is missing in action, but Marcy's through thinking about what a cliché he is. What she needs now is a party-size bag of potato chips, a good support system, and a new dress.
Striking out on her own is difficult at first, but Marcy manages to find traces of humor in her heartbreak. Even while devastated by Harvey's departure, she still has her indomitable spirit and her self-respect. She has no intention of falling apart, either, even when her adult children drop a few bombshells of their own and she discovers a secret about her new, once-in-a-lifetime friend. Life may be full of setbacks, but by lifting herself up by her own lacy straps, Marcy just may be able to handle them all.
"Lift And Separate is a laugh-out-loud, heartwarming story that begs to be a blockbuster starring Nicholson and Keaton and shares the vulnerability, wisdom, and brilliance of Nora Ephron's Heartburn." —Jennifer Belle, bestselling author of High Maintenance
"Lift And Separate takes us on a funny but moving journey through heartbreak, hilarity, betrayal, and healing. Marcy Hammer is a hammer indeed! Rooting for her all the way, one is exhilarated by the journey Marilyn Simon Rothstein gives her without ever burning a single bra! Hip-hip hurrah!" —Lanie Robertson, writer of Lady Day at Emerson's Bar & Grill, the Tony Award–winning play 

Purchase Links
_____________________________
Please fill out our super short registration form (<—click here) by December 31st for a chance to win a set of up to ten copies of one of these great books for your book club! We will randomly choose a winner at the end of the month. This contest is open to clubs in the US only (our apologies to friends in other countries). 
Best of luck!
We 
LOVE

 Book Clubs!