_____________________________
Poignant, moving, and unforgettable, The Magic Strings of Frankie Presto shows how music touches, and changes, us all.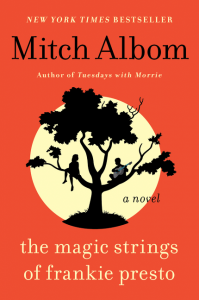 The Magic Strings of Frankie Presto by Mitch Albom
"Talent is a piece of God's shadow, and under that shadow, human stories intersect."
A Spanish war orphan born in a burning church and raised by a blind guitar teacher, Frankie Presto was gifted with extraordinary musical abilities that shape not only his life but the lives of those around him. At nine years old, Frankie meets the love of his life, Aurora; that same day, civil war tears apart his home and he is sent to America, smuggled in the bottom of a boat with only guitar and six strings imbued with the power to change lives.
Relying on music to survive, Frankie's talent weaves him through the musical landscape of the twentieth century, from Detroit's jazz scene and the Grand Ole Opry, to Elvis mania and Woodstock—all the while searching for Aurora.
As his fame grows, Frankie finds love, friendship, and celebrity. Even so, his gift becomes his burden, driving a wedge between him and his beloved Aurora—now his wife. Overwhelmed by life, loss, and the power of his strings, Frankie disappears for years, only to reemerge in a spectacular and mysterious farewell.
With its Forrest Gump–like journey through the music world, The Magic Strings of Frankie Presto is a classic in the making. "Everyone joins a band in this life," Albom observes, "only some of them play music."

Purchase Links
_____________________________
Book clubs will love this wild road trip memoir!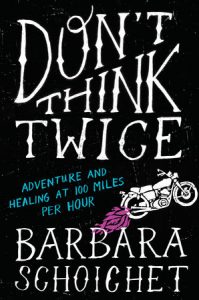 Don't Think Twice: Adventure and Healing at 100 Miles per Hour by Barbara Schoichet
A late-in-life coming-of-age escapade told with humor and heart, Don't Think Twice is a moving and irreverent account of grief, growing up, and the healing power of adventure.

Within six months, Barbara Schoichet lost everything: her job, her girlfriend of six years, and her mother to pancreatic cancer. Her life stripped bare, and armed with nothing but a death wish and a ton of attitude, Barbara pursues an unlikely method of coping. At the age of fifty she earns her motorcycle license, buys a Harley on eBay from two guys named Dave, and drives it alone from New York to Los Angeles on a circuitous trek loosely guided by her H.O.G. tour book and a whole lot of road whimsy.
On the open highway—where she daily takes her speed to a hundred—Barbara battles physical limitations and inner demons on a journey that flows through the majestic Appalachian Mountains, the enchanting Turquoise Trail, and all along America's iconic Route 66. She is awed by the battlefields in Gettysburg, stunned by the decadence of Graceland, and amused by a Cadillac graveyard in the middle of nowhere. She meets kind strangers, odd strangers, and a guy who pulls a gun on her for cutting him off. She is vulnerable but sassy, broken but determined to heal . . . or die trying.
"The memoir stands as a monument to self-confidence and self-direction and to doing what you feel compelled to do, even when people cluck and you can't explain to yourself why you're doing it."—Publishers Weekly
"An all-inclusive and honest account of how one woman used a motorcycle journey to come to grips with painful events in her life… Schoichet's account will resonate with bikers and with those who have always wondered what it feels like to go 100 miles per hour on a motorcycle."—Kirkus Reviews

"Finally, a road trip—dangerous, exciting, and illuminating—taken by a woman, and on a motorcycle!  Yesss!  This is inspiring to those of us who can't but who wish we could."—Jane Juska, author of A Round-Heeled Woman and Mrs. Bennet Has Her Say
"Vivid and honest, Don't Think Twice is as fresh as the wind on your face. Reading this book will remind you that just when you think you've hit the end of the road, it's time to set out to discover a new path for your life."—Diana Bletter, author of The Mom Who Took Off On Her Motorcycle and A Remarkable Kindness 
"If you're yearning for a wild ride of an adventure, as well as a jolt of heartening life philosophies, don't think twice about making Don't Think Twice your next read. You will not regret it!"—Diana Nyad, world champion swimmer and author of Find a Way 

Check out the Reading Guide HERE and the author's playlist for the book HERE!

Purchase Links
_____________________________
Will Meg have to run for her life? Find out in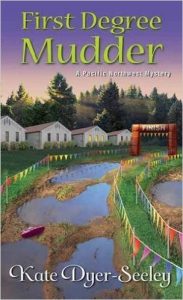 First Degree Mudder by Kate Dyer-Seeley
When a mud marathon champion bites the dust, Meg Reed has to go the distance to make sure a killer comes clean . . .
 
Back home in Portland, Oregon, Meg is ready to take her career as an outdoor writer for Extreme magazine to the next level. Lesser journalists sling mud—Meg plans to run through it. To train hard for Mud, Sweat & Beers, an extreme 5K mud run, she's signed on with the Mind Over Mudder team, run by ten-time mud marathon champ—and former drill sergeant—Billy the Tank. But when Meg finds her tenacious trainer dead in the locker room, she has a sinking feeling someone may have been pushed too far. Digging through the hidden secrets at Mind Over Mudder is a dirty job, but somebody's got to do it. Meg will have to tread carefully, though—or she may soon be running for her life . . .
"Dyer-Seeley's debut fits squarely in the newer subniche that can be called 'extreme cozy,' meaning it's a good mix for younger readers who like traditional mysteries but want a little more action or edginess. The author provides a splendid overview of the greater Portland and Columbia River Gorge region, perfect for travel buffs. Her freshly graduated bumbling protagonist shows promise with her determined attitude and moxie." – Library Journal
"For the armchair adventurers and detectives among us, Kate Dyer-Seeley's Scene of the Climb should head the must-read list… Dyer-Seeley weaves an intriguing plot featuring the rugged Oregon landscape and persistent protagonist Meg." —Mystery Scene Magazine


Purchase Links
_____________________________
Book clubs will love this Christmas romance!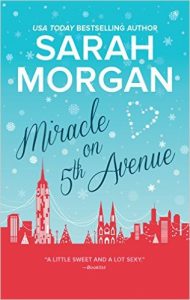 Miracle on 5th Avenue by Sara Morgan
It will take a Christmas miracle for two very different souls to find each other in this perfectly festive fairy tale of New York! 
Hopeless romantic Eva Jordan loves everything about Christmas. She might be spending the holidays alone this year, but when she's given an opportunity to house-sit a spectacular penthouse on Fifth Avenue, she leaps at the chance. What better place to celebrate than in snow-kissed Manhattan? What she didn't expect was to find the penthouse still occupied by its gorgeous—and mysterious—owner.
Bestselling crime writer Lucas Blade is having the nightmare before Christmas. With a deadline and the anniversary of his wife's death looming, he's isolated himself in his penthouse with only his grief for company. He wants no interruptions, no decorations and he certainly doesn't appreciate being distracted by his beautiful, bubbly new housekeeper. But when the blizzard of the century leaves Eva snowbound in his apartment, Lucas starts to open up to the magic she brings…This Christmas, is Lucas finally ready to trust that happily-ever-afters do exist?
.


Purchase Links
_____________________________
Book clubs can expect tears and laughter
from this witty novel!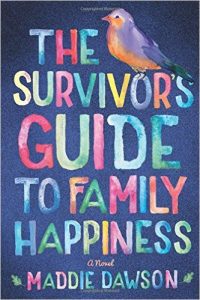 The Survivor's Guide to Family Happiness by Maddie Dawson
Three women, three lives, and one chance to become a family…whether they want to or not.
Newly orphaned, recently divorced, and semiadrift, Nina Popkin is on a search for her birth mother. She's spent her life looking into strangers' faces, fantasizing they're related to her, and now, at thirty-five, she's ready for answers.
Meanwhile, the last thing Lindy McIntyre wants is someone like Nina bursting into her life, announcing that they're sisters and campaigning to track down their mother. She's too busy with her successful salon, three children, beautiful home, and…oh yes, some pesky little anxiety attacks.
But Nina is determined to reassemble her birth family. Her search turns up Phoebe Mullen, a guarded, hard-talking woman convinced she has nothing to offer. Gradually sharing stories and secrets, the three women make for a messy, unpredictable family that looks nothing like Nina pictured…but may be exactly what she needs. Nina's moving, ridiculous, tragic, and transcendent journey becomes a love story proving that real family has nothing to do with DNA.
"Dawson (The Opposite of Maybe, 2014, etc.) is a generous storyteller, creating characters who are both complex and unexpected while being wholly relatable." —Kirkus Reviews
"Maddie Dawson has been a longtime favorite writer of mine because she has the gift of tapping into the emotions and complexities of a woman's heart and effortlessly combining tension with joy. She's done it again with The Survivor's Guide to Family Happiness. Put it on your list of not-to-be-missed fiction." —Marybeth Mayhew Whalen, cofounder of She Reads and author of The Things We Wish Were True
"Like authors Liane Moriarty and JoJo Moyes, Maddie Dawson is one of those gifted writers who spins seemingly comic, romantic tales that tackle our most universal longings for love, connection, and family. In her newest book, she delivers the story of two sisters given up for adoption. Their journey to discover each other and the mother who gave them up is by turns heart-wrenching and laugh-out-loud hilarious. I loved every witty sentence." —Holly Robinson, author of Chance Harbor and Beach Plum Island
"Maddie Dawson has done it again. Witty, warm, and full of insights into life's maddening complexities, her novels should come with a warning label: May cause tears, laughter, or all of the above." —Sarah Knight, bestselling author of The Life-Changing Magic of Not Giving a F*ck
"In this heartfelt novel, Dawson (The Opposite of Maybe, 2014) weaves together the stories of three very different women who are bound by blood, delving deeply into the true meaning of family." —Booklist

Purchase Links
_____________________________
A message from beyond the grave?
Book clubs will be intrigued by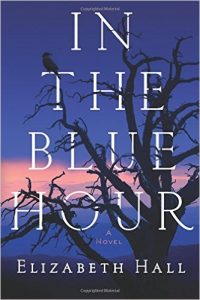 In the Blue Hour by Elizabeth Hall
Elise Brooks dreams of a car accident on an icy road. Weeks later, her beloved husband, Michael, is killed in just such a crash. Now, overcome with grief and uncertainty, Elise believes his spirit may be following her in the form of a raven, trying to tell her something from beyond the grave.
Desperate to understand the signs, Elise embraces both the Native American wisdom she grew up with and the world of psychics and seers. So when a tarot-card reader suggests she take a journey to the mysterious address found in Michael's old jacket, she embarks on a cross-country trek to follow the clues.
Accompanied by Tom Dugan, an engineer and scientist who does not believe in psychics, mediums, or the hoodoo "conjure woman" they encounter on the road, Elise navigates the rituals and omens of the spirit world in an attempt to unravel the mystery of her husband's message.

Purchase Links
_____________________________
Please fill out our super short registration form (<—click here) by November 30th for a chance to win a set of up to ten copies of one of these great books for your book club! We will randomly choose a winner at the end of the month. This contest is open to clubs in the US only (our apologies to friends in other countries). 
Best of luck!
We 
LOVE

 Book Clubs!