_____________________________
Dear Amy, a tightly-spun novel of psychological suspense, will keep book clubs hot on the trail of a cold case.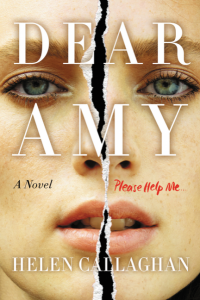 Dear Amy by Helen Callaghan
In Helen Callaghan's chilling, tightly-spun debut novel of psychological suspense, a teenage girl's abduction stirs dark memories of a twenty-year-old cold case…
Margot Lewis is a teacher at an exclusive high school in the English university town of Cambridge. In her spare time, she writes an advice column, "Dear Amy", for the local newspaper.
When one of Margot's students, fifteen-year-old Katie, disappears, the school and the town fear the worst. And then Margot gets a "Dear Amy" letter unlike any of the ones she's received before. It's a desperate plea for rescue from a girl who says she is being held captive and in terrible danger—a girl called Bethan Avery, who was abducted from the local area twenty years ago…and never found.
The letter matches a sample of Bethan's handwriting that the police have kept on file since she vanished, and this shocking development in an infamous cold case catches the attention of criminologist Martin Forrester, who has been trying to find out what happened to her all those years ago. Spurred on by her concern for both Katie and the mysterious Bethan, Margot sets out—with Martin's help—to discover if the two cases are connected.
But then Margot herself becomes a target.

Purchase Links
 _____________________________
Smart and edgy! Book clubs will be drawn to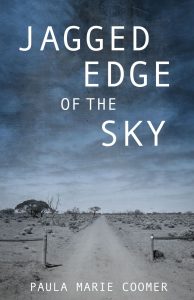 Jagged Edge of the Sky by Paula Marie Coomer
A free black man in London wanders too close to the docks on the wrong day. A woman gives birth alone in a barn loft near an Australian outback crossroads. A mother removes her apron, walks away from her family, and tells her secrets only once. A woman in a California living room sobs as her husband informs the assembled adult children that the youngest is only half-brother to the rest. A mental health agent in Idaho struggles with addiction, bureaucracy, and an affection for one of her charges, a dark-haired transient from Australia.
In Paula Marie Coomer's Jagged Edge of the Sky connections of blood and circumstance emerge from a kaleidoscopic narrative in which these and other characters navigate rugged personal terrains of loss and hope. The resulting literary landscape is spare and challenging as the Australian outback, mythical as the American West.
With a relentless eye, Paula Marie Coomer flinches from neither the gruesome nor the humorous in this fractured tale of loners, siblings, parents, and lovers.
". . . intriguing, complicated . . . A lusty, tragic tale for readers who are willing to work for its satisfying moments of connection."   —Kirkus Reviews 
.


Purchase Links
 _____________________________
There's so much to discuss in this family drama!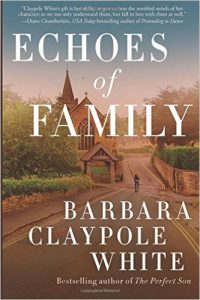 Echoes of Family by Barbara Claypole White
Sometimes the only way through darkness is to return to where it began.
Marianne Stokes fled England at seventeen, spiraling into the manic depression that would become her shadow. She left behind secrets, memories, and tragedy: one teen dead, and her first love, Gabriel, badly injured. Three decades later she's finally found peace in the North Carolina recording studio she runs with her husband, Darius, and her almost-daughter, Jade…until another fatality propels her back across the ocean to confront the long-buried past.
In her picturesque childhood village, the first person she meets is the last person she wants to see again: Gabriel. Now the village vicar, he takes her in without question, and ripples of what if reverberate through both their hearts. As Marianne's mind unravels, Jade and Darius track her down. Tempers clash when everyone tries to help, but only by finding the courage to face her illness can Marianne heal herself and her offbeat family.
"Claypole White's gift is her ability to put us into the troubled minds of her characters in a way that helps us not only understand them but fall in love with them as well. We discover that while their minds may be different from ours, their hearts are the same." —Diane Chamberlain, USA Todaybestselling author of Pretending to Dance
"Echoes of Family is a masterfully written novel that is both difficult to put down, and difficult to forget after the final page. In this powerful novel, Claypole White weaves that narrative that draws the reader into a personal relationship with the characters and has you rooting for them, in spite of their many flaws. This book kept my attention until all secrets were revealed in its dramatic conclusion. I look forward to many more from Claypole White." —Sally Hepworth, bestselling author of The Things We Keep
"Barbara Claypole White has done it again—created a quirky cast of characters and then taken us along as they go on a journey through madness and out the other side. Music, England, love, loss, and nature all collide in this beautiful exploration of how the echoes of our past can sometimes drown out the present. Matthew Quick fans will feel right at home." —Catherine McKenzie, bestselling author of Spin and Hidden

Purchase Links
 ____________________________
Book clubs will love this courageous young girl in 19th century Russia!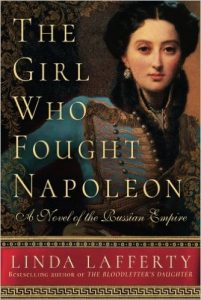 The Girl Who Fought Napoleon  by Linda Lafferty
In a sweeping story straight out of Russian history, Tsar Alexander I and a courageous girl named Nadezhda Durova join forces against Napoleon.
It's 1803, and an adolescent Nadya is determined not to follow in her overbearing Ukrainian mother's footsteps. She's a horsewoman, not a housewife. When Tsar Paul is assassinated in St. Petersburg and a reluctant and naive Alexander is crowned emperor, Nadya runs away from home and joins the Russian cavalry in the war against Napoleon. Disguised as a boy and riding her spirited stallion, Alcides, Nadya rises in the ranks, even as her father begs the tsar to find his daughter and send her home.
Both Nadya and Alexander defy expectations—she as a heroic fighter and he as a spiritual seeker—while the battles of Austerlitz, Friedland, Borodino, and Smolensk rage on.
In a captivating tale that brings Durova's memoirs to life, from bloody battlefields to glittering palaces, two rebels dare to break free of their expected roles and discover themselves in the process.
.


Purchase Links
 _____________________________
Everyone's a suspect in this psychological thriller!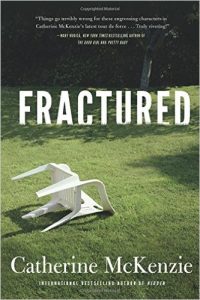 Fractured by Catherine McKenzie
Welcome, neighbor!
Julie Prentice and her family move across the country to the idyllic Mount Adams district of Cincinnati, hoping to evade the stalker who's been terrorizing them ever since the publication of her bestselling novel, The Murder Game. Since Julie doesn't know anyone in her new town, when she meets her neighbor John Dunbar, their instant connection brings measured hope for a new beginning. But she never imagines that a simple, benign conversation with him could set her life spinning so far off course.
We know where you live…
After a series of misunderstandings, Julie and her family become the target of increasingly unsettling harassment. Has Julie's stalker found her, or are her neighbors out to get her, too? As tension in the neighborhood rises, new friends turn into enemies, and the results are deadly.
"Catherine McKenzie has quickly become a master of the psychological thriller, and Fractured is no exception. A taut, finely wrought novel that had me holding my breath from the very first page, unsure of where the twists and turns would take me but looking forward to all of them." —Allison Winn Scotch, New York Times bestselling author of Time of Your Life and In Twenty Years
"A contentious past leads a young couple to move thousands of miles from home to an exemplary family community when things go terribly wrong in Catherine McKenzie's latest tour de force, Fractured. When tragedy strikes, everyone is a suspect, as McKenzie masterfully weaves together the stories of Julie and John: strangers who become friends, neighbors who become enemies. A tightly drawn narrative that begs the question: How much can we really know about those living closest to us? Truly riveting!" —Mary Kubica, New York Times bestselling author of The Good Girl and Pretty Baby
"Beautifully plotted. Breathlessly paced. Fractured is a difficult book to put down. But its insights into love, marriage, and obsession ensure that you'll be thinking about it long after you do. This is Catherine McKenzie at her best." —Matthew Norman, author of We're All Damaged and Domestic Violets

Purchase Links
 _____________________________
The riveting story of one brave young woman's struggle to free herself from a web of deceit.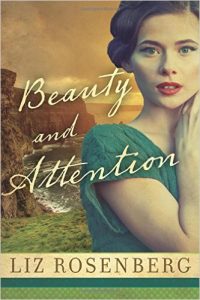 Beauty and Attention by Liz Rosenberg
For misfit Libby Archer, social expectations for young women in Rochester, New York, in the mid-1950s don't work. Her father has died, leaving her without parents, and her well-meaning friends are pressuring her to do what any sensible single girl must do: marry a passionate, persistent hometown suitor with a promising future. Yet Libby boldly defies conventional wisdom and plans to delay marriage—to anyone—by departing for her uncle's Belfast estate. In Ireland, Libby seeks not only the comfort of family but also greater opportunities than seem possible during the stifling McCarthy era at home.
Across the Atlantic, Libby finds common ground with her brilliant, invalid cousin, Lazarus, then puts her trust in a sophisticated older woman who seems to be everything she hopes to become. Fraught with betrayal and long-kept secrets, as well as sudden wealth and unexpected love, Libby's journey toward independence takes turns she never could have predicted—and calls on courage and strength she never knew she had.

Purchase Links
 _____________________________
Please fill out our super short registration form (<—click here) by October 31st for a chance to win a set of up to ten copies of one of these great books for your book club! We will randomly choose a winner at the end of the month. This contest is open to clubs in the US only (our apologies to friends in other countries). 
Best of luck!
We 
LOVE

 Book Clubs!