_____________________________
Book Clubs will examine the transition of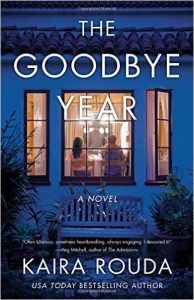 The Goodbye Year by Kaira Rouda
Melanie, a perfectionist mom who views the approaching end of parenting as a type of death, can't believe she has only one more year to live vicariously through her slacker senior son, Dane. Gorgeous mom Sarah has just begun to realize that her only daughter, Ashley, has been serving as a stand-in for her traveling husband, and the thought of her daughter leaving for college is cracking the carefully cultivated façade of her life. Will and his wife are fine-as long as he follows the instructions on the family calendar and is sure to keep secret his whole other life with Lauren, the woman he turns to for fun (and who also happens to have a daughter in the senior class).
Told from the points of view of both the parents and the kids, The Goodbye Year explores high school peer pressure, what it's like for young people to face the unknown of life after high school, and how a transition that should be the beginning of a couple's second act together-empty nesting-might possibly be the end.
"Rouda deftly examines the difficult transition parents and their children face as they prepare for the end of one life and the beginning of another. Her latest is a compelling story and a thoughtful examination of the nature of change and the importance of working to accept it." –Booklist
"The Goodbye Year is an often hilarious, sometimes heartbreaking, always engaging look at the last year before high school seniors leave their families for good. I devoured it!" -Meg Mitchell Moore, author of The Admissions, So Far Away, and The Arrivals
"The family dramas and dynamics are things that we can all relate to…" 
–Redbook magazine, "20 Best Books to Read Come Spring"
"Kaira Rouda channels Peyton Place meets The Real Housewives of Orange County with her newest book, The Goodbye Year." –Working Mother magazine
"In The Goodbye Year, Kaira Rouda takes us behind the gates of the Orange County elite as they attempt to navigate their children's senior year and fast-approaching empty nest. Trust is broken, secrets are revealed. It's delicious fun! The Goodbye Year will have you wishing you never had to say farewell."-Liz Fenton and Lisa Steinke, authors of The Status of All Things

Purchase Links
_____________________________
Book clubs will love this tale of hardship and tenacity!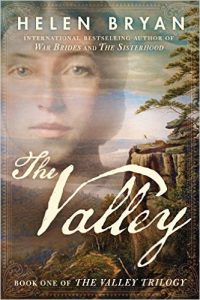 The Valley by Helen Bryan
Left suddenly penniless, the Honorable Sophia Grafton, a viscount's orphaned daughter, sails to the New World to claim the only property left to her name: a tobacco plantation in the remote wilds of colonial Virginia. Enlisting the reluctant assistance of a handsome young French spy—at gunpoint— she gathers an unlikely group of escaped slaves and indentured servants, each seeking their own safe haven in the untamed New World.
What follows will test her courage and that of her companions as they struggle to survive a journey deep into a hostile wilderness and eventually forge a community of homesteads and deep bonds that will unite them for generations.
The first installment in an epic historical trilogy by Helen Bryan, the bestselling author of War Brides and The Sisterhood, The Valley is a sweeping, unforgettable tale of hardship, tenacity, love, and heartache.

Purchase Links
_____________________________
Did she make the right decision?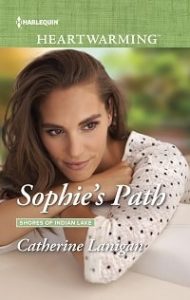 Sophie's Path (Shores of Indian Lake) by Catherine Lanigan
Her choice. His consequences.
Nurse Sophie Mattuchi has seen a lot of angry patients in the ER, but no one's ever rattled her like Jack Carter. He has no right to blame her for his friend's death. Sophie did everything she could. Didn't she? Yet his accusations sting, and that sets off all kinds of internal alarms. She's never cared this much about any man's opinion of her. But Jack is different. He stirs up feelings. Strong feelings. Guilt. Anger. Attraction. Curiosity. Sympathy. Sophie's definitely not interested in Jack, but even if she was, he'd never forgive her for the decision she made that night in the hospital. Would he?
Read the first two chapters on Wattpad!
Purchase Links
_____________________________
He'll risk his whole heart to save her from the past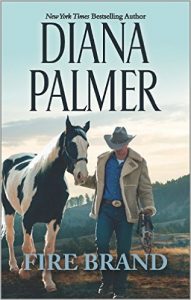 Fire Brand by Diana Palmer
Gaby Cane was always a bit afraid of her attraction to Bowie McCayde. Even when she was fifteen and Bowie's family took her in, she had sensed his simmering resentment. Now ten years later, she's an aspiring journalist who can hold her own with any man professionally, the dark shadows of years gone by far behind her. Then Bowie strides back into her life—only this time, he needs her, and the pull of loyalty to his family is too strong to ignore.
When Bowie asked Gaby to help save his family's Arizona ranch, he never expected the girl he once knew to return transformed into a stunning, successful woman. As they work together, Bowie is shocked to find that her innocence and beauty stir a hunger he can't deny. But the rogue rancher can sense something holding her back, and he's determined to uncover the terrible secret Gaby is fighting to keep hidden…

Purchase Links
_____________________________
Book clubs will explore the devastation of loss and grief in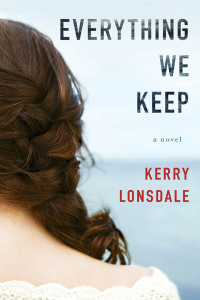 Everything We Keep by Kerry Lonsdale
Sous chef Aimee Tierney has the perfect recipe for the perfect life: marry her childhood sweetheart, raise a family, and buy out her parents' restaurant. But when her fiancé, James Donato, vanishes in a boating accident, her well-baked future is swept out to sea. Instead of walking down the aisle on their wedding day, Aimee is at James's funeral—a funeral that leaves her more unsettled than at peace.
As Aimee struggles to reconstruct her life, she delves deeper into James's disappearance. What she uncovers is an ocean of secrets that make her question everything about the life they built together. And just below the surface is a truth that may set Aimee free…or shatter her forever.
A luminous debut with unexpected twists, Everything We Keep explores the devastation of loss, the euphoria of finding love again, and the pulse-racing repercussions of discovering the truth about the ones we hold dear and the lengths they will go to protect us.
"Heartfelt and suspenseful, Everything We Keep beautifully navigates the deep waters of grief, and one woman's search to reconcile a past she can't release, and a future she wants to embrace. Lonsdale's writing is crisp and effortless and utterly irresistible—and her expertly layered exploration of the journey from loss to renewal is sure to make this a book club must-read. Everything We Keep drew me in from the first page and held me fast all the way to its deeply satisfying ending." —Erika Marks, author of The Last Treasure
"In Everything We Keep, Kerry Lonsdale brilliantly explores the grief of loss, if we can really let go of our great loves, and if some secrets are better left buried. With a good dose of drama, a heart-wrenching love story, and the suspense of unanswered questions, Lonsdale's layered and engrossing debut is a captivating read." —Karma Brown, bestselling author of Come Away With Me
"A stunning debut with a memorable twist, Everything We Keep effortlessly layers family secrets into a suspenseful story of grief, love, and art. This is a gem of a book." —Barbara Claypole White, bestselling author of The Perfect Son

Purchase Links
_____________________________
Will she trust him with her heart?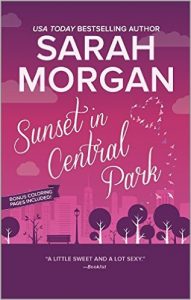 Sunset in Central Park by Sarah Morgan
In the chaos of New York, true love can be hard to find, even when it's been right under your nose all along… 
Love has never been a priority for garden designer Frankie Cole. After witnessing the fallout of her parents' divorce, she's seen the devastation an overload of emotion can cause. The only man she feels comfortable with is her friend Matt—but that's strictly platonic. If only she found it easier to ignore the way he makes her heart race…
Matt Walker has loved Frankie for years but, sensing how fragile she is beneath her feisty exterior, has always played it cool. But then he uncovers new depths to the girl he's known forever and doesn't want to wait a moment longer. He knows Frankie has secrets and has buried them deep, but can Matt persuade her to trust him with her heart and kiss him under the Manhattan sunset?
"Morgan's brilliant talent never ceases to amaze."-Romantic Times
.


Purchase Links
_____________________________
A poetry collection is an interesting choice for a book club! Try something different with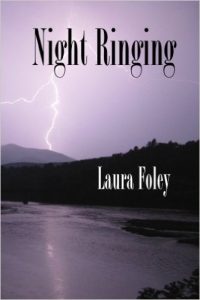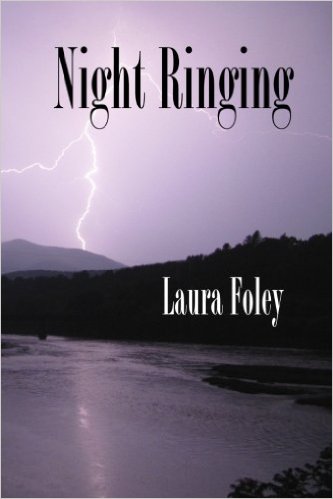 Night Ringing by Laura Foley
"I revel in the genius of simplicity" Laura Foley writes as she gives us in plain-spoken but deeply lyrical moments, poems that explore a life filled with twists and turns and with many transformations. Through it all is a search for a fulfilling personal and sexual identity, a way to be most fully alive in the world. From multicultural love affairs through marriage with a much older man, through raising a family, through grief, to lesbian love affairs, Night Ringing is the portrait of a woman willing to take risks to find her own best way. And she does this with grace and wisdom. As she says: "All my life I've been swimming, not drowning."
I love the words and white space of poetry. I love stories even more. In this collection, Laura Foley evokes stories of crystallized moments, of quiet and overpowering emotion, of bathtubs and lemon chicken. The author grows up on the pages, comes of age, and reconciles past with present. Almost. Try to put the book down between poems to savor each experience. Try, but it won't be easy.—Joni B. Cole, author of Toxic Feedback, Helping Writers Survive and Thrive
Plain-spoken and spare, Laura Foley's poems in Night Ringing trace a life story through a series of brief scenes: separate, intense moments of perception, in which the speaker's focus is arrested, when a moment opens to reveal a glimpse of the larger whole. Memories of a powerful, enigmatic father, a loving but elusive mother, a much older husband, thread Foley's stories of childhood, marriage and motherhood, finally yielding to the pressure of her attention, as she constructs a series of escapes from family expectations, and moves toward a new life. In these lucid, intense poems, Foley's quiet gaze, her concentration, and emotional accuracy of detail, render this collection real as rain.—Cynthia Huntington, author of Heavenly Bodies
Foley's voice rings with quiet authority undercut by calamity, examining a life so extraordinary, she seems to have lived several people's lives, setting a high bar for poetic craft she meets, in great mystery perfectly expressed in the tiny, quotidian, "spent matches pressed on wet pavement," to soulful beauty, "as wind lifts/every shining wave"; in wisdom rooted in humor, from the deliciously funny "Flunking Jung," to self-deprecating wit, misreading "poetic" as "pathetic," reminding us wisdom is love, grown from self-compassion.—April Ossmann, author of Anxious Music

Purchase Links
_____________________________
Please fill out our super short registration form (<—click here) by August 31st for a chance to win a set of up to ten copies of one of these great books for your book club! We will randomly choose a winner at the end of the month. This contest is open to clubs in the US only (our apologies to friends in other countries). 
Best of luck!
We 
LOVE

 Book Clubs!