_____________________________
Transport your book club to the Golden Age of Hollywood with the lush writing of Adriana Trigiani's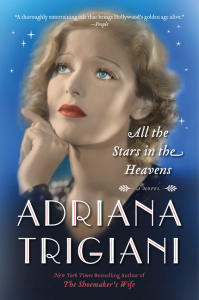 All the Stars in the Heavens by Adriana Trigiani
Adriana Trigiani, the New York Times bestselling author of the blockbuster epic The Shoemaker's Wife, returns with her biggest and boldest novel yet, a hypnotic tale based on a true story and filled with her signature elements: family ties, artistry, romance, and adventure. Born in the golden age of Hollywood, All the Stars in the Heavens captures the luster, drama, power, and secrets that could only thrive in the studio system—viewed through the lives of an unforgettable cast of players creating magic on the screen and behind the scenes.
In this spectacular saga as radiant, thrilling, and beguiling as Hollywood itself, Adriana Trigiani takes us back to Tinsel Town's golden age—an era as brutal as it was resplendent—and into the complex and glamorous world of a young actress hungry for fame and success. With meticulous, beautiful detail, Trigiani paints a rich, historical landscape of 1930s Los Angeles, where European and American artisans flocked to pursue the ultimate dream: to tell stories on the silver screen.
The movie business is booming in 1935 when twenty-one-year-old Loretta Young meets thirty-four-year-old Clark Gable on the set of The Call of the Wild. Though he's already married, Gable falls for the stunning and vivacious young actress instantly.
Far from the glittering lights of Hollywood, Sister Alda Ducci has been forced to leave her convent and begin a new journey that leads her to Loretta. Becoming Miss Young's secretary, the innocent and pious young Alda must navigate the wild terrain of Hollywood with fierce determination and a moral code that derives from her Italian roots. Over the course of decades, she and Loretta encounter scandal and adventure, choose love and passion, and forge an enduring bond of love and loyalty that will be put to the test when they eventually face the greatest obstacle of their lives.
Anchored by Trigiani's masterful storytelling that takes you on a worldwide ride of adventure from Hollywood to the shores of southern Italy, this mesmerizing epic is, at its heart, a luminous tale of the most cherished ties that bind. Brimming with larger-than-life characters both real and fictional—including stars Spencer Tracy, Myrna Loy, David Niven, Hattie McDaniel and more—it is it is the unforgettable story of one of cinema's greatest love affairs during the golden age of American movie making.

Purchase Links
_____________________________
Book Clubs will love this story of second chances!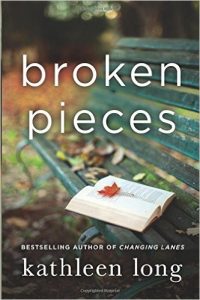 Broken Pieces by Kathleen Long
Destiny Jones is doing just fine on her own, thanks. From her thriving one-woman carpentry business to the loving support of her small-town community, Destiny has constructed a life as sturdy and polished as her best cabinets. Twenty years ago, Destiny's world collapsed when her mother died and her father, Albert, abandoned his daughter to pursue acting in New York. His devastating exit taught Destiny a lesson in self-reliance that has kept her safe—and alone—ever since.
Now Albert Jones is back, begging for a second chance. Destiny suspects he's simply staging another performance, starring himself as the prodigal father. Should she act on her misgivings? Or listen to her inner child, who still yearns for a family? When Albert divulges a shocking secret, Destiny's life will again be turned upside down.
Kathleen Long's warm, wise novel reveals the armor that has protected us in the past is often the very thing we must shed to fully live and love.

Purchase Links
_____________________________
Learn about this gutsy beauty who captured the heart of Wyatt Earp in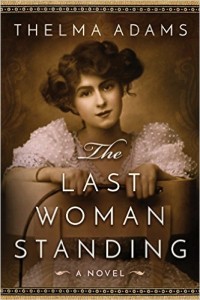 The Last Woman Standing: A Novel of Mrs. Wyatt Earp by Thelma Adams
Thelma Adams has built a successful career writing profiles of Hollywood's biggest and brightest stars. From Julianne Moore and George Clooney to Jessica Chastain and Matthew McConaughey, her portfolio is dazzling and reputation as a film critic in the industry stellar.
Now, Adams shifts from Hollywood to the Wild West with THE LAST WOMAN STANDING (Lake Union Publishing; on-sale July 1, 2016), the first biographical novel about Josephine Marcus, Wyatt Earp's wife, the gutsy Jewish beauty who captured the lawman's heart in 1881, the year he fought the legendary Gunfight at the OK Corral.
In her well-researched and vividly composed novel, Adams doesn't waste any time proving her talent as a dynamic writer with a cinematic flair. She explores the brief defining period when Josephine comes-of-age on the American frontier, weaving action, wit, and clever introspection.
The daughter of Jewish immigrants, Josephine shames her tight-knit family (her over-bearing mother begins to sit-shiva the minute Josephine walks out the door) when the 19-year-old follows the smooth-talking and attractive lawman, Johnny Behan, from San Francisco, California to Tombstone, Arizona. Hanging on the slim promise of a wedding, the naïve young woman eventually discovers the older man's untrustworthy side. She also learns that divided loyalties and corruption plague the silver boom town—with her fiancé at the conflict's heart. And she can't pretend she hasn't noticed the courageous straight-shooter Wyatt Earp who becomes Behan's sworn enemy.
When Behan betrays Josephine, she leaves him—and immediately faces the harsh realities of being a woman on her own in the Wild West, a world where a lady's every action depends on a man's approval. Adams's storytelling from a female perspective, and her rich and descriptive style, allow the reader to feel Josephine's desperation as she realizes the only available options she has are prostitution or returning home. That is—until Wyatt Earp declares his love for her. As their romance blossoms and their bond deepens, Behan's jealousy ignites a rivalry destined for the history books.
THE LAST WOMAN STANDING is a compelling novel: both an epic tale of an improbable romance and a retelling of an iconic American legend through a female lens. Josephine is a charismatic, fierce heroine who seeks to reinvent herself—and find her soul mate—in a lawless outpost among cowboys and lawmen, where few people are what they seem on the surface.
"Adams is that rare, vivid author who brings a cinematic quality to her wildly entertaining fiction." —Peter Travers, Rolling Stone
.


Purchase Links
_____________________________
Mystery in 16th Century Japan! Book clubs will love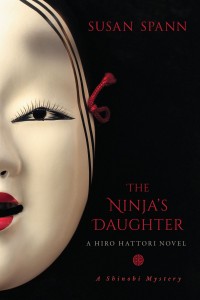 The Ninja's Daughter by Susan Spann
Autumn, 1565: When an actor's daughter is murdered on the banks of Kyoto's Kamo River, master ninja Hiro Hattori and Portuguese Jesuit Father Mateo are the victim's only hope for justice.
As political tensions rise in the wake of the shogun's recent death, and rival samurai threaten war, the Kyoto police forbid an investigation of the killing, to keep the peace–but Hiro has a personal connection to the girl, and must avenge her. The secret investigation leads Hiro and Father Mateo deep into the exclusive world of Kyoto's theater guilds, where they quickly learn that nothing, and no one, is as it seems. With only a mysterious golden coin to guide them, the investigators uncover a forbidden love affair, a missing mask, and a dangerous link to corruption within the Kyoto police department that leaves Hiro and Father Mateo running for their lives.

Purchase Links
_____________________________
Confronting the past, where dreams began…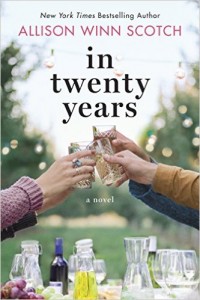 In Twenty Years by Allison Winn Scotch
Twenty years ago, six Penn students shared a house, naively certain that their friendships would endure—until the death of their ringleader and dear friend Bea splintered the group for good. Now, mostly estranged from one another, the remaining five reluctantly gather at that same house on the eve of what would have been Bea's fortieth birthday.
But along with the return of the friends come old grudges, unrequited feelings, and buried secrets. Catherine, the CEO of a domestic empire, and Owen, a stay-at-home dad, were picture-perfect college sweethearts—but now teeter on the brink of disaster. Lindy, a well-known musician, is pushing middle age in an industry that's all about youth and slowly self-destructing as she grapples with her own identity. Behind his smile, handsome plastic surgeon Colin harbors the heartbreaking truth about his own history with Bea. And Annie carefully curates her life on Instagram and Facebook, keeping up appearances so she doesn't have to face the truth about her own empty reality.
Reunited in the place where so many dreams began, and bolstered by the hope of healing, each of them is forced to confront the past.
.


Purchase Links
_____________________________
Book clubs will love this comedic Regency-era romance!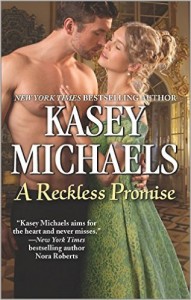 A Reckless Promise by Kasey Michaels
London's Little Season has never been so scandalous 
It's the kind of vow often made on the battlefield. Darby Travers, Viscount Nailbourne, never imagines he'll have to honor it. Yet here she is on his doorstep—his late comrade's young daughter, and Darby's new ward. Worse, she comes with the most overprotective, mistrustful, bothersome chaperone—the child's aunt, Sadie Grace Boxer. Darby is quite sure that behind her lovely facade, the woman is guarding a secret.
Sadie Grace faced many trials working in her brother's surgery, but none prepared her for the world she's thrust into with his passing. Navigating the ton, with its endless ball gowns and parade of parties, is difficult enough, but hiding the truth about her niece while the sophisticated Viscount watches her every move proves nearly impossible—particularly when his searing gaze tempts her to bare all. But when her family's past catches up with her, she'll have to trust in Darby…no matter the cost to her heart.
"The story is filled with delightful characters and witty repartee"–Publishers Weekly on A Scandalous Proposal
RT Book Reviews (Jan print edition): "Michaels, known for her comedic Regency-set romances, outdoes herself… For lighthearted fun, you can't do better than this."–RT Book Reviews on An Improper Arrangement

Purchase Links
_____________________________
Regency-era adventure on the high seas!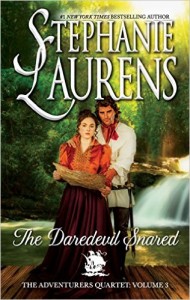 The Daredevil Snared by Stephanie Laurens
Responsibility knocks, and a reckless, hedonistic man responds and opens the door to love—thus is a daredevil snared.
#1 New York Times bestselling author Stephanie Laurens brings you the third installment in THE ADVENTURERS QUARTET, continuing the drama of Regency-era high seas adventure, laced with a mystery shrouded in the heat of tropical jungles, and spiced with the passionate romances of four couples and their unexpected journeys into love.
Captain Caleb Frobisher, hedonistic youngest son of a seafaring dynasty, wants to be taken seriously by his family, and understands he has to prove himself sufficiently reformed. When opportunity strikes, he seizes the next leg of the covert mission his brothers have been pursuing and sails to Freetown. His actions are decisive, and he completes the mission's next stage—but responsibility, once exercised, has taken root, and he remains in the jungle to guard the captives whose rescue is the mission's ultimate goal.
Katherine Fortescue has fled the life of poverty her wastrel father had bequeathed her and come to Freetown as a governess, only to be kidnapped and put to work overseeing a child workforce at a mine. She and the other captured adults understand that their lives are limited by the life of the mine. Guarded by well-armed and well-trained mercenaries, the captives have been searching for some means of escape, but in vain. Then Katherine meets a handsome man—a captain—in the jungle, and he and his crew bring the sweet promise of rescue.
The sadistic mercenary captain who runs the mine has other ideas, but Caleb's true strength lies in extracting advantage from adversity, and through the clashes that follow, he matures into the leader of men he was always destined to be. The sort of man Katherine can trust—with her body, with her life. With her love.
The first voyage is one of exploration, the second one of discovery. The third journey brings maturity, while the fourth is a voyage of second chances. Continue the journey and follow the adventure, the mystery, and the romances to the dramatic end.
Praise for the works of Stephanie Laurens
"Stephanie Laurens' heroines are marvelous tributes to Georgette Heyer: feisty and strong." —Cathy Kelly
"Stephanie Laurens never fails to entertain and charm her readers with vibrant plots, snappy dialogue, and unforgettable characters." —Historical Romance Reviews
"Stephanie Laurens plays into readers' fantasies like a master and claims their hearts time and again." —Romantic Times Magazine

Purchase Links
_____________________________
Start the series from the beginning! Book clubs will love the romantic suspense in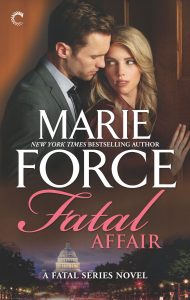 Walking the thin blue line…
Detective Sergeant Sam Holland of the Washington, DC, Metro Police needs a big win to salvage her career—and her confidence—after a disastrous investigation. The perfect opportunity arises when Senator John O'Connor is found brutally murdered in his bed, and Sam is assigned to the case. Matters get complicated when Sam has to team up with Nick Cappuano, O'Connor's friend and chief of staff…and the man Sam had a memorable one-night stand with years earlier. Their sexual chemistry still sizzles, and Sam has to fight to stay focused on the case. Sleeping with a material witness is another mistake she can't afford—especially when the bodies keep piling up.
Purchase Links
_____________________________
Book clubs will be drawn into this saga of a daughter's grief, a mother's desperation, and an endless highway of deception.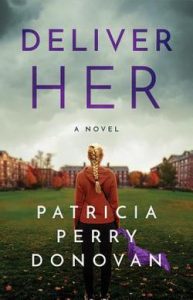 Deliver Her by Patricia Perry Donovan
Author Patricia Perry Donovan weaves her tale flawlessly, testing the boundaries of family and friendship.
On the night of Alex Carmody's sixteenth birthday, she and her best friend, Cass, are victims of a terrible car accident. Alex survives; Cass doesn't. Consumed by grief, Alex starts cutting school and partying, growing increasingly detached. The future she'd planned with her friend is now meaningless to her.
Meg Carmody is heartbroken for her daughter, even as she's desperate to get Alex's life back on track. The Birches, a boarding school in New Hampshire, promises to do just that, yet Alex refuses to go. But when Meg finds a bag of pills hidden in the house, she makes a fateful call to a transporter whose company specializes in shuttling troubled teens to places like The Birches, under strict supervision. Meg knows Alex will feel betrayed—as will her estranged husband, who knows nothing of Meg's plans for their daughter.
When the transport goes wrong—and Alex goes missing—Meg must face the consequences of her decision and her deception. But the hunt for Alex reveals that Meg is not the only one keeping secrets.
"A powerful story about a mother's efforts to save a daughter; a story about love and family and betrayal. A perfect book club book!" — Susan Breen, author of "The Fiction Class" and "Maggie Dove: A Mystery."
.


Purchase Links
_____________________________
Please fill out our super short registration form (<—click here) by July 31st for a chance to win a set of up to ten copies of one of these great books for your book club! We will randomly choose a winner at the end of the month. This contest is open to clubs in the US only (our apologies to friends in other countries). 
Best of luck!
We 
LOVE

 Book Clubs!