_____________________________
Book clubs will love this story of second chances and confronting the past!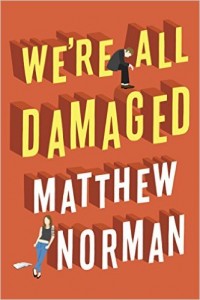 We're All Damaged by Matthew Norman
Andy Carter was happy. He had a solid job. He ran 5Ks for charity. He was living a nice, safe Midwestern existence. And then his wife left him for a handsome paramedic down the street.
We're All Damaged begins after Andy has lost his job, ruined his best friend's wedding, and moved to New York City, where he lives in a tiny apartment with an angry cat named Jeter that isn't technically his. But before long he needs to go back to Omaha to say good-bye to his dying grandfather.
Back home, Andy is confronted with his past, which includes his ex, his ex's new boyfriend, his right-wing talk-radio-host mother, his parents' crumbling marriage, and his still-angry best friend.
As if these old problems weren't enough, Andy encounters an entirely new complication: Daisy. She has fifteen tattoos, no job, and her own difficult past. But she claims she is the only person who can help Andy be happy again, if only she weren't hiding a huge secret that will mess things up even more. Andy Carter needs a second chance at life, and Daisy—and the person Daisy pushes Andy to become—may be his last chance to set things right.
"In We're All Damaged, Matthew Norman has crafted a fast-paced, funny, and touching story. Comparisons to Tropper and Hornby will be made, and deservedly so, but Norman's voice and characters are fresh and all his own. A winning novel that is sure to make you laugh, cry and nod in recognition as all the best books do." —Catherine McKenzie, bestselling author of Hidden and Smoke

Purchase Links
_____________________________
Who can they trust? Book clubs will enjoy the suspense in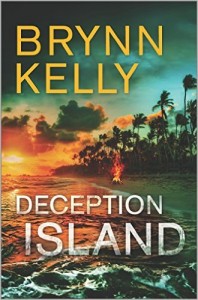 Deception Island by Brynn Kelly
A stolen boy 
A haunted soldier 
A cornered con woman… 
Rafe Angelito thought he was done with the demons from his past—until his son is kidnapped. Blackmailed into abducting an American heiress, the legionnaire soon finds himself trapped in paradise with a fiery, daring beauty who's nothing he expects…and everything he desires. But when he uncovers her own dark secret, Rafe realizes he's made a critical mistake—one that could cost him everything.
Playing body double for a spoiled socialite was supposed to be Holly Ryan's ticket to freedom. But when she's snatched off her yacht by a tall, dark and dangerous stranger, the not-quite-reformed con artist will make a desperate play to turn her captor from enemy to ally, by any means necessary.
Yet as scorching days melt into sultry nights, Holly is drawn to the mysterious capitaine, with his unexpected sense of honor and his searing touch. When they're double-crossed, they'll have to risk trusting each other in ways they never imagined…because in this deadly game of deception, it's their lives—and hearts—on the line.

Purchase Links
___________________________________________
.
Filled with emotional insight, book clubs will fall for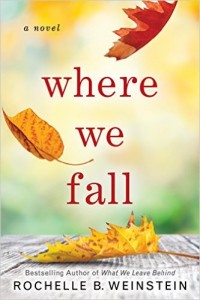 Where We Fall by Rochelle B. Weinstein
On the surface, Abby Holden has it all. She is the mother of a beautiful daughter and the wife of Ryan, a beloved high school football coach. Yet, depression has a vice grip on Abby and every day tugs a little harder on the loose threads of her marriage, threatening to unravel her charmed life. Meanwhile, Ryan is a charismatic, loyal husband who can coach the local high school football team to victory, but is powerless to lift his wife's depression, which has settled into their marriage like a deep fog. Although this isn't the life he's dreamed of, Ryan is determined to heal the rifts in his family. Lauren Sheppard was once Ryan's girlfriend and Abby's closest friend. Now a globe-trotting photographer who documents the power and beauty of waterfalls around the world, she returns back home to the mountains of North Carolina, where she must face the scene of a devastating heartbreak that forever changed the course of her life.
As college coeds, Abby, Ryan, and Lauren had an unbreakable bond. Now, for the first time in seventeen years, the once-inseparable friends find themselves confronting their past loves, hurts, and the rapid rush of a current that still pulls them together. With hypnotic, swift storytelling, Weinstein weaves in and out of Abby, Ryan, and Lauren's lives and imparts lessons of love, loyalty, friendship, and living with mental illness.
Ripe with emotional insight, WHERE WE FALL explores the depths of the human mind and a heart that sees what the eyes cannot. As Abby, Ryan, and Lauren struggle to repair their relationships and resolve their inner demons, they unflinchingly hold the mirror to the reader, reminding us not only of our own flaws, but also how beautiful and human those imperfections can be.

Purchase Links
___________________________________________
Book clubs will love the exploration of the love between a mother and daughter at any age in this multi-generational story.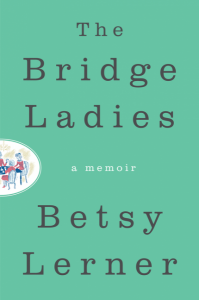 The Bridge Ladies by Betsy Lerner
A fifty-year-old Bridge game provides an unexpected way to cross the generational divide between a daughter and her mother. Betsy Lerner takes us on a powerfully personal literary journey, where we learn a little about Bridge and a lot about life.
By turns darkly funny and deeply moving, The Bridge Ladies is the unforgettable story of a hard-won—but never-too-late—bond between mother and daughter.
"The Bridge Ladies reminded me of Tuesdays with Morrie, except it takes place on Mondays and has five Morries. Exquisitely written." — Will Schwalbe, author of theNew York Times bestseller The End of Your Life Book Club
"This is the best book about mothers and daughters I've read in decades, maybe ever." — Amy Chua, Yale Law Professor and author of Battle Hymn of the Tiger Motherand The Triple Package: How Three Unlikely Traits Explain the Rise and Fall of Cultural Groups in America
"A beautifully written, bittersweet story of ladies of a certain age and era." —Publishers Weekly (starred review)
"This is a book with heart and feeling." — George Hodgman, author of Bettyville
"In Lerner's beautifully observed account, Bridge becomes both a literal and figurative pathway to repairing an even more precious bond: her own relationship to her mother." — Deborah Tannen, author of You Just Don't Understand and You're Wearing THAT?

Purchase Links
___________________________________________
The Eagle Tree eloquently explores the bonds that connect us to family and the natural world all around us. The remarkable story of an unusual boy and the tree that he loves, The Eagle Tree is a poetic novel that connects forest and family.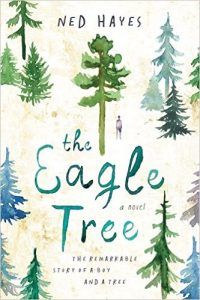 The Eagle Tree by Ned Hayes
Fourteen-year-old March Wong knows everything there is to know about trees. They are his passion and his obsession, even after his recent falls—and despite the state's threat to take him away from his mother if she can't keep him from getting hurt. But the young autistic boy cannot resist the captivating pull of the Pacific Northwest's lush forests just outside his back door.
One day, March is devastated to learn that the Eagle Tree—a monolithic Ponderosa Pine near his home in Olympia—is slated to be cut down by developers. Now, he will do anything in his power to save this beloved tree, including enlisting unlikely support from relatives, classmates, and even his bitter neighbor. In taking a stand, March will come face-to-face with some frightening possibilities: Even if he manages to save the Eagle Tree, is he risking himself and his mother to do it?
Intertwining themes of humanity and ecology, The Eagle Tree eloquently explores what it means to be part of a family, a society, and the natural world that surrounds and connects us.
Book clubs that enjoyed Mark Haddon's The Curious Incident of the Dog in the Nighttime or Jim Lynch's The Highest Tide would enjoy this unusual coming-of-age novel.

Purchase Links
___________________________________________
Please fill out our super short registration form (<—click here) by May 31st for a chance to win a set of up to ten copies of one of these great books for your book club! We will randomly choose a winner at the end of the month. This contest is open to clubs in the US only (our apologies to friends in other countries). 
Best of luck!
We 
LOVE

 Book Clubs!