_____________________________
Southern Noir heads to the holy city of Charleston, South Carolina in this present day hard-boiled mystery.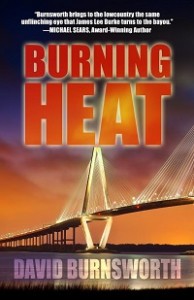 Burning Heat by David Burnsworth
Brack Pelton, an Afghanistan War Veteran, steps out of a run down bar in the projects after a long night. Before he gets to his truck, he finds himself in the middle of a domestic dispute between a man and a woman on the sidewalk. When a little girl joins the couple and gets hit by the man, Brack intervenes and takes him down. But the abuser isn't finished. He pulls a gun and shoots the woman. Brack saves the little girl, but his world has just been rocked. Again.
The next day, while sitting on a barstool in the Pirate's Cove on the Isle of Palms, his own bar, Brack scans the local paper. The news headline reads: Burned Body of Unidentified Hispanic Man Found at Construction Site. Nothing about a dead woman in the projects. Brack feels a tap on his shoulder and turns around to see an eight-year-old girl standing behind him. She's the little girl he rescued the night before.
As a favor to his pastor and fellow friend, Brother Thomas, Brack looks into the murder and uncovers that the victim, a woman by the name of Willa Mae, worked for the most exclusive escort service in the city. A colleague of Willa Mae's named Camilla is found dead shortly after Brack talks to her. So is a lawyer Willa Mae had been using to help her get child support for an unborn baby Brack learns she'd been carrying.
Violence and danger make up Brack's not-too-distant past. Part of him craves it—needs it. And that part has just been fed. Charleston County and the surrounding islands were not the same after the last time Brack hunted a killer. Things are about to heat up again in the lowcountry. May God have mercy on the souls who get in the way.

Purchase Links
__________________________
A gripping novel book clubs will love!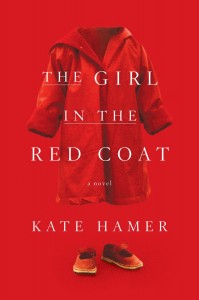 The Girl in the Red Coat by Kate Hamer
Costa Book Award for First Novel finalist
Dagger Award finalist
Newly single mom Beth has one constant, gnawing worry: that her dreamy eight-year-old daughter, Carmel, who has a tendency to wander off, will one day go missing.
And then one day, it happens: On a Saturday morning thick with fog, Beth takes Carmel to a local outdoor festival, they get separated in the crowd, and Carmel is gone.
Shattered, Beth sets herself on the grim and lonely mission to find her daughter, keeping on relentlessly even as the authorities tell her that Carmel may be gone for good.
Carmel, meanwhile, is on a strange and harrowing journey of her own—to a totally unexpected place that requires her to live by her wits, while trying desperately to keep in her head, at all times, a vision of her mother …
Alternating between Beth's story and Carmel's, and written in gripping prose that won't let go, The Girl in the Red Coat—like Emma Donoghue's Room and M. L. Stedman's The Light Between Oceans—is an utterly immersive story that's impossible to put down . . . and impossible to forget.
"Keeps the reader turning pages at a frantic clip… What's most powerful here is not whodunnit, or even why, but how this mother and daughter bear their separation, and the stories they tell themselves to help endure it." —Celeste Ng (Everything I Never Told You)
"Compulsively readable…Beautifully written and unpredictable, I had to stop myself racing to the end to find out what happened." —Rosamund Lupton (Sister)  
"Both gripping and sensitive — beautifully written, it is a compulsive, aching story full of loss and redemption." —Lisa Ballantyne (The Guilty One)
"Hamer's dark tale of the lost and found is nearly impossible to put down." —Booklist 
.


Purchase Links
__________________________
Please fill out our super short registration form (<—click here) by February 29th for a chance to win a set of up to ten copies of one of these great books for your book club! We will randomly choose a winner at the end of the month. This contest is open to clubs in the US only (our apologies to friends in other countries). 
Best of luck!
We 
LOVE

 Book Clubs!