We've gathered up some sizzling reads for a sexy
Valentine's Day Blog Tour!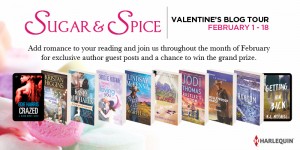 Each tour stop will feature a guest post from one of the fabulous authors listed below, plus a fun Rafflecopter giveaway.
Be sure to follow along!
Series: The Blue Heron Series (Book 5)
Mass Market Paperback: 416 pages
Before you get down on bended knee… 
…you should be pretty darn sure the answer will be yes. For ten years, Connor O'Rourke has been waiting for Jessica Dunn to take their on-again, off-again relationship public, and he thinks the time has come. His restaurant is thriving, she's got her dream job at Blue Heron Vineyard—it's the perfect time to get married.
When he pops the question, however, her answer is a fond but firm no. If it ain't broke, why fix it? Jess has her hands full with her younger brother, who's now living with her full-time, and a great career after years of waitressing. What she and Connor have isperfect: friends with an excellent benefits package. Besides, with her difficult past (and reputation), she's positive married life isn't for her.
But this time, Connor says it's all or nothing. If she doesn't want to marry him, he'll find someone who does. Easier said than done, given that he's never loved anyone but her. And maybe Jessica isn't quite as sure as she thinks…

Purchase Links
.
Series: Jackson Hole, Wyoming
Mass Market Paperback: 384 pages
Publisher: HQN Books (December 29, 2015)
ONCE UPON A RANCH IN WYOMING…
After losing his comrade, Sergeant Gil Hanford thought a visit to the man's widow would be the decent way to honor his late friend. But Gil found more than comfort in Kai Tiernan—he had always secretly desired beautiful Kai, but a sudden, mutual passion helped assuage their grief…until duty reared its head, removing him from her arms, seemingly forever.
Four years later, Kai is starting over at the Triple H Ranch in Jackson Hole, Wyoming. Born a rancher, she is looking for a new beginning—but her new boss is unforgivably familiar. Kai has tried to move past the memory of what happened between her and Gil, even though she's never forgiven him for leaving her. But even as they begin their journey toward something new and oh-so-uncertain, a shadow emerges, determined to claim Kai for itself.
.


Purchase Links
.
Series: The Little Season (Book 1)
Mass Market Paperback: 384 pages
Publisher: HQN Books (December 29, 2015)
Experience the drama of the Little Season in the first of a new series by USA TODAY bestselling author Kasey Michaels, in which three dashing war heroes have finally met their matches… 
Gabriel Sinclair has returned from battle as reluctant heir to a dukedom. As if his new responsibilities weren't enough, Gabriel's aunt enlists him to sponsor a young heiress through London's Little Season. Yet Miss Thea Neville is hardly the tedious obligation he expected. She's exotic and enchanting—and utterly unaware of the secret poised to destroy her family's reputation.
After ten years in America, Thea is ready to do her duty and marry well. Deportment lessons, modistes, balls—the ton is a minefield she could scarcely navigate without Gabriel's help. By rights, she should accept the first bachelor who offers for her. Instead, she's succumbing to a dangerous attraction to her wickedly handsome chaperone—one that could unhinge her plans in the most delicious way.

Purchase Links
.
Series: Ransom Canyon (Book 2)
Mass Market Paperback: 368 pages
Publisher: HQN Books (January 26, 2016)
On a dirt road marked by haunting secrets, three strangers caught at life's crossroads must decide what to sacrifice to protect their own agendas…and what they're each willing to risk for love. 
If there's any place that can convince Angela Harold to stop running, it's Ransom Canyon. And if there's any man who can reveal desires more deeply hidden than her every fear, it's Wilkes Wagner. Beneath the rancher's honorable exterior is something that just might keep her safe…or unwittingly put her in danger's path.
With his dreams of leaving this small Texas town swallowed up by hard, dusty reality, all Wilkes has to show for his life is the Devil's Fork Ranch. Though not one to let false hope seduce him, he can't deny the quiet and cautious beauty who slips into his world and changes everything.
Lauren Brigman finally has freedom at her fingertips. All she needs is Lucas Reyes's attention—a look, a touch, some sign that she's more to him than a girl he rescued one dangerous night. But now it's her turn to rescue someone, and the life-altering decision may cost her more than a chance with Lucas.

Purchase Links
.
Series: Cabin Fever (Book 4)
Mass Market Paperback: 416 pages
Publisher: HQN Books (January 26, 2016)
In an enchanting new romance from USA TODAY bestselling author Christie Ridgway, love comes home to Blue Arrow Lake when childhood sweethearts get an unexpected second chance… 
Mackenzie Walker has everything a single girl needs in her California mountain hometown. Family, friends, a thriving business…and memories of Zan Elliott, whose touch—and betrayal—she's never forgotten. Now, ten years after he left town, Zan returns to manage his late grandfather's estate…and flip Mac's life upside down.
Documentary filmmaking has taken Zan all over the globe, yet nowhere was far enough away to make him forget Mac. Seeing her reignites their incredible chemistry. Mac's trust won't be easily won, especially when Zan's inheritance jeopardizes her family's hard-earned dreams. But every moment together is challenging Zan to stop living life through a lens and dare to let his guard down for a chance at forever…

Purchase Links
.
Series: Texas Rangers: Elite Troop (Book 1)
Mass Market Paperback: 224 pages
Publisher: Harlequin; Not for Online edition (January 19, 2016)
HE'D TAKE A BULLET FOR HER 
His key witnesses dead, Texas Ranger Garrison Travis had to protect innocent bystander Kenderly Tyler. Her crucial evidence had two very dangerous Texas crime families willing to do anything to keep her quiet. But Garrison's undercover status had branded him a killer, and now the bad and the good guys were after them both.
Hiding out with a handsome protector, on the run for her life, was so beyond anything Kenderly had imagined. While there was more than just adrenaline pulsing between them, the Ranger vowed his job was his life. Dare she wonder what would become of them should they actually make it out alive?


Purchase Links
.
Ransom by Terri Reed
Series: Northern Border Patrol
Mass Market Paperback: 224 pages
Publisher: Love Inspired (February 9, 2016)
"WE HAVE YOUR SISTER."
Liz Cantrell is terrified when she receives a call from a man holding her newlywed sister captive—and she's convinced her sketchy brother-in-law's involved. Willing to pay any price for her sister's freedom, Liz flies to Niagara Falls with the ransom: an uncut diamond necklace worth millions. But the moment she lands, a handsome, world-weary Immigration and Customs Enforcement agent takes her into custody. Blake Fallon's determined to catch a ruthless diamond smuggler—and the pretty antiques dealer trying to save her sister could be just the break his case needs. But as they team up to rescue Liz's sister and trap the criminal mastermind, a desperate standoff will threaten everything they hold precious—including their lives.
Northern Border Patrol: Keeping the US-Canada border safe.

Purchase Links
.
Crazed by Edie Harris
Print Length: 204 pages
Publisher: Carina Press (January 11, 2016)
Casey Faraday was a soldier before he was a spy, but family always came first, no matter what.
When a member of the Faraday clan is snatched off the streets and dragged halfway across the world, it's Casey who follows the kidnappers' trail to South America. Thrust into the heart of the cartel he barely escaped during an undercover assignment four years earlier, he's unprepared for the shock awaiting him on Colombian soil.
Ilda Almeida—the only woman to ever tempt Casey into madness, the beautiful wife he'd mourned for years—is very much alive. And keeping a secret that will forever change life as he knows it.
Casey can't control his hands—or his heart—around Ilda, but neither can he abandon his rescue mission. When cartel violence turns the jungle into a bloodbath, he can only protect one family: his.
Book three of the Blood Money series

Purchase Links
.
Print Length: 133 pages
Publisher: Carina Press (February 15, 2016)
An unexpected fresh start leads to an unlikely-but-absolutely-perfect pairing in this male/male new-adult novel from bestselling gay romance author K.A. Mitchell
Ethan may have followed his high school sweetheart to college only to get dumped his first day there, but he's not going to let that stop him from exploring all his new life has to offer. Sex-only hookups, his photography, new friends and a campus-wide game of zombies vs humans all help keep his mind off his broken heart and move him toward building a new, better life without his ex.
And then there's Wyatt. Mysterious, grouchy—hot. And possibly not gay. But Ethan's not going to let that stand in the way of figuring out what makes Wyatt tick. New college goal? Get Wyatt into bed and into Ethan's life.
Step one: arrange a "tutoring" date. Step two: "accidentally" bump into Wyatt as often as possible. Step three: explore the sexy body under that ever-present hoodie. And when their friendship deepens into something neither of them expect, convince Wyatt he's not just a pity fling or a one-time hookup, but that Ethan is in it for the long haul.

Purchase Links
.
.Series: Forged of Steele
Mass Market Paperback: 224 pages
Publisher: Harlequin Kimani (February 23, 2016)
They're discovering the healing powers of passion 
Burned-by-love architect Hunter McKay came home to Phoenix to open her own firm, not rekindle her fleeting high school romance with playboy Tyson Steele. But when she runs into the sexy surgeon at a nightclub—and he unleashes that legendary Steele charm—Hunter fears she's headed straight for heartbreak once again.
Tyson hasn't forgotten the one who got away. A weeklong fling should be just enough to get the sultry beauty out of his system for good, even if he has to let Hunter set the ground rules. But the rules are suddenly changing for the no-strings bachelor. Can Tyson convince this sensual woman that he's the real deal—that they deserve a second chance together?

Purchase Links
Valentine's Day Tour TOUR STOPS:
Monday, February 1st: The Book Binge – Angi Morgan guest post, "Sweet Things Heroes Do"
Tuesday, February 2nd: Satisfaction for Insatiable Readers – Kristan Higgins guest post, "Shot Through the Heart"
Thursday, February 4th: Written Love Reviews  Christie Ridgway guest post, "Valentine's Day is for the Girls, But What do Men Think?"
Friday, February 5th: It's a Mad Mad Mad World – Terri Reed guest post, "Chocolate is Good For You"
Monday, February 8th: Reading Reality – Edie Harris guest post, "A Wilder Love Story"
Tuesday, February 9th: Book Mama Blog – Kasey Michaels guest post, "Reminiscing on my First Valentine's Day-Themed Story"
Thursday, February 11th: Bewitched Bookworms – Jodi Thomas guest post, "Heart on His Sleeve"
Friday, February 12th: Sharon's Garden of Book Reviews  Lindsay McKenna guest post, "How Love Heals All"
Saturday, February 13th: Romantic Reads and Such –  K. A. Mitchell guest post, "Trixie Belden and the Mystery of Valentine's Day Presents"
Sunday, February 14th: The Sassy Bookster -Brenda Jackson guest post, "On Valentine's Day"
Monday, February 15th: A Holland Reads – review, An Improper Arrangement
Wednesday, February 17th: What I'm Reading – spotlight, An Improper Arrangement
Thursday, February 18th: A Chick Who Reads – review, Anything for You