_____________________________
Can secrets be our own undoing?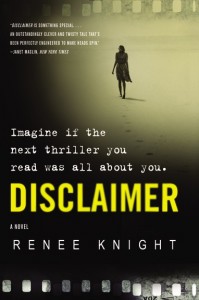 Disclaimer by Renée Knight
"Sensationally good psychological suspense. . . . exactly what a great thriller should be."—Lee Child
What if you realized the terrifying book you were reading was all about you?
When a mysterious novel appears at Catherine Ravenscroft's bedside, she is curious. She has no idea who might have sent her The Perfect Stranger—or how it ended up on her nightstand. At first, she is intrigued by the suspenseful story that unfolds.
And then she realizes.
This isn't fiction.
The Perfect Stranger re-creates in vivid, unmistakable detail the day Catherine became hostage to a dark secret, a secret that only one other person knew—and that person is dead.
Now that the past Catherine so desperately wants to forget is catching up with her, her world is falling apart. Plunged into a living nightmare, her only hope is to confront what really happened on that terrible day . . . even if the shocking truth might destroy her.

Purchase Links
HarperCollins | Amazon | Barnes & Noble
_____________________________
With themes including family, friendships, and careers,
book clubs will find much to discuss in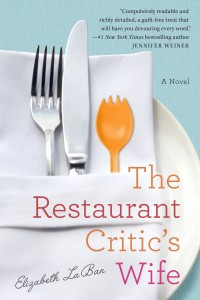 The Restaurant Critic's Wife by Elizabeth LaBan
What could be better than being married to a restaurant critic? All those amazing meals at the best restaurants…pure nirvana, right? Well, Lila Soto, the heroine of Elizabeth LaBan's charming new novel, The Restaurant Critic's Wife (Lake Union Publishing; January 5, 2016), might tell you otherwise. Sure the food is heavenly, but the downsides are considerable—especially being married to a man who is obsessed with his job and paranoid to the point of absurdity about being "outed" from his anonymity. Add to the scenario the fact that Lila has given up her own career to follow her husband's job to a new, unfamiliar city, and that she is now a fulltime stay-at-home mom—a gig she never aspired to, despite loving her kids—and you begin to see why Lila is doubting every life decision she's ever made.
Though it is not an autobiography by any means, it can't be overlooked that Elizabeth LaBan is herself married to Philadelphia restaurant critic Craig LaBan. "This book wouldn't exist without my husband," she says, "who brings excitement, adventure, love, and great food into our lives every day, and has always been open to my writing a novel about a woman who is married to a wacky restaurant critic. For the record, Craig is not obsessive or controlling like Sam—and Craig did not tell me to say that." But, even if her main characters are fictitious, there is no denying that Elizabeth draws on aspects of her own life to lend a delicious verisimilitude to the novel.
The Restaurant Critic's Wife is a charming portrait of the complexities of life that many women face when dealing with their marriages, their children, their friendships, and their careers. All the talk about exquisite food is merely the icing on a one-of-a-kind cake. 
"A tender, charming, and deliciously diverting story about love, marriage, and how your restaurant-review sausage gets made. The Restaurant Critic's Wife is compulsively readable and richly detailed, a guilt-free treat that will have you devouring every word." —Jennifer Weiner, #1 New York Times bestselling author of Good In Bed, Best Friends Forever, and Who Do You Love

Purchase Links
_____________________________
Regency-era adventure, intrigue and romance!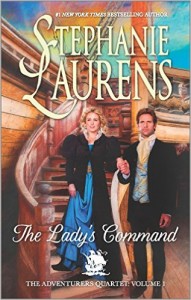 The Lady's Command by Stephanie Laurens
#1 New York Times bestselling author Stephanie Laurens brings you THE ADVENTURERS QUARTET, a riveting blend of Regency-era high seas adventure, intrigue and romance
His to cherish
Declan Frobisher chose Lady Edwina Delbraith as his wife. Scion of a bold, seafaring dynasty, he's accustomed to getting his way—Edwina would be the woman who graced his arm, warmed his bed and remained safely at home when he returned to sea. But once the knot is tied, Declan discovers Edwina is unconventional and strong-willed, and his marriage promises to be as tempestuous as the high seas.
Hers to command
Edwina's fairy-princess beauty hides a spine of steel. Born into the aristocracy—born to rule—and with Declan's ring gracing her finger, she expects to forge a marriage by his side. Then bare weeks into their honeymoon, Declan is recruited to sail on a secret mission. Edwina—naturally—declares she must accompany him.
Theirs to conquer
Facing unforeseen perils and unexpected enemies while battling to expose a dastardly scheme, Declan and Edwina discover that their unusual marriage demands something they both possess—bold and adventurous hearts.
JOIN THE ADVENTURERS—four couples whose passionate voyages will transport you. Start the journey here and follow the adventures, the mysteries and the romances to the cataclysmic end!
"The narrative smoothly transitions between high society's sophisticated yet superficial pleasantries and the romance of stolen glances and tender intimacy between Edwina and Declan…. Edwina and Declan share the narration, and their sweet, humorous thoughts give readers pleasant guidance on this romantic journey." –Publishers Weekly

Purchase Links
_____________________________
A memoir of food and family: book clubs will devour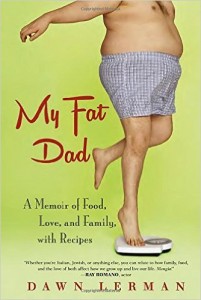 My Fat Dad: A Memoir of Food, Love, and Family, with Recipes by Dawn Lerman
From the author of the New York Times Well Blog series, My Fat Dad
Every story and every memory from my childhood is attached to food…
Dawn Lerman spent her childhood constantly hungry. She craved good food as her father, 450 pounds at his heaviest, pursued endless fad diets, from Atkins to Pritikin to all sorts of freeze-dried, saccharin-laced concoctions, and insisted the family do the same—even though no one else was overweight. Dawn's mother, on the other hand, could barely be bothered to eat a can of tuna over the sink. She was too busy ferrying her other daughter to acting auditions and scolding Dawn for cleaning the house ("Whom are you trying to impress?").
It was chaotic and lonely, but Dawn had someone she could turn to: her grandmother Beauty. Those days spent with Beauty, learning to cook, breathing in the scents of fresh dill or sharing the comfort of a warm pot of chicken soup, made it all bearable. Even after Dawn's father took a prestigious ad job in New York City and moved the family away, Beauty would send a card from Chicago every week—with a recipe, a shopping list, and a twenty-dollar bill. She continued to cultivate Dawn's love of wholesome food, and ultimately taught her how to make her own way in the world—one recipe at a time.
In My Fat Dad, Dawn reflects on her colorful family and culinary-centric upbringing, and how food shaped her connection to her family, her Jewish heritage, and herself. Humorous and compassionate, this memoir is an ode to the incomparable satisfaction that comes with feeding the ones you love.
"Whether you're Italian, Jewish, or anything else, you can relate to how family, food, and the love of both affect how we grow up, and live our life. Mangia!"—Ray Romano, Emmy award-winning actor
"A quasi-memoir cookbook that will have readers laughing, crying, and nodding all at the same time…Lerman is engaging."—Booklist

"Laced with love, family dramas, recipes, and the pangs of growing up, Lerman's memoir is a satisfying treat."—Kirkus
"The Manhattan nutritionist was raised by a diet junkie who tried every regimen under the sun and food — or the lack of it — ruled her life. My Fat Dad is about her eccentric upbringing and her constant state of hunger as Albert imposed his wacky ways on the whole family. " —New York Post
.


Purchase Links
_____________________________
Please fill out our super short registration form (<—click here) by January 31st for a chance to win a set of up to ten copies of one of these great books for your book club! We will randomly choose a winner at the end of the month. This contest is open to clubs in the US only (our apologies to friends in other countries). 
Best of luck!
We 
LOVE

 Book Clubs!