_____________________________
Book Clubs will love this true story of four women who dared to change history.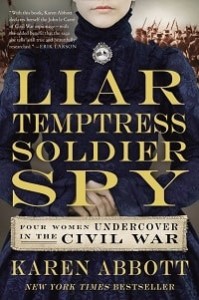 Liar, Temptress, Soldier, Spy by Karen Abbott
A Library Journal Best Book of 2014
A Christian Science Monitor Best Book of 2014
New York Times bestselling author Karen Abbott tells the spellbinding true story of four women who risked everything during the Civil War.
Seventeen-year-old Belle Boyd, an avowed rebel with a dangerous temper, shot a Union soldier in her home, and became a courier and spy for the Confederate army, using her considerable charms to seduce men on both sides. Emma Edmonds disguised herself as a man to enlist as a Union private named Frank Thompson, witnessing the bloodiest battles of the war and infiltrating enemy lines. The beautiful widow Rose O'Neal Greenhow engaged in affairs with powerful Northern politicians and used her young daughter to send information to Southern generals. Elizabeth Van Lew, a wealthy Richmond abolitionist, hid behind her proper Southern manners as she orchestrated a far-reaching espionage ring—even placing a former slave inside the Confederate White House—right under the noses of increasingly suspicious rebel detectives.
With a cast of real-life characters, including Nathaniel Hawthorne, General Stonewall Jackson, Detective Allan Pinkerton, Abraham and Mary Todd Lincoln, and Emperor Napoléon III, Liar, Temptress, Soldier, Spy shines a dramatic new light on these daring—and, until now, unsung—heroines.

Purchase Links
HarperCollins | Amazon | IndieBound | Barnes & Noble
_____________________________
Book Clubs will love this collection of short stories
about food and travel!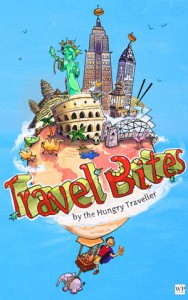 Travel Bites by The Hungry Traveller
Travel Bites is a collection of anecdotal travel stories that crisscross the globe. It is the first work by The Hungry Traveller who has combined his two great life passions: travelling and eating! The Hungry Traveller has been travelling for the last fifteen years and, along the way, has experienced many different sights, tastes, and cultures. Central to his travel experiences has been the role of food. Through his unique and very personal style of storytelling, you too can share in the highs and the lows of his stories from around the world. At the end of each story is a recipe for a dish inspired by his adventure. Travel Bites will capture your imagination and curiosity; and will leave you yearning to plan your next holiday, adventure or escape!
"The Hungry Traveller combines two of the great pleasures of life, travelling and eating, to bring you a book full of fantastic sights, tastes and cultures. For 15 years the Hungry Traveller has been roaming the world sightseeing and, of course, sampling food from different cultures. He brings the two together with these memories and recipes. An easy read that will have you yearning to pack your bags and head off for an overseas adventure." Linda Hall, Books Editor, Hawke's Bay Today newspaper
Author bio:  The Hungry Traveller is a travelling enthusiast who loves to eat! When travelling, he enjoys meeting new people and engaging with locals to learn about their culture, history and the food that they eat. Learn more at www.travelbitesbythehungrytraveller.com.
Publisher info: Wattle Publishing is an independent publisher. We publish fiction, non-fiction and poetry. Connect with Wattle Publishing on Facebook, Twitter, and on their website,  www.wattlepublishing.com.
Purchase Links-Kindle Edition
Amazon US | Amazon UK |iBooks | Kobo
Purchase Links-Paperback Edition
Amazon US | Amazon UK |Wordery |Wattle Publishing
_____________________________
A sweet, funny love story perfect for book clubs!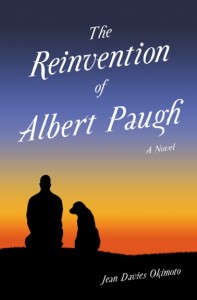 The Reinvention of Albert Paugh by Jean Davies Okimoto
Dr. Albert Paugh is flunking retirement. After selling his Vashon Island veterinary practice, he soon finds himself not only lost without his work, but suddenly single. His efforts to carve out a new life, both as a bachelor and a retiree, only leave him feeling like his golden years are fast becoming years of gloom. His regrets pile up until he moves to Baker's Beach where he gets to know a very special neighbor, learns that friends are the family you choose, and finds a new sense of purpose. The Reinvention of Albert Paugh is a sweet, funny love story about retirees that will delight readers (and dog lovers) of any age.
The Reinvention of Albert Paugh is the third book in Jean Davies Okimoto's Island Trilogy, following The Love Ceiling and Walter's Muse.
Purchase Link
_____________________________
The healing power of love!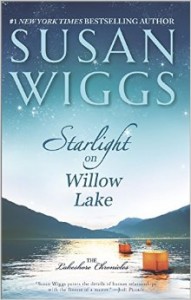 Starlight on Willow Lake by Susan Wiggs
Join #1 New York Times bestselling author Susan Wiggs on a journey to a charming Catskills town that feels like home and where a cast of brilliantly drawn characters awaits in a poignant story of reconciliation and the healing power of love.
When caregiver Faith McCallum arrives at the enchanted lakeside estate of Avalon's renowned Bellamy family, she's intent on rebuilding her shattered life and giving her two daughters a chance at a better future. But she faces a formidable challenge in the form of her stubborn and difficult new employer, Alice Bellamy. While Faith proves a worthy match for her sharp-tongued client, she often finds herself at a loss for words in the presence of Mason Bellamy—Alice's charismatic son, who clearly longs to escape the family mansion and return to his fast-paced, exciting life in Manhattan…and his beautiful, jet-setting fiancée.
The last place Mason wants to be is a remote town in the Catskills, far from his life in the city, and Faith McCallum is supposed to be the key to his escape. Hiring the gentle-hearted yet strong-willed caregiver as a live-in nurse gives his mother companionship and Mason the freedom to return to his no-attachments routine. For Faith, it means stability for her daughters and a much-needed new home. When Faith makes a chilling discovery about Alice's accident, Mason is forced to reconsider his desire to keep everyone, including his mother, at a distance. Now he finds himself wondering if the supercharged life he's created for himself is what he truly wants…and whether exploring his past might lead to a new life—and lasting love—on the tranquil shores of Willow Lake.
"Wiggs's storytelling is heartwarming… [for] romance and women's fiction readers of any age."—Publishers Weekly
.


Purchase Links
_____________________________
An exploration of friendship, family and love!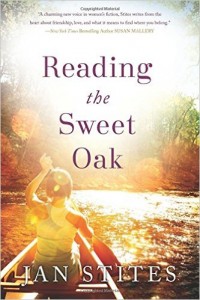 Reading the Sweet Oak by Jan Stites
Along the banks of the Sweet Oak River, deep in the heart of the Ozarks, a romance novel book club takes five women on stunning journeys of self-discovery.
After losing first her husband, then her daughter, seventy-eight-year-old grandmother Ruby wants to teach her risk-averse granddaughter, Tulsa, that some leaps are worth taking, no matter how high the potential fall. Tulsa loves her grandmother dearly, but she has a business to run and no time for romance—not even the paperback version. But when Ruby ropes her into a book club, Tulsa can't bring herself to disappoint the woman who raised her.
Together with Ruby's best friend, Pearl, as well as family friends BJ and Jen, the women embark on an exploration of modern-day love guided by written tales of romance. What they discover is a beautiful story that examines the bonds of friendship and the highs and lows of love in all its forms.


Purchase Links
Amazon | Books-A-Million | Barnes & Noble
_____________________________
Please fill out our super short registration form (<—click here) by September 30th for a chance to win a set of up to ten copies of one of these great books for your book club! We will randomly choose a winner at the end of the month. This contest is open to clubs in the US only (our apologies to friends in other countries). 
Best of luck!
We 
LOVE

 Book Clubs!