_____________________________
Book clubs will love Orphan #8 – inspired by true events, a woman confronts the hard circumstances of her life as an orphan in 1920s New York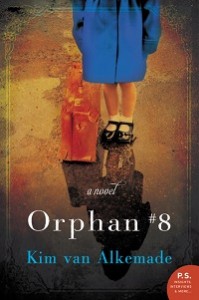 Orphan #8 by Kim van Alkemade
A stunning debut novel of historical fiction set in the forgotten world of New York City's Jewish orphanages
In 1919, four-year-old Rachel Rabinowitz is placed in the Hebrew Infant Home where Dr. Mildred Solomon is conducting medical research on the children. Dr. Solomon subjects Rachel to an experimental course of X-ray treatments that establish the doctor's reputation while risking the little girl's health. Now it's 1954, and Rachel is a nurse in the hospice wing of the Old Hebrews Home when elderly Dr. Solomon becomes her patient. Realizing the power she holds over the helpless doctor, Rachel embarks on a dangerous experiment of her own design. Before the night shift ends, Rachel will be forced to choose between forgiveness and revenge.
Inspired by true events, Orphan #8 is a powerful novel about the human capacity to harm—and to love.

Purchase Links
_____________________________
Book clubs will embrace this story about the beauty of forgiveness and the power of second chances.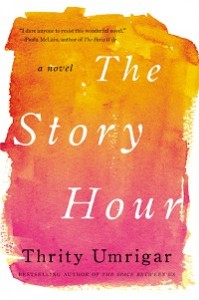 The Story Hour by Thrity Umrigar
An experienced psychologist, Maggie carefully maintains emotional distance from her patients. But when she agrees to treat a young Indian woman who tried to kill herself, her professional detachment disintegrates. Cut off from her family in India, and trapped in a loveless marriage to a domineering man, Lakshmi is desperately lonely.
Moved by Lakshmi's plight, Maggie offers to see her as an outpatient for free. In the course of their first sessions, she quickly realizes that what Lakshmi really needs is not a shrink but a friend. Determined to empower Lakshmi as a woman who feels valued in her own right, Maggie abandons protocol, and soon doctor and patient become close.
However, crossing professional boundaries has its price. As Maggie and Lakshmi's relationship deepens, long-buried secrets come to light that shake their faith in each other and force them to confront painful choices in their own lives.

Purchase Links
_____________________________
Explore a generational saga of love and redemption in The Story of Land and Sea.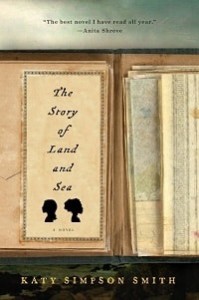 The Story of Land and Sea by Katy Simpson Smith
Drawn to the ocean, ten-year-old Tabitha wanders the marshes of her small coastal village and listens to her father's stories about his pirate voyages and the mother she never knew. Since the loss of his wife, Helen, John has remained land-bound for their daughter, but when Tab contracts yellow fever, he turns to the sea once more. Desperate to save his daughter, he takes her aboard a sloop bound for Bermuda, hoping the salt air will heal her.
Years before, Helen herself was raised by a widowed father. Asa, the devout owner of a small plantation, gives his daughter a young slave named Moll for her tenth birthday. Helen and Moll go on to develop a close but uneasy companionship. As the girls grow up, Helen gradually takes over the running of the plantation, but when she meets John, the pirate turned Continental soldier, she flouts convention and her father's wishes by falling in love. Moll, meanwhile, is forced into marriage with a stranger. Her only solace is her son, Davy, whom she will protect with a passion that defies the bounds of slavery.
Set during the waning years of the American Revolution, this elegant, evocative, and haunting debut captures the singular love between parent and child, the devastation of love lost, and the desperate paths we travel in the name of renewal.

Purchase Links
_____________________________
Book Clubs will feel like they've traveled the world with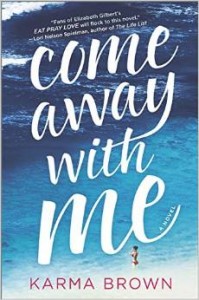 Come Away with Me by Karma Brown
A heartbreaking and emotional story of love and loss, COME AWAY WITH ME is one woman's discovery that life is still worth living, even if it's not the life you planned.
One minute, Tegan Lawson has everything she could hope for: an adoring husband, Gabe, and a baby on the way. The next, a patch of black ice causes a devastating accident that will change her life in ways she never could have imagined.
Tegan is consumed by grief—not to mention anger toward Gabe, who was driving on the night of the crash. But just when she thinks she's hit rock bottom, Gabe reminds her of their Jar of Spontaneity, a collection of their dream destinations and experiences, and so begins an adventure of a lifetime.
From the bustling markets of Thailand to the flavors of Italy to the ocean waves in Hawaii, Tegan and Gabe embark on a journey to escape the tragedy and search for forgiveness. But they soon learn that grief follows you no matter how far away you run, and that acceptance comes when you least expect it. Heartbreaking, hopeful and utterly transporting, COME AWAY WITH ME is an unforgettable debut and a luminous celebration of the strength of the human spirit.
"Karma Brown has written a book that will make you feel like you've traveled the world without leaving your seat. COME AWAY WITH ME is full of lush locations, memorable characters, and a turn of events that is nothing short of jaw-dropping. Brown's work is as smart as it is effortless to read."—Taylor Jenkins Reid, author of Forever, Interrupted and After I Do

Purchase Links
_____________________________
Book Clubs will love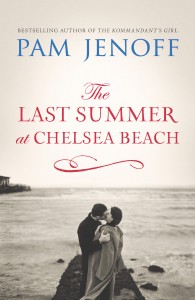 The Last Summer at Chelsea Beach by Pam Jenoff
Adelia Montforte begins the summer of 1941 aboard a crowded ship bound for America, utterly alone yet free of Fascist Italy. Whisked away to the seaside by her well-meaning aunt and uncle, she slowly begins to adapt to her new life. That summer, she basks in the noisy affection of the boisterous Irish-Catholic boys next door, and although she adores all four of the Connally brothers, it's the eldest, Charlie, she pines for. But all hopes for a future together are throttled by the creep of war and a tragedy that hits much closer to home.
Needing to distance herself from grief, Addie flees – first to Washington and then London, where the bombs still scream by night – and finds a passion at a prestigious newspaper. More so, she finds a purpose. A voice. And perhaps even a chance to redeem lost time, lost family – and lost love. But the past, never far behind, nips at her heels, demanding to be reckoned with. And in a final, fateful choice, Addie discovers that the way home may be a path she never suspected.
"The Last Summer at Chelsea Beach is a beautiful story of love and redemption about a woman struggling to find her voice and her way amidst the turmoil of World War II."—Kristin Hannah, #1 New York Times bestselling author
"The Last Summer at Chelsea Beach is a heartfelt, stirring love story set against the turbulent backdrop of war-torn Europe and the American home front.  Jenoff's meticulous research, a feisty heroine, and a sweeping plot makes this book a real page-turner.   A lovely story with a delicious and unexpected ending, The Last Summer at Chelsea Beach is definitely one for my keeper shelf."—Karen White, New York Times bestselling author
"Pam Jenoff's unforgettable story of a life disrupted by the chaos of war held me captive from beginning to end. When it comes to bringing an era to life, this author has no peer. It's a powerful, moving drama of love, loss and redemption—heartbreaking, authentic and ultimately uplifting."—Susan Wiggs, #1 New York Times bestselling author


Purchase Links
_____________________________
"A perfect book club pick" according to RT Book Reviews!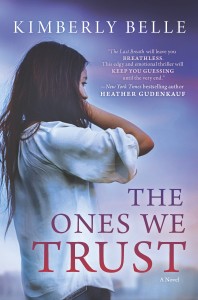 The Ones We Trust by Kimberly Belle
When former DC journalist Abigail Wolff attempts to rehabilitate her career, she finds herself at the heart of a US army cover-up involving the death of a soldier in Afghanistan—with unspeakable emotional consequences for one family. As the story of what happened comes to light, Abigail will do anything to write it.
The more evidence she stumbles upon in the case, the fewer people it seems she can trust, including her own father, a retired army general. And she certainly never expected to fall in love with the slain soldier's brother, Gabe, a bitter man struggling to hold his family together. The investigation eventually leads her to an impossible choice, one of unrelenting sacrifice to protect those she loves.
Beyond the buried truths and betrayals, questions of family loyalty and redemption, Abigail's search is, most of all, a desperate grasp at carrying on and coping—and seeking hope in the impossible.

Purchase Links
_____________________________
This historical thriller is perfect for fans of Tana French and Gone Girl!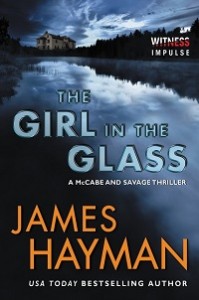 The Girl in the Glass by James Hayman
Two identical women.
Two identical murders. Two lives brutally cut short
108 years apart
June 1904.
Aimée Garnier Whitby, a beautiful French artist and wife of one of Maine's richest and most powerful men, is found near death on the Whitby family's private summer island, the letter "A" mysteriously carved into her chest.
June 2012.
Veronica Aimée Whitby, the eighteen-year-old descendant and virtual double of the first Aimée, becomes the victim of a near perfect copycat murder. With another beautiful, promising young Whitby woman slain, the media begin to swarm and pressure builds for Mike McCabe and Maggie Savage to bring the killer quickly to justice. But the key to solving Aimée's death just might have been buried with her beautiful ancestor.
The latest McCabe and Savage thriller from USA Today bestselling author James Hayman is a crackling, twisty novel of suspense, perfect for fans of J.A. Jance and John Sandford.

Purchase Links
HarperCollins | Amazon | Barnes & Noble
_____________________________
History, mystery and romance!
Book Clubs will love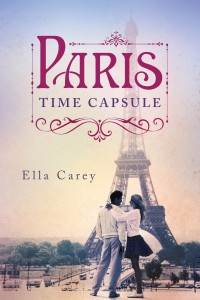 Paris Time Capsule by Ella Carey
New York-based photographer Cat Jordan is ready to begin a new life with her successful, button-down boyfriend. But when she learns that she's inherited the estate of a complete stranger—a woman named Isabelle do Florian—her life is turned upside down.
Cat arrives in Paris to find that she is now the owner of a perfectly preserved Belle Époque apartment in the ninth arrondissement, and that the Frenchwoman's family knew nothing about this secret estate. Amid these strand developments, Cat is left with burning questions: What was Isabelle de Florian? And why did she leave the inheritance to Cat instead of her own family?
As Cat travels France in search of answers, she feels her grasp on her New York life starting to slip. With long-buried secrets coming to light and an attraction to Isabelle de Florian's grandson growing too intense to ignore, Cat will have to decide what to let go of, and what to claim as her own.
"Ella Carey creates an almost impossibly romantic atmosphere."–Rachel Edwards, Review of Australian Fiction
"I am so looking forward to the release of Paris Time Capsule. Ella Carey is one of the most talented writers I have ever worked with. Roll on, release day!"–Melanie Milburne, USA Today best selling author
"Everything about this book was simply magical, the vividly described backdrops, the remarkable characters, the mysteries being unraveled, the romance, everything blended to pure perfection by this author. I highly recommend this read for anyone and everyone that loves reading. It was a history lesson mixed with a large dose of mystery and a dash of romance, what more could a reader ask for!" Desere Steenberg, reader, Amazon.com

Purchase Links
_____________________________
Please fill out our super short registration form (<—click here) by August 31st for a chance to win a set of up to ten copies of one of these great books for your book club! We will randomly choose a winner at the end of the month. This contest is open to clubs in the US only (our apologies to friends in other countries). 
Best of luck!
We 
LOVE

 Book Clubs!