_____________________________
We don't believe that our lives can change in an instant-until they do.
Book Clubs will find much to discuss in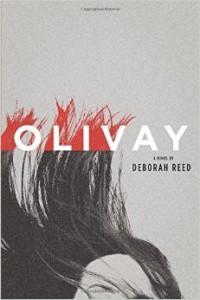 Olivay by Deborah Reed
Olivay, widowed for a year and sleepwalking through life, meets Henry by chance. She takes him to her Los Angeles loft, thinking it will just be for the night. But the following morning, bombs detonate across the city; mayhem and carnage fill the streets; and her loft is covered in broken glass and her own blood. Henry is skittish, solicitous, and strangely distracted. Who is this man she's marooned with as the city goes on lockdown? Why is she catching him in lie after lie? Is he somehow connected to her husband's death and the terrorist attacks outside?
With eloquent and suspenseful prose, Olivay explores the wreckage of loss and the collision of grief, desire, and terror in its aftermath. As the characters get pushed outside their comfort zones, forced to walk the thin line between destruction and salvation, Olivay keeps readers guessing what will become of Olivay and Henry until the very end.
Praise for Deborah Reed:
"Deborah's writing is complex, layered, diverse, and, much like the writer herself, a bit paradoxical. Just when you think you've got a handle on what's happening, everything falls out from under you… At times, her works seem reminiscent of Daniel Woodrell's Winter's Bone or Derek Cianfrance's Blue Valentine… Her characters are complicated and flawed, but that's precisely what makes them real, likable, and human." —VICE Magazine

Purchase Links
Amazon | Books-A-Million | Barnes & Noble
_____________________________
When kindergarten teacher, Colleen Gallagher, arrives on her daughter's doorstep to help with the new baby, she has no idea Fate is about to strike another blow at her family.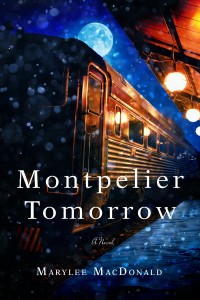 Montpelier Tomorrow by Marylee MacDonald
Mid-life mom, Colleen Gallagher, would do anything to protect her children from harm. When her daugther's husband falls ill with ALS, Colleen rolls up her sleeves and moves in, juggling the multiple roles of grandma, cook, and caregiver, only to discover that even her superhuman efforts can't fix what's wrong.
Praise
"Each time I have reread this novel, I have felt rewarded by the connection it offers to the central character, Colleen. I can think of no single page in which her voice is not an irreplaceable gift to the reader."—Kevin McIlvoy, author of The Fifth Station
"An affecting, deeply honest novel; at the same time, a lacerating indictment of our modern health care system"—Kirkus Reviews
"…if you like well written books, wonderfully developed characters, and a story with a greater purpose you should read Montpelier Tomorrow by Marylee MacDonald.  I cannot stress enough how good this book is."—Ben Green for Reader Views
"A heartrending story of love, loss and the endurance of the human spirit"—Literary Fiction Book Review
"Montpelier Tomorrow portrays real issues of life; it exposes the multi-layers of human conflict and the heroism of motherhood."—Cheryl E. Rodriguez for ReadersFavorite
"An amazing story of a family going through difficult times and each one trying to keep things going under those difficult circumstances."—Mamta Madhavan for ReadersFavorite

Purchase Links
_____________________________
Us is a compelling and funny novel about what holds marriages and families together, giving book clubs relationships to root for and plenty to discuss.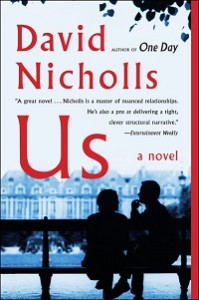 Us by David Nicholls
Douglas Petersen may be mild mannered, but behind his reserve lies a sense of humor that, against all odds, seduces beautiful Connie into a second date . . . and eventually into marriage. Now, almost three decades after their relationship first blossomed in London, they live more or less happily in the suburbs with their moody seventeen-year-old son, Albie.
Then Connie tells Douglas that she thinks she wants a divorce.
The timing couldn't be worse. Hoping to encourage her son's artistic interests, Connie has planned a monthlong tour of European capitals, a chance to experience the world's greatest works of art as a family, and she can't bring herself to cancel. Douglas is privately convinced that this landmark trip will rekindle the romance in the marriage, and may even help him to bond with Albie.
From the streets of Amsterdam to the famed museums of Paris, from the cafés of Venice to the beaches of Barcelona, Douglas's odyssey brings Europe to vivid life just as he experiences a powerful awakening of his own. Will this summer be his last as a husband, or the moment when he turns his marriage, and maybe even his whole life, around?

Purchase Links
Amazon | IndieBound | Barnes & Noble
_____________________________
How much would you give up to save the ones you love?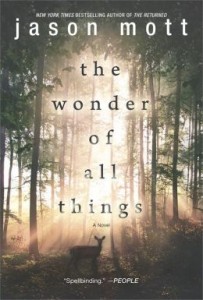 The Wonder of All Things by Jason Mott
On the heels of his critically acclaimed and New York Times bestselling debut novel, The Returned, Jason Mott delivers a spellbinding tale of love and sacrifice
On an ordinary day, at an air show like that in any small town across the country, a plane crashes into a crowd of spectators. After the dust clears, a thirteen-year-old girl named Ava is found huddled beneath a pocket of rubble with her best friend, Wash. He is injured and bleeding, and when Ava places her hands over him, his wounds disappear.
Ava has an unusual gift: she can heal others of their physical ailments. Until the air show tragedy, her gift was a secret. Now the whole world knows, and suddenly people from all over the globe begin flocking to her small town, looking for healing and eager to catch a glimpse of The Miracle Child. But Ava's unique ability comes at a great cost, and as she grows weaker with each healing, she soon finds herself having to decide just how much she's willing to give up in order to save the ones she loves most.
Elegantly written, deeply intimate and emotionally astute, The Wonder of All Things is an unforgettable story and a poignant reminder of life's extraordinary gifts.
Mott follows up his red-hot debut, The Returned (2013) with another intriguing novel…in prose that is elegant in its simplicity…he does a remarkable job of invoking a sense of reverence for the natural world and "the wonder of all things." —Booklist
"Lyrically written, thought-provoking and emotionally searing…another fascinating and powerful reflection from Mott on how the real world reacts when the impossible happens." —Kirkus Reviews
"Equal parts supernatural thriller and coming-of-age tale….[Readers] will be captivated by this poignant story of loss and love-and rewarded with a rich cast of characters."-Bookpage
"Spellbinding."-People
"A heartwarming novel with unforgettable characters….Mott is an amazing writer and give readers an uplifting, spiritual look into one of life's extraordinary gifts."-RT Book Reviews


Purchase Links
Amazon | Books-A-Million | Barnes & Noble
_____________________________
Book Clubs will love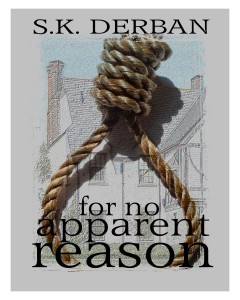 For No Apparent Reason by S. K. Derban
A focused law student, romance has been absent from Madison's life. She has successfully planned each phase of her life and resigned to the fact that there will be plenty of time for love after she passes the bar exam—that is, until the single act of seeking shelter from a spring downpour dramatically alters the course of her life. Madison is lured away from the security of law school into a world where she learns about the destructive nature of greed. Thrust in a maze of money laundering and murder, Madison experiences the value of true friendship and witnesses the healing power of love.

Purchase Links
Amazon | Books-A-Million | Barnes & Noble
_____________________________
Please fill out our super short registration form (<—click here) by July 31st for a chance to win a set of up to ten copies of one of these great books for your book club! We will randomly choose a winner at the end of the month. This contest is open to clubs in the US only (our apologies to friends in other countries). 
Best of luck!
We 
LOVE

 Book Clubs!