We've gathered up some sizzling summer reads for an
End of Summer Blog Tour!
Each tour stop will feature a guest post from one of the authors below, plus a fun Rafflecopter giveaway.
Be sure to follow along!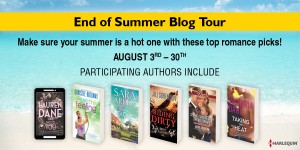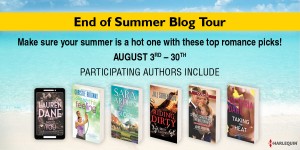 Mass Market Paperback: 336 pages
Publisher: HQN Books (May 26, 2015)
What won't he do for a second chance?
Former model Kelly Hurley has finally put the ashes of the past behind her. After a passionate but turbulent marriage to rock star Vaughan Hurley that ended in heartbreak and divorce, Kelly rebuilt her life in Portland, where she settled so their two young daughters could be close to their father. Just not so close Kelly couldn't truly make her own way without interference from the man who shattered her heart. Now Kelly's finally ready to move on, and she's planning to marry another man.
But not if Vaughan has anything to say about it.
Vaughan knows he was a fool all those years ago. A young, selfish—and prideful—fool. Even as he buried himself in the fast, decadent rock-star lifestyle, he could never drown out the memory of Kelly's beauty and love. Or the sweet, searing heat whenever they touched. For years, he's had to deal with the pain of seeing her only because of their daughters, but it was never enough. Now Vaughan must prove that he's the only man Kelly needs, before he loses her for good. And there's only one way to do it…

Purchase Links
Amazon | Books-A-Million | Barnes & Noble
Print Length: 192 pages
Publisher: Harlequin Desire (August 1, 2015)
It's a steamy reunion between a single mom and the billionaire who got away, from USA TODAY bestselling author Janice Maynard 
Former ski champion Conor Kavanagh enjoys a challenge. And he's encountered no challenge more arousing than Ellie Porter. Once, she broke his heart. Now that she's back in town? He can't seem to stay away…
But Ellie has changed. Widowed, with a baby, she has responsibilities—and secrets—weighing her down. Still, his desire for her is undeniable. Surely, he can have her without giving up his heart—or his daredevil ways? He's willing to risk it all to find out.
.


Purchase Links
Amazon | Books-A-Million | Barnes & Noble
.
Mass Market Paperback: 384 pages
Publisher: HQN Books (May 26, 2015)
Once upon a time, he was just a hopeless cause from the wrong side of Glory, Kansas. And he'll be damned if he'll let anyone drag him back down after finally clawing his way out.
Everyone knows that Gina Townsend is a saint, always taking care of everyone around her. And now she's trying to be a mother to her six-year-old niece, Amanda Jane. But the girl's biological father isn't helping matters. The scruffy, gangly boy Gina remembers has returned to Glory a sexy, successful man, but Reed Hollingsworth is the only thing standing between her and losing Amanda Jane to foster care.
Betrayed that neither Townsend sister bothered to tell him he was a father until he had money, Reed's still not about to shirk his responsibilities. So when he demands Gina move in with him as part of Amanda Jane's custody agreement, he tries not to notice pretty much everything about her—especially the way his solemn-faced daughter laughs when they play together.
Raising a child together, Reed and Gina learn that some dreams come and go, but some are a spark that burns eternal…

Purchase Links
Amazon | Books-A-Million | Barnes & Noble
Mass Market Paperback: 384 pages
Publisher: HQN Books (June 30, 2015)
Welcome back to charming Blue Arrow Lake as temptation sizzles in a glittering new romance from USA TODAY bestselling author Christie Ridgway
Blue-collar landscaper Brett Walker has no interest in the Hollywood vacationers flocking to his hometown in the California mountains. But the scarred ex-soldier does have a duty to protect Blue Arrow Lake—and the family ski resort—from a serial burglar. So when he suspects a break-in, he takes action…and ends up catching sinfully tempting down-on-her-luck heiress Angelica Rodriguez. She reminds him of trouble, but he can't deny her a safe place to stay—in one of his cabins.
Angelica has plenty of reasons to distrust—losing her money to her father's legal woes being one of them. Getting up close and naughty with rough, tough and sexy Brett tempts her out of her comfort zone and into the arms of a man who's not from her wealthy world. She's after safety and he's chasing justice, but the fire between them might reveal that all they want is each other.

Purchase Links
Amazon | Books-A-Million | Barnes & Noble
Mass Market Paperback: 384 pages
Publisher: HQN Books (July 28, 2015)
Passion this hot can't be faked…
All revved up for bright lights and steamy nights, writer Veronica Chandler chased her dreams to New York City. When she hit a dead end, reality sent her back home to Jackson Hole, Wyoming. Saving her pride and her new gig—writing a relationship advice column!—requires some faking. No one can know the truth about her big-city flop or her nonexistent sex life. But the town's irresistibly rugged librarian is determined to figure her out…and give her hands-on lessons in every wicked thing she wants to know.
Gabe MacKenzie's heart might be in Wyoming, but secretly his future's tied up in his family's Manhattan legacy. Getting down and dirty with Veronica is supposed to give him a few memorable nights—not complicate his plans. But the thing about heat this scorching is there's just no going back…and it might be too hot for either of them to take.

Purchase Links
Amazon | Books-A-Million | Barnes & Noble
.
Publisher: Carina Press (August 17, 2015)
Publication Date: August 17, 2015
He's her weapon of choice
Psychologist Mia Richards wants revenge. Her new client, tattooed Cole "Shank" Shepherd, provides the perfect means. She just has to manipulate the felon-turned-informant into eliminating her husband's killers—members of Cole's rival motorcycle club. The first step, seducing Cole, is simple. As for walking away before she falls hard—it's already too late…
Dirty Eleven practically raised Cole, and he plans to double-cross the cops rather than sell the club out. But smart, sexy Mia is an irresistible distraction. While she's evaluating his mind, all he can think about is her body…until he discovers her true intentions. Walking a fine line between desire and betrayal, they'll have to outrun her past, his enemies and the law for a love that's dangerously real.

Purchase Links
End of Summer Blog Tour TOUR STOPS:
Monday, August 3rd: Reading Reality – Lauren Dane guest post, "Hurley Family Summer Itinerary"
Tuesday, August 4th: Reading Reality – review – Back to You
Wednesday, August 5th: The Sassy Bookster – Janice Maynard guest post, "Sock it To Me Cake"
Friday, August 7th: The Bookish and the Romantic – Sara Arden guest post, "Lemonade," and review – Finding Glory
Monday, August 10th: A Chick Who Reads – Christie Ridgway guest post, "Summer Crushes"
Monday, August 10th: Romance Novels for the Beach – review of Taking the Heat
Wednesday, August 12th: Urban Girl Reader – Victoria Dahl guest post, "Summer Adventure"
Wednesday, August 12th: The Sassy Bookster – review – Taking the Heat
Friday, August 14th: From the TBR Pile – Back to You excerpt
Friday, August 14th: The Sassy Bookster – review – Back to You
Monday, August 17th: Mignon Mykel {Reviews} – Jill Sorenson guest post, "A Sexy End-of-Summer Bucket List" and mini reviews of all 6 books
Tuesday, August 18th: The Sassy Bookster – review – Second Chance With The Billionaire
Wednesday, August 19th: Snowdrop Dreams – Janice Maynard guest post, "Summer Vacation"
Thursday, August 20th: The Sassy Bookster – review – Finding Glory
Friday, August 21st: The Romance Dish – Sara Arden guest post. "True Story of Summer Love"
Friday, August 21st: Read Love Blog – review – Back to You
Monday, August 24th: Satisfaction for Insatiable Readers – Christie Ridgway guest post, "Romantic Summer Dates"
Monday, August 24th: The Sassy Bookster – review – Can't Fight This Feeling
Tuesday, August 25th: Satisfaction for Insatiable Readers – review – Can't Fight This Feeling
Wednesday, August 26th: Read Love Blog – Victoria Dahl guest post, "Summer Fling Cocktail Recipe"
Friday, August 28th: Romance Novels for the Beach – Jill Sorenson guest post, "Virtual Motorcycle Road Trip"
Friday, August 28th: The Sassy Bookster – review – Riding Dirty
Sunday, August 30th: Satisfaction for Insatiable Readers – review – Finding Glory