_____________________________
Book Clubs will love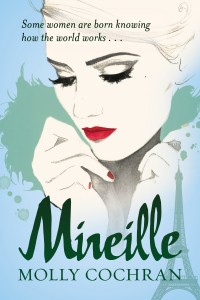 Mireille by Molly Cochran
Near the end of World War II, seventeen-year-old Mireille de Jouarre flees the home of her stepfather, a Nazi collaborator and abusive drunk. She finds shelter with her childhood friend Stefan, and the two fall deeply in love. But as the fighting escalates, Mireille must escape alone to Paris, where she discovers she's pregnant and lacking a way to provide for her child.
So begins her new life as l'Ange—the Angel. After an unlikely meeting with a wealthy aristocrat in a Parisian hotel—and her acceptance of his solicitation—Mireille becomes the most celebrated poule in all of France, eliciting huge fees and invitations to exclusive parties. At one of these events, Mireille meets Oliver Jordan, an American womanizer and film producer, and is soon launching a promising film career. As her star rises, Mireille is determined to bury her past. But her success isn't as carefree and glittery as it seems, and when her daughter's future is threatened, Mireille must make a deadly decision in a desperate attempt to finally choose her own path.

Purchase Links
Amazon | Books-A-Million | Barnes & Noble
_____________________________
Readers will enjoy the twists and turns of aging, identity, and memory in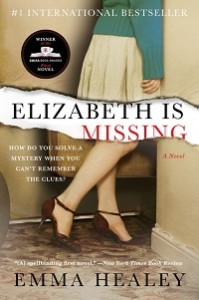 Elizabeth is Missing by Emma Healey
Maud is forgetful. She makes a cup of tea and doesn't remember to drink it. She goes to the shops and forgets why she went. Sometimes her home is unrecognizable—or her daughter, Helen, seems a total stranger.
But there's one thing Maud is sure of: her friend Elizabeth is missing. The note in her pocket tells her so. And no matter who tells her to stop going on about it, to leave it alone, to shut up, Maud will get to the bottom of it.
Because somewhere in Maud's damaged mind lies the answer to an unsolved seventy-year-old mystery. One everyone has forgotten about.
Everyone, except Maud . . .
A page-turning story of suspense, Elizabeth Is Missing hauntingly reminds us that we are all at the mercy of our memory. Always compelling, often poignant, and at times even blackly witty, this is an absolutely unforgettable novel.

Purchase Links
Amazon | IndieBound | Barnes & Noble
_____________________________
Maddy and Ben walk a fine line between marital rage and love until a catastrophe threatens their entire family.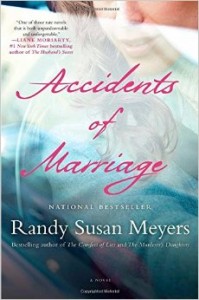 Accidents of Marriage by Randy Susan Meyers
For Madeline Illica, the love of her husband Ben was her greatest blessing and biggest curse. Brilliant and charming, Ben could turn into a raging bull when crossed—and despite her training as a social worker Maddy never knew what would cross him. When Ben was in a conciliatory mood, they worked on techniques for communication and anger management, but on the day of the accident, nothing seemed to help.
Accidents of Marriage holds readers from the first page to the last.
"This novel's unsparing look at emotional abuse and its devastating consequences gives it gravity and bite, while a glimpse into a physically damaged mind both surprises and fascinates."—People Magazine
"A complex, captivating tale."—Boston Globe
"A deft exploration of the borders of abuse and the aftermath of tragedy, the triumphs and disappointments of recovery, and the possibilities of faith and forgiveness."—Star Tribune
"Unputdownable and unforgettable. I just loved it—and I'll now read everything Randy Susan Meyers writes."—Liane Moriarty, NYT bestselling author of The Husband's Secret

Purchase Links
Amazon | IndieBound | Barnes & Noble
_____________________________
Please fill out our super short registration form (<—click here) by June 30th for a chance to win a set of up to ten copies of one of these great books for your book club! We will randomly choose a winner at the end of the month. This contest is open to clubs in the US only (our apologies to friends in other countries). 
Best of luck!
We 
LOVE

 Book Clubs!