To celebrate the release of Kate White's latest book, The Wrong Man, we're touring three of her back list books during May and June!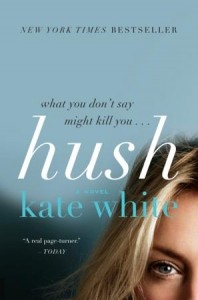 About Hush
• Paperback: 368 pages
• Publisher: Harper Paperbacks (February 1, 2011)
Four months after their separation, marketing consultant Lake Warren faces a tough legal battle with her husband, Jack, for custody of their two kids. Though the timing couldn't be worse, she finds herself responding to the flirtations of Dr. Mark Keaton, her handsome colleague at the Advanced Fertility Center. But the morning after their one-night stand, Lake discovers Keaton with his throat slashed.
Afraid of losing her children forever, Lake lies to the police—and begins searching for the truth on her own before she can be charged with the heinous crime. She starts getting hostile treatment from her coworkers, and strange clues start appearing, quite literally, on her doorstep. Soon Lake is pulled dangerously close to the very dark secrets surrounding the slain man and the clinic where they worked. And suddenly the police are not the only ones hunting Lake Warren.

Purchase Links
Amazon | IndieBound | Barnes & Noble
About The Sixes
• Paperback: 384 pages
• Publisher: Harper Paperbacks (June 5, 2012)
Right after Phoebe Hall's long-term boyfriend breaks off their relationship, she's falsely accused of plagiarizing her latest bestselling celebrity biography. Looking for a quiet place to put her life back together, she jumps at the offer to teach in a small private college in Pennsylvania run by her former boarding school roommate. But something evil lurks behind the quiet campus cafés and leafy maple trees. When the body of a female student washes up on the banks of a nearby river, disturbing accusations begin to surface about abuses wrought by a secret campus society known as The Sixes. Haunted by memories of her own school days, Phoebe launches a private investigation, and soon finds herself in the middle of a real-life nightmare, not knowing whom she can trust and if she will even survive. Because with the truth comes a terrifying revelation: your darkest secrets can still be uncovered . . . and starting over may be a crime punishable by death.

Purchase Links
Amazon | IndieBound | Barnes & Noble
About Eyes on You
• Paperback: 336 pages
• Publisher: Harper Paperbacks; Reprint edition (May 5, 2015)
For TV host Robin Trainer, everything seems good again. After losing her on-air job two years ago, she has fought her way back, and now with her new show climbing in the ratings and her first book a bestseller, she's being called a double threat.
But suddenly things go wrong. A few small but nasty incidents shake her confidence: a vicious note tucked into her purse at her book signing; the photo on her book jacket slashed in her office; a doll that looks just like her—but with its eyes gouged out—left on her desk chair. Soon the meanness turns threatening. Someone has eyes on Robin, an adversary with a dark agenda, and the clues point to someone she works with. As she frantically tries to put the pieces together and unmask an enemy hiding in the shadows all too close to her, it becomes terrifyingly clear that the person responsible isn't going to stop until Robin loses everything that matters to her . . . including her life.
In this nail-biting thriller full of stunning twists, Kate White takes you behind the scenes of the glamorous, high-intensity world of television and ratchets up the suspense, page by page, to the shocking end.

Purchase Links
Amazon | IndieBound | Barnes & Noble
About Kate White
Kate White, the former editor in chief of Cosmopolitan magazine, is the New York Times bestselling author of the stand-alone novels Hush, The Sixes, and Eyes on You, as well as the Bailey Weggins mystery series. She is editor of The Mystery Writers of America Cookbook. She is also the author of popular career books for women, including I Shouldn't Be Telling You This: How to Ask for the Money, Snag the Promotion, and Create the Career You Deserve.
Find out more about Kate at her website and connect with her on Facebook and Twitter.
Kate's Tour Stops
Monday, May 18th: Book Hooked Blog – The Sixes
Wednesday, May 20th: Dreams, Etc. – The Sixes
Friday, May 22nd: Books That Hook – The Sixes
Monday, May 25th: The many thoughts of a reader – Eyes On You
Tuesday, May 26th: Mystery Playground – Hush
Thursday, May 28th: Novel Escapes – Eyes On You
Monday, June 1st: No More Grumpy Bookseller – The Sixes
Thursday, June 4th: Priscilla and Her Books – Eyes On You
Monday, June 8th: Silver's Reviews – Eyes On You
Tuesday, June 9th: Mystery Playground – Eyes On You
Tuesday, June 9th: A Bookish Way of Life – Hush
Wednesday, June 10th: Good Girl Gone Redneck – Hush
Thursday, June 11th: Bell, Book and Candle – Hush