_____________________________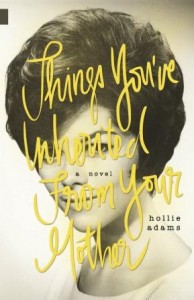 Things You've Inherited From Your Mother by Hollie Adams
Everyone deals with grief in their own personal way. Take Carrie, for example. Getting over her mother's death from ovarian cancer takes the form of ramping up passive-aggressive office warfare, continuing her campaign to show her ex-husband she's over him (further increasing the distance between herself and her teenage daughter, natch), ridding herself of her mother's overweight cat Poncho, and consuming heroic quantities of red wine, spiked coffee and coffin nails. Nobody's perfect.
Situated at the midpoint between booze-soaked mayhem and middle-aged ennui,Things You've Inherited From Your Mother is a riotous assemblage of found objects, Choose Your Own Adventure-style in jokes and useful facts about mice. In her startlingly funny first novel, Hollie Adams takes the conventional wisdom about likeable literary heroines and shoves it down an elevator shaft.
_____________________________
Book Clubs will love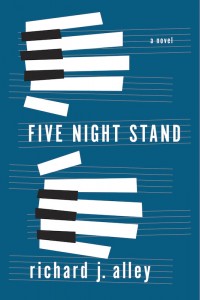 Five Night Stand by Richard J. Alley
Legendary jazz pianist Oliver Pleasant finds himself alone at the end of his career, playing his last five shows, hoping the music will draw his estranged family back… Frank Severs, a middle-aged, out-of-work journalist, is at a crossroads as his longtime dreams and marriage grind to a standstill… And piano prodigy Agnes Cassady is desperately grasping for fulfillment before a debilitating disease wrenches control from her trembling fingers… When Frank and Agnes come to New York to witness Oliver's final five-night stand, the timeless force of Oliver's music pulls the trio together. Over the course of five nights, the three reflect on their triumphs and their sorrows: families forsaken, ideals left along the wayside, secrets kept. Their shared search for meaning and direction in a fractured world creates an unexpected kinship that just might help them make sense of the past, find peace in the present, and muster the courage to face the future.
_____________________________
 Romantic Suspense in a war zone!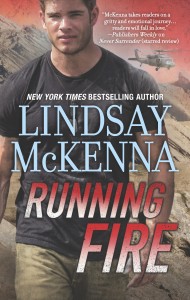 Running Fire by Lindsay McKenna
He was a haven in the midst of Hell…
Temporarily assigned to the Shadow Squadron in a troubled region of Afghanistan, Chief Warrant Officer and pilot Leah Mackenzie is no stranger to conflict—even if most of her physical and emotional scars are courtesy of her vicious ex. Still, she's got a bad feeling about picking up a team of stranded SEALs. A feeling that's all too justified once enemy fire hits their helicopter and all hell breaks loose…
SEAL Kell Ballard's goal was to get the injured pilot out of harm's way and find shelter deep in the labyrinth of caves. It's a place of dark intimacy, where Leah finds unexpected safety in a man's arms. Where prohibited attraction burns brightly. And where they'll hide until the time comes to face the enemy outside…and the enemy within their ranks.
Praise for Lindsay McKenna's work:
"Fans of military romance will appreciate." –Booklist
"Taking Fire is a pure page-turner." – RT Book Reviews
 "…fast-paced romantic suspense that renders a beautiful love story, start to finish. McKenna's writing is flawless, and her story line fully absorbing. More, please." – Library Journal
Chosen as a Library Journal Editor Spring Picks 2015
 "When it comes to women in combat, McKenna never disappoints. As always, her battlefield action is rapid-fire and relentless. The sounds and imagery seem so real they draw the reader into the crossfire." –ReaderToReader.com
"McKenna elicits tears, laughter, fist-pumping triumph, and most of all, a desire for the next tale in this powerful series." – Publishers Weekly STARRED review on Running Fire
_____________________________
The heavy burden of shame and secrets-
Book Clubs will find much to discuss in

Trail of Broken Wings by Sejal Badani
When her father falls into a coma, Indian American photographer Sonya reluctantly returns to the family she'd fled years before. Since she left home, Sonya has lived on the run, free of any ties, while her soft-spoken sister, Trisha, has created a perfect suburban life, and her ambitious sister, Marin, has built her own successful career. But as these women come together, their various methods of coping with a terrifying history can no longer hold their memories at bay.
Buried secrets rise to the surface as their father—the victim of humiliating racism and perpetrator of horrible violence—remains unconscious. As his condition worsens, the daughters and their mother wrestle with private hopes for his survival or death, as well as their own demons and buried secrets.
Told with forceful honesty, Trail of Broken Wings reveals the burden of shame and secrets, the toxicity of cruelty and aggression, and the exquisite, liberating power of speaking and owning truth.
_____________________________
The Daughter explores a mother's worst nightmare, and the uncovering of secrets long thought buried.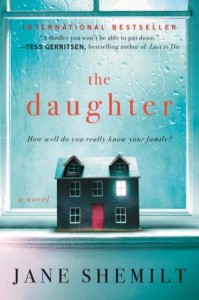 The Daughter by Jane Shemilt
Jenny is a successful family doctor, the mother of three great teenagers, married to a celebrated neurosurgeon.
But when her youngest child, fifteen-year-old Naomi, doesn't come home after her school play, Jenny's seemingly ideal life begins to crumble. The authorities launch a nationwide search with no success. Naomi has vanished, and her family is broken.
As the months pass, the worst-case scenarios—kidnapping, murder—seem less plausible. The trail has gone cold. Yet, for a desperate Jenny, the search has barely begun. More than a year after her daughter's disappearance, she's still digging for answers—and what she finds disturbs her. Everyone she's trusted, everyone she thought she knew, has been keeping secrets, especially Naomi. Piecing together the traces her daughter left behind, Jenny discovers a very different Naomi from the girl she thought she'd raised.
Jenny knows she'll never be able to find Naomi unless she uncovers the whole truth about her daughter—a twisting, painful journey into the past that will lead to an almost unthinkable revelation. . . .
_____________________________
Please fill out our super short registration form (<—click here) by May 31st for a chance to win a set of up to ten copies of one of these great books for your book club! We will randomly choose a winner at the end of the month. This contest is open to clubs in the US only (our apologies to friends in other countries). 
Best of luck!
We 
LOVE

 Book Clubs!