_____________________________
Atmospheric and chilling, Mind of Winter is a psychological thriller that will keep everyone reading late into the night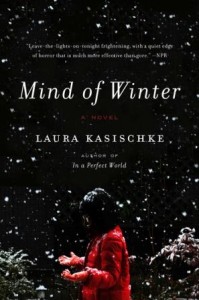 Mind of Winter by Laura Kasischke
Something had followed them from Russia.
It was thirteen years ago that Holly and her husband, Eric, went to Siberia to adopt the sweet, dark-haired child they wanted so desperately. How they laughed at the nurses of Pokrovka Orphanage #2, with their garlic and superstitions, and ignored their insistent warnings. After all, their fairy princess Tatiana—Baby Tatty—was perfect.
As the snow falls, enveloping the world in its white silence, Holly senses that something is not right, and has never been right in the years since they brought their daughter home. She and Tatiana are alone. Eric is stuck on the roads, and none of the other guests for Christmas dinner will be able to make it through the snow. With each passing hour, the blizzard rages and Tatiana's mood darkens, her behavior becoming increasingly disturbing . . . until, in every mother's worst nightmare, Holly finds she no longer recognizes her daughter.
_____________________________
Move over, Indiana Jones!
Book clubs will love Ryder
Ryder: An Ayesha Ryder Novel by Nick Pengelley
Ayesha Ryder bears the scars of strife in the Middle East. Now her past is catching up with her as she races to unravel a mystery that spans centuries-and threatens to change the course of history.
As Israeli and Palestinian leaders prepare to make a joint announcement at the Tower of London, an influential scholar is tortured and murdered at his home in St. John's Wood. Academic researcher Ayesha Ryder believes it is no coincidence. Sir Evelyn Montagu had unearthed shocking revelations about T. E. Lawrence, the famed Lawrence of Arabia. Could he have been targeted because of his discoveries?
Ryder's search for answers takes her back to her old life in the Middle East and into a lion's den of killers and traitors. As she draws the attention of agents on both sides of the conflict-including detectives from Scotland Yard and operatives from MI5-Ryder finds herself stumbling across Lawrence's secrets, an astounding case of royal blackmail, and even the search for the Bible's Ark of the Covenant.
Every step of the way, the endgame grows more terrifying. When an attack rocks London, the real players show their hand-and Ayesha Ryder is left holding the final piece of the puzzle.
"Move over Indiana Jones; meet Ayesha Ryder!" – Queen of All She Reads
"[Nick] Pengelley sets an unconventional story loose on and below the streets of London. With his unusual heroine, the author rejects the cliches of action-adventure thrillers and delivers a surprisingly entertaining read."—Library Journal(starred review)
"An exciting thriller with characters that you can't help but like . . . a thrill-a-minute story . . . well worth reading . . . Pengelley has a hit with the character of Ayesha Ryder."—Fresh Fiction
"This fast-paced crime/political thriller not only is timely for today's Israeli-Palestinian conflicts, but it delves into historical events that helped shape the way the region's political climate has evolved. . . . Get ready for an edge-of-your-seat ride featuring a kick-butt heroine bent on justice . . . I had a blast reading Ryder."—Popcorn Reads
"An Indiana Jones–type adventure . . . Ryder has an Angelina Jolie–esque quality about her. . . . She is strong, both mentally and physically, and she was an amazing character to read. . . . [Ryder is] a literary roller-coaster ride I truly appreciated!"—Read-Love-Blog
"From the start, it's clear that Pengelley's great at that breathless-intrigue prose style that propels the reader from one plot happening to the next … a cracking spy caper." – National Post
_____________________________
Poetry and Art for your Book Club!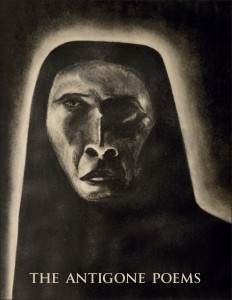 The Antigone Poems by Marie Slaight, with drawings by Terrence Tasker
Featuring poetry by Marie Slaight and charcoal drawings by Terrence Tasker, The Antigone Poems was created in the 1970's, while the artists were living between Montreal and Toronto. An intensely personal invocation of the ancient Greek tale of defiance, the illustrations and poetry capture the despair of the original tale in an unembellished modernized rendition.   The Antigone Poems provides a special expedition into the depths of the ancient Sophocles tragedy while questioning  power, punishment and one of mythology's oldest themes: rebellion.
To learn more about The Antigone Poems, please visit TheAntigonePoems.com.  
'I adore these weird little poems. They are surreal and wild. The charcoal drawings are terrifyingly brilliant… I deem this a holy book—written in ecstasy and the madness of genius… It is the flaming center of the volcano that makes us create.' –The Washington Independent Review of Books
'Haunting. …a disturbingly poignant and startlingly vivid portrait of one woman's suffering in the face of pain and heartbreak. It will surely not be forgotten after the turn of the last page.'-The San Francisco Book Review
'…A beautifully bound, impressive collection with language as evocative as its illustrations.'- Kirkus Reviews
'…serious, intelligent, one of a kind, and gorgeous. It is a major find, a supplement to or interpretation of the Sophoclean play as much as is Anne Carson's Antigonick and more unified… I cannot recommend this book highly enough.' -Kelly Cherry, Blue Fifth Review
_____________________________
Please fill out our super short registration form (<—click here) by April 30th for a chance to win a set of up to ten copies of one of these great books for your book club! We will randomly choose a winner at the end of the month. RYDER is open to both Canadian and US book clubs. THE ANTIGONE POEMS is open to book clubs anywhere in the world. The contest for MIND OF WINTER is open to clubs in the US only (our apologies to friends in other countries). 
Best of luck!
We 
LOVE

 Book Clubs!