_____________________________
The power of connection! Book clubs will fall in love with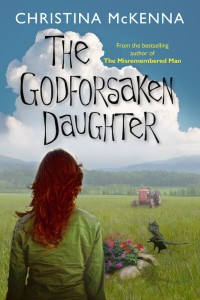 The Godforsaken Daughter by Christina McKenna
When Ruby Clare's father was alive, they happily toiled together on their small dairy farm in Northern Ireland. Since his death seven months ago, Ruby—thirty-three years old, plain, and plump—has become a veritable drudge for Martha, her endlessly critical mother. Then comes the day when Ruby finds her late grandmother's old suitcase in the attic. Among its strange contents: a slim, handmade volume called The Book of Light.
The deeper Ruby delves into its mysterious pages, the more confident she feels. But Martha, convinced that her newly empowered daughter must be possessed, enlists the help of psychiatrist Henry Shevlin. Henry is unflappable on the surface, yet inwardly he's reeling from his wife's unexplained disappearance the year before. As Ruby undergoes therapy alongside other local patients, including lonely bachelor farmer Jamie McCloone, all their lives intersect in unexpected ways. And Ruby, alone for so long, finds the courage to connect—with Jamie, with Henry, and with her own loving, indomitable spirit.
_____________________________
A fabulous debut story collection!  Book clubs will love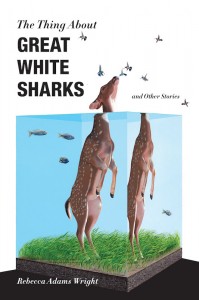 The Thing About Great White Sharks by Rebecca Adams Wright
In this collection's richly imagined title story, our brutal and resourceful protagonist is determined to protect her family from a murderous, shark-ridden world—at any cost. Elsewhere, an old woman uncovers a sinister plot while looking after a friend's plants ("Orchids"), and a girl in the war-torn countryside befriends an unlikely creature ("Keeper of the Glass"). In "Barnstormers," a futuristic flying circus tries to forestall bankruptcy with one last memorable show. At the heart of "Sheila" is the terrible choice a retired judge must make when faced with the destruction of his beloved robotic dog, and "Yuri, in a Blue Dress" follows one of the last survivors of an alien invasion as she seeks help.
Extending from World War II to the far future, these fifteen stories offer a gorgeously observed perspective on our desire for connection and what it means to have compassion—for ourselves, for one another, for our past…and for whatever lies beyond.
"A fabulous debut story collection…These tales are alternately humorous, touching, frightening, thought-provoking, and all of them are sublimely entertaining. Shifting narrative gears with a sly grace, Rebecca Adams Wright proves that she can tackle any genre (not to mention any sub-genre) that she wants to. And she makes it look easy. Is she showing off? Maybe, but she's got talent worth flaunting. Read her. You'll be glad you did." —David Anthony Durham, author of the Acacia Trilogy
"Rebecca Wright's fiction fizzes with charm and intelligence." —Kij Johnson, author of At the Mouth of the River of Bees
"These are ceaselessly inventive stories, witty, wry and wondrous, by turn, and all graced with an emotional sincerity that ensures they never dip into mere whimsy. This is speculative fiction with both a head and a heart." —Peter Ho Davies, author of The Welsh Girl
_____________________________
Revontuli combines an unconventional love story with a fascinating look at an unknown period of World War II. A compelling and passionate tale of the plight of Northern Norway's Sami people during the war.
Revontuli by Andrew Eddy
In a land marked by the rhythm of migrating reindeer and the rituals of an ancient religion, a way of life is drawing to a close. War is coming to the Finnmark, and brings with it unsuspected inhumanity. Revontuli tells the coming of age of a Sami girl during World War II, a time of trial that leaves Marit and the village of Karasjok forever changed. Already torn between the heritage of her Norwegian father and her mother's indigenous Sami culture, Marit discovers a bigger world through Hans, the German officer billeted in their home. Their forbidden love will challenge Marit's beliefs and allegiances. Set in the forests above the Arctic Circle, where Norway meets Finland, Revontuli is inspired by true stories.
"Eddy's vivid, detailed descriptions of war, and of life in a reindeer-farming community, give depth and flavor to the story … Heartbreaking WWII Romance. " – Kirkus Reviews
Download the discussion questions for Revontuli for your book club!
_____________________________
Reminiscent of Khaled Hosseini and Jhumpa Lahiri, book clubs will love this story of two Afghani women who go to great lengths to better their lives.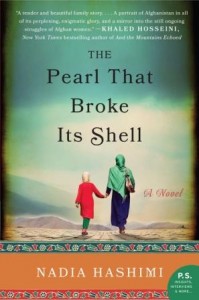 The Pearl That Broke Its Shell by Nadia Hashimi
A luminous and unforgettable tale of two women, destiny, and identity in Afghanistan
Kabul, 2007: The Taliban rules the streets. With a drug-addicted father and no brothers, Rahima and her sisters can rarely leave the house or attend school. Their only hope lies in the ancient Afghan custom ofbacha posh, which allows young Rahima to dress and be treated as a son until she is of marriageable age. As a boy, she has the kind of freedom that was previously unimaginable . . . freedom that will transform her forever.
But Rahima is not the first in her family to adopt this unusual custom. A century earlier, her great-great-grandmother Shekiba, left orphaned by an epidemic, saved herself and built a new life in the same way—the change took her on a journey from the deprivation of life in a rural village to the opulence of a king's palace in the bustling metropolis of Kabul.
Crisscrossing in time, The Pearl That Broke Its Shell interweaves the stories of these two remarkable women who are separated by a century but share the same courage and dreams.
Praise
"Nadia Hashimi has written, first and foremost, a tender and beautiful family story. Her always engaging multigenerational tale is a portrait of Afghanistan in all of its perplexing, enigmatic glory, and a mirror into the still ongoing struggles of Afghan women." —Khaled Hosseini, author of And the Mountains Echoed andThe Kite Runner
"A fascinating look at the unspoken lives of Afghani women, separated by generations and miles, yet achingly similar. This is a story to transport you and make you think." —Shilpi Somaya Gowda, New York Times bestselling author of Secret Daughter
"Hashimi weaves together two equally engrossing stories in her epic, spellbinding debut." —Booklist (starred review)
_____________________________
Rich with historical details and well developed characters, The Abduction of Smith and Smith and its satisfying, fast-paced plot will keep book clubs eager to discuss the themes of revenge and forgiveness.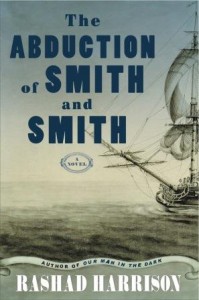 The Abduction of Smith and Smith by Rashad Harrison
In this harrowing and thrilling work of historical fiction, two enemies become the unlikeliest of allies as they fight to save their own lives aboard a hell ship headed into the dangerous unknown.
The Civil War is over, though for Jupiter Smith, a former slave and Union soldier, many battles still lie ahead. He returns to the plantation he worked on before the war in search of his woman, but rather finds his old master gone mad, haunting the ruins like a ghost. Out of pity for the now mentally ill Colonel, Jupiter strangles him and heads west to seek a new life in San Francisco.
When the Colonel's son, Confederate soldier Archer Smith, arrives at home and finds his father murdered, he vows revenge upon Jupiter for all he has lost—following his former slave to the far reaches of the continent.
But things take a new turn as Archer's desire for retribution is overwhelmed by his dependency on opium, and he ends up the target of a gang of "crimpers"…the very gang that Jupiter works for in San Francisco. When Jupiter fails in an attempt to save Archer, they both end up shanghaied aboard a ship headed on a dangerous mission and ruled by a merciless captain. Will the two Smiths work together to stay alive and return home, or will they become victims of the sea, the crew, and their mad captain?
_____________________________
Please fill out our super short registration form (<—click here) by March 31st for a chance to win a set of up to ten copies of one of these great books for your book club! We will randomly choose a winner at the end of the month. This contest is open to clubs in the US only (our apologies to friends in other countries). 
Best of luck!
We 
LOVE

 Book Clubs!