Published by : Hydra (May 19, 2015)
Pages: 129
In a dark horror novella for fans of Stephen King, Joe Hill, and Dean Koontz, one unsuspecting man faces a mass murderer who's turned the afterlife into his own terrifying playground.
Some men fear their own deaths. Others dream of peace and heaven. But Albert knows exactly what he wants: to be the lord of his own private hell, where his eternal reward will be torturing the souls of his victims. And he knows how to get it.
While Chuck's dream of a promotion may be ordinary, his career is anything but. As a Recon and Enforcement Technician, Level II, at a mysterious organization known only as the Institute, Chuck spends his days rescuing souls that get trapped between this life and the next, caught in mini-hells known as crossfades.
Lydia has no dreams—only nightmares. There will be no awakening from the impossible realm of terror and pain where she's trapped . . . unless Chuck tracks her down. But this rescue will not be easy, not for a mere Level II technician. Because, in this place, Albert is god. And he's determined that none shall escape his wrath.

Purchase Links
Amazon | Books-A-Million | Barnes & Noble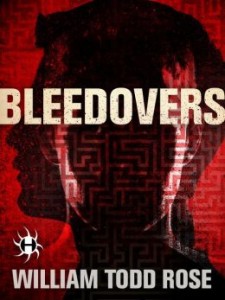 Published by : Hydra (June 23, 2015)
Pages: 176 | ISBN: 978-1-101-88369-3
The hell ride that began in Crossfades continues with a vengeance in William Todd Rose's Bleedovers—a dark horror novella in the tradition of Stephen King, Joe Hill, and Dean Koontz.

Purchase Links
Amazon | Books-A-Million | Barnes & Noble
Praise for William Todd Rose's Apocalyptic Organ Grinder:
"With strong echoes of Richard Matheson's I Am Legend, William Todd Rose's Apocalyptic Organ Grinder delivers on all fronts. The action is brutal and the blurring of man and monster intelligently and inventively handled. Rose has written a smart thriller with a ton of heart."—Joe McKinney, Bram Stoker Award–winning author of The Savage Dead and Inheritance
"The book just took me away. . . . The prose is beautiful."—39 Purple Sunrises
"Dark, and definitely not fluffy . . . a no-holds-barred look at what may happen in the future."—Mrs. Condit & Friends Read Books
About William Todd Rose
William Todd Rose writes dark, speculative fiction from his home in West Virginia. His short stories have been featured in numerous anthologies and magazines, and his work includes the novels Cry Havoc, The Dead & Dying, and The Seven Habits of Highly Infective People, and the novella Apocalyptic Organ Grinder. For more information on the author, including links to bonus content, please visit him online.
William Todd Rose's TLC Book Tours TOUR STOPS:
Monday, May 18th: No More Grumpy Bookseller – Crossfades
Tuesday, May 19th: Wag the Fox – author Q&A
Wednesday, May 20th: The Road to Here – Crossfades
Tuesday, May 26th: Savvy Verse and Wit – Crossfades
Thursday, May 28th: Bell, Book & Candle – Crossfades
Monday, June 1st: A Tattered Copy – Crossfades
Wednesday, June 10th: From the TBR Pile – Crossfades
Thursday, June 11th: For the Love of Fictional Worlds – Crossfades
Tuesday, June 16th: The Bibliophile Chronicles – Crossfades
Tuesday, June 23rd: Bewitched Bookworms – Crossfades
Tuesday, August 25th: Savvy Verse and Wit – Bleedovers
Wednesday, August 26th: The Road to Here – Bleedovers
Monday, August 31st: A Tattered Copy – Bleedovers
Wednesday, September 2nd: No More Grumpy Bookseller – Bleedovers
Thursday, September 3rd: Bewitched Bookworms – Bleedovers
Tuesday, September 8th: From the TBR Pile – Bleedovers
Wednesday, September 9th: For the Love of Fictional Worlds – Bleedovers
Wednesday, September 9th: The Bibliophile Chronicles – Bleedovers