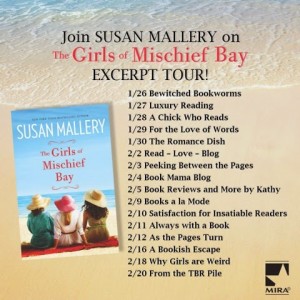 We are so excited about THE GIRLS OF MISCHIEF BAY Excerpt Tour!  Do you need to catch up? Below are links to the first five excerpts, and there are prize package giveaways at each stop!
#1 – BEWITCHED BOOKWORMS
#2 – LUXURY READING
#3 – A CHICK WHO READS
#5 – THE ROMANCE DISH


Visit MischiefBay.com for more giveaways!