_____________________________
An endearing story that will leave your heart full: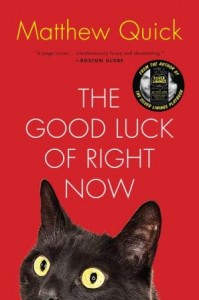 The Good Luck of Right Now by Matthew Quick
For thirty-eight years, Bartholomew Neil has lived with his mother. When she gets sick and dies, he has no idea how to be on his own. He thinks he's found a clue when he discovers a "Free Tibet" letter from Richard Gere hidden in his mother's underwear drawer. In her final days, Mom called him Richard—there must be a cosmic connection.
Bartholomew awkwardly starts his new life, writing Gere a series of letters—Jung and the Dalai Lama, philosophy and faith, alien abduction and cat telepathy are all explored in his soul-baring epistles. But mostly the letters reveal one man's desire to assemble a family of his own.
A struggling priest, a "Girlbrarian," her feline-loving, foul-mouthed brother, and the spirit of Richard Gere all join the quest to help Bartholomew. In a rented Ford Focus, they travel to Canada to see the Cat Parliament and find his biological father . . . and discover so much more.
_____________________________
"A lovely ode to Paris, friendship, spontaneity and forks—both on the plate and in the road." –Kirkus Reviews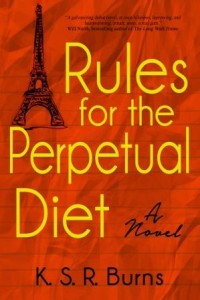 Rules for the Perpetual Diet by K. S. R. Burns
"Fidget as much as possible." "Weigh yourself once a week only." "Don't be a gulper."
These are some of the dieting rules 29-year-old Amy Brodie lives by. She's got 33 of them in all and they work—for nearly a dozen years she has managed to maintain a healthy weight with only occasional ups and downs.
But then Amy's dearest friend loses her battle with cancer. Amy knew it was coming but she is floored when her husband is not even sorry. She is furious when he adds, "It's not like she was your actual sister or anything," and announces that he's ready to get on with their lives and start a family. But Amy is not ready. She's grieving, restless, unsure of her future, and ceaselessly plagued by a "perpetual diet." It's too much. She just wants to run far, far away.
Like, say, to Paris, the city of her dreams.
Of course, when Amy does get to Paris she finds that France is not the best place to avoid carbs. And she doesn't expect that her issues—with her weight, her husband, her long-dead mother—will come right along with her. Nor does she anticipate being robbed, stalked, arrested, and (almost) kidnapped. . .
Praise for Rules for the Perpetual Diet
"Rules for the Perpetual Diet is a novel covering ten days in the life of a diet-obsessed twenty-something woman who perpetually struggles with weight gain and loss. Sound familiar? Well, don't get too comfortable: the familiar is about to be turned upside down. . ." –Midwest Book Review
"A galvanizing debut novel, at once hilarious, harrowing, and heartwarming. Smart, sassy, a real gem." –Will North, bestselling author of The Long Walk Home
"Smart, funny, deeply human, and compulsively readable—and who can resist a trip to Paris?" –Christine Johnson-Duell, author of Italian Lessons
Get your Reading Group Guide here.
_____________________________
Mesmerizing and haunting. A throwback to classic gothic tales like Daphne du Maurier's Rebecca.
Book Clubs will love Miramont's Ghost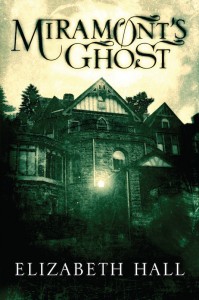 Miramont's Ghost by Elizabeth Hall
Miramont Castle, built in 1897 and mysteriously abandoned three years later, is home to many secrets. Only one person knows the truth: Adrienne Beauvier, granddaughter of the Comte de Challembelles and cousin to the man who built the castle.
Clairvoyant from the time she could talk, Adrienne's visions show her the secrets of those around her. When her visions begin to reveal dark mysteries of her own aristocratic French family, Adrienne is confronted by her formidable Aunt Marie, who is determined to keep the young woman silent at any cost. Marie wrenches Adrienne from her home in France and takes her to America, to Miramont Castle, where she keeps the girl isolated and imprisoned. Surrounded by eerie premonitions, Adrienne is locked in a life-or-death struggle to learn the truth and escape her torment.
Reminiscent of Daphne du Maurier's Rebecca, this hauntingly atmospheric tale is inspired by historical research into the real-life Miramont Castle in Manitou Springs, Colorado.
"You might want to keep the lights on when you read Elizabeth Hall's chilling debut, Miramont's Ghost, in which a young girl who's clairvoyant winds up exiled and imprisoned in the Miramont Castle in Colorado. Set in nineteenth-century France, this is sure to be a mesmerizing and haunting read!" —RT Book Reviews, "Forewords"
_____________________________
Betrayal and longing…
Book clubs will find much to talk about in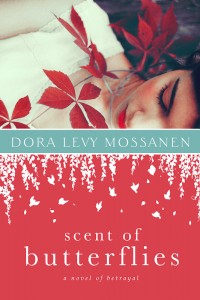 Scent of Butterflies by Dora Levy Mossanen
Betrayal, forgiveness, identity and obsession churn against the tumultuous landscape of the Islamic revolution and seemingly perfect gardens of southern California in this compelling novel from bestselling author Dora Levy Mossanen.
Amidst a shattering betrayal and a country in turmoil, Soraya flees Iran to make a new life for herself in Los Angeles. The cruel and intimate blow her husband has dealt her awakens an obsessive streak that explodes in the heated world of Southern California, as Soraya plots her revenge against the other woman, her best friend, Butterfly. What she discovers proves far more devastating than anything she had ever imagined, unleashing a whirlwind of events that leave the reader breathless.
A novel singed by the flavors of Tehran, imbued with the Iranian roots of Persepolis and the culture clash of Rooftops of Tehran, this is a striking, nuanced story of a woman caught between two worlds, from the bestselling author of Harem, Courtesan, and The Last Romanov.
 "A lush, superbly narrated and highly provocative excursion into the passions and politics of love in our own tumultuous times."—Jonathan Kirsch, The Jewish Journal
 "Beautifully written… A lyrical and poignant tale of a woman with a heart burning from the sting of betrayal and a soul tormented with the longing for home."– Reyna Grande, author of The Distance Between Us
 "Novelist Mossanen has outdone herself in this scintillating tale of love, betrayal and self-discovery. Soraya, the main character, taunts and plays with the reader in her journey from the confines of Tehran to the chaos of Los Angeles. With vivid details and raw emotion, Scent of Butterflies is an enticing read that touches all the senses."– Fariba Nawa, Opium Nation and Afghanistan, Inc.
 "A novel that twists its way into the dark heart of friendship, betrayal, love, and identity, Dora Levy Mossanen's Scent of Butterflies assumes the shape of its titular creatures, beautiful, surprisingly dangerous, and too delicate to pin down."– Elizabeth Eslami, author of Bone Worship and Hibernate
_____________________________
Transport your book club to the world of pirates, white slavery, and ancient vengeance in
The Sun God's Heir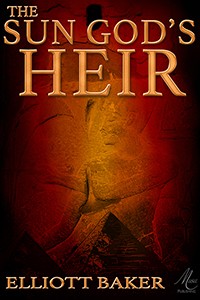 The Sun God's Heir by Elliott Baker
When an ancient evil awakens, one young pacifist is all that stands between the world's freedom and the red tide of slavery.
In 17th century France, a young pacifist kills to protect the woman he loves, unwittingly opening a door for the reincarnation of an ancient Egyptian general determined to continue a reign of terror begun three thousand years ago.
Taking up the sword will not be enough. Rene must reclaim his own ancient past to stop the red tide of slavery from engulfing the world.
Joined by a powerful sheikh, his sword wielding daughter, and a family of Maranos escaping the Spanish Inquisition, they fight their way through pirates, typhoons, and dark assassins to reach Morocco, the home of an occult sect that has waited for Rene through the eons.
_____________________________
Please fill out our super short registration form (<—click here) by February 28th for a chance to win a set of up to ten copies of one of these great books for your book club! We will randomly choose a winner at the end of the month. This contest is open to clubs in the US only (our apologies to friends in other countries). 
Best of luck!
We 
LOVE

 Book Clubs!