_____________________________
Dark secrets doled out over the course of The Kept will keep book clubs talking about this debut novel.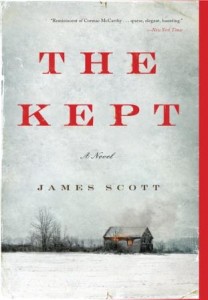 The Kept by James Scott
In the winter of 1897, midwife Elspeth Howell arrives at her isolated farmstead in upstate New York to discover an unthinkable crime. The only survivor is her twelve-year-old son, Caleb, who joins her in mourning the tragedy and planning its reprisal.
Their long journey leads them to a roughhewn lake town, defined by the violence of both its landscape and its inhabitants. There Caleb is forced into a brutal adulthood as he slowly discovers truths about his family he never suspected, and Elspeth must confront the terrible urges and unceasing temptations that have haunted her for years.
Throughout it all, the love between mother and son serves as the only shield against a merciless world.
_____________________________
A debut novel with the perfect mix of a sense of humor and a sense of tragedy, there's something for everyone in A Replacement Life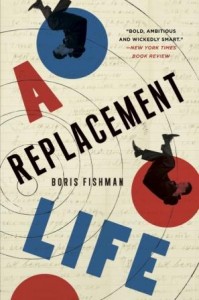 A Replacement Life by Boris Fishman
Yevgeny Gelman, grandfather of Slava Gelman, "didn't suffer the exact way" he needs to have suffered to qualify for the restitution the German government has been paying out to Holocaust survivors. But suffer he has—as a Jew in the war, as a second-class citizen in the USSR, as an immigrant to America. So? Isn't his grandson a "writer"?
High-minded Slava wants to put this immigrant scraping behind him. Only the American Dream is not panning out for him—Century, the legendary magazine where he works as a researcher, wants nothing greater from him. Slava wants to be a correct, blameless American, but he wants to be a lionized writer even more.
Slava's turn as the Forger of South Brooklyn teaches him that not every fact is the truth, and not every lie is a falsehood. It takes more than law abiding to become an American; it takes the same self-reinvention in which his people excel. Intoxicated and unmoored by his inventions, Slava risks exposure. Cornered, he commits an irrevocable act that finally grants him a sense of home in America, but not before collecting a price from his family.
A Replacement Life is a dark, moving, and beautifully written novel about family, honor, and justice.
_____________________________
Please fill out our super short registration form (<—click here) by January 31st for a chance to win a set of up to ten copies of The Kept by James Scott or A Replacement Life by Boris Fishman for your book club! We will randomly choose a winner at the end of the month. This contest is open to clubs in the US only (our apologies to friends in other countries). 
Best of luck!
We 
LOVE

 Book Clubs!