HUGE GIVEAWAY!
We are in a merry mood at TLC, so we're doing another HUGE GIVEAWAY! You have until Friday, December 12th, to enter to win our MERRY BUNDLE OF BOOKS! You could be the lucky winner of FOURTEEN amazing books, just in time for the holidays!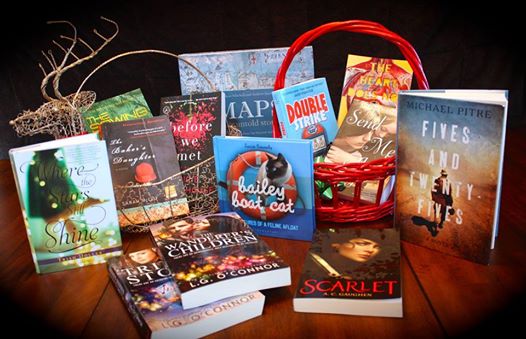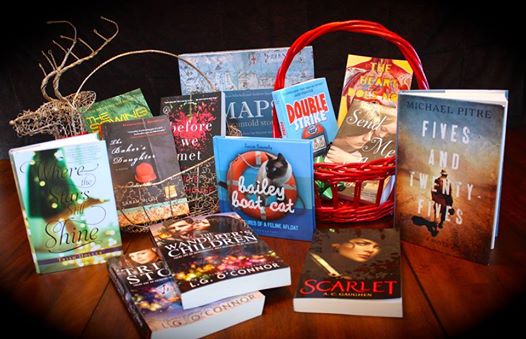 The winner will receive all the books seen here, from the following wonderful authors:
An oversize hardcover copy of MAPS: Their Untold Stories by Rose Mitchell and Andrew James
A hardcover copy of WHERE THE STARS STILL SHINE by Trish Doller
A hardcover copy of FIVES AND TWENTY FIVES by Michael Pitre
A signed paperback copy of THE BAKER'S DAUGHTER by Sarah McCoy
A paperback copy of BEFORE WE MET by Lucie Whitehouse
A paperback copy of SCARLET by AC Gaughen
A paperback copy of SEND ME A SIGN by Tiffany Schmidt
A paperback copy of THE HEART DOES NOT GROW BACK by Fred Venturini
A paperback copy of THE SOWING by K. Makansi
A paperback copy of DOUBLE STRIKE by Gretchen Archer
A signed paperback copy of TRINITY STONES by L. G. O'Connor
A signed paperback copy of THE WANDERER'S CHILDREN by L. G. O'Connor
A hardcover copy of BAILEY BOAT CAT: Adventures of a Feline Afloat by Louise Kennedy
Bonus Book (not pictured): A signed copy of THE LAST BREATH by Kimberly Belle
Kimberly S. Belle, Author
To enter, simply go to our FACEBOOK page and LIKE and SHARE the giveaway post. Winner will be selected by random draw. This giveaway is limited to the US and Canada only. Our apologies to our friends in other countries.
We are grateful for the generous authors and publicists who made this happen. And we appreciate YOU–our wonderful bloggers, readers and followers! We wish you all the merriest of holidays!
Picador USAHenery Press Walker Books Bloomsbury Publishing USA Claire McKinneyPR LLC Blank Slate Press She Writes Harlequin