_____________________________
Revenge and second chances-
Book Clubs will find much to discuss in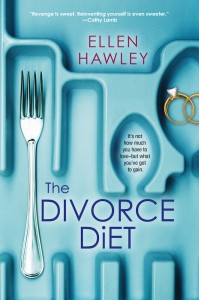 The Divorce Diet by Ellen Hawley
The Divorce Diet

 is 

dedicated to every woman who ever walked away from a relationship—or a diet.
Abigail, an inspired cook and stay-at-home mother, decides to repair the problems in her marriage with a diet book for herself and an elaborate birthday dinner for her husband. But over dinner her husband announces that the whole marriage thing just doesn't work for him. Reeling, she packs up her baby, her cookbooks, and her single estate extra virgin olive oil and moves in with her parents while she looks for work and child care.
Floundering and broke in this life she didn't choose, she turns for guidance and emotional support to the internalized voice of her diet book, and it becomes her invisible guru. While she struggles to reconcile the joy she takes in cooking with the book's joyless and increasingly bizarre recipes and her native good sense with its advice, she works her way from one underpaid job to the next, eats everything but what her diet book recommends, and swears to get her life in order before her daughter's old enough to create long-term memories.
Her diet book has promised to help her become the person she wants to be, but it's only when she strikes out on her own that she figures out who that is.
Praise for The Divorce Diet
"Revenge is sweet. Reinventing yourself is even sweeter." Cathy Lamb, author of What I Most Remember
"Food and love and loss and resilience—and a terrific narrative playfulness—are Hawley's recipe for a slyly entertaining and heartening novel." Daniel Menaker, author of My Mistake: A Memoir
"With all the pluck of Helen Fielding's Bridget Jones and sardonic good humor of Lorrie Moore, Ellen Hawley serves us a treat of a novel. Read it and you too will have a deliciously good time." David Haynes, author of A Star in the Face of the Sky
Unexpectedly deep and humorous . . . a sweet and realistic story about how the smallest of comforts can provide the greatest abundance and joy." Margaret Dilloway, author of How to Be an American Housewife
"Ellen Hawley writes wry and poignant prose that keeps you laughing and reading well after your bedtime." Lisa Alther, author of Washed in the Blood
_____________________________
"A dark, deeply stirring novel about the quiet tragedy of growing up in a broken family." – Kirkus Reviews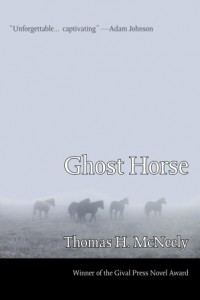 Ghost Horse by Thomas McNeely
The winning book club will receive autographed books!
When his father returns to Houston, eleven-year-old Buddy Turner enters a world of secrets and adult mysteries.  Set amidst the social tensions of the 1970's, Ghost Horse tells the story of Buddy's shifting alliances within his family, and with two other boys–one white, one Latino–in their quest to make a Super-8 animated movie.  As his father's secrets begin to unravel, Buddy discovers the "real movie": the intersection between life as he sees it and the truth of his own past. In a vivid story of love, friendship and betrayal, Ghost Horse explores a boy's swiftly changing awareness of himself and the world, through the lens of imagination.
"Ghost Horse is a gripping read—I turned the pages feverishly, desperate to know what would happen and if Buddy would be okay ….  [B]oth a deeply moving coming-of-age story and an intense psychological portrait of a family in crisis.  McNeely weaves an intricate web of a plot … and explores themes of love, lost innocence, loyalty, and broken families. The tale of eleven-year-old Buddy over one unsettling year of his adolescence makes for a compelling and worthwhile read." – Leila Rice, Reader's Oasis
"A dark, beautiful, heartbreaking story … McNeely weaves a tale you won't soon forget." – Elizabeth O'Brien, Fuelled by Fiction
"McNeely beautifully portrays the confusion of a boy doing his best to deal with matters that are beyond his understanding but fully capable of doing him harm …. Overall, the novel will be a haunting read for anyone who's experienced the childhood anguish of divorce and a powerful reminder to mothers and fathers of the unseen damage that their behavior can inflict on their children." – Kirkus Reviews
"As if Cormac McCarthy and Denis Johnson teamed up to write a 1970s Texas YA novel that went off the rails somewhere—in a very, very good way." – Lisa Peet, Library Journal, "What We're Reading" (in-house review)
_____________________________
Please fill out our super short registration form (<—click here) by December 31st for a chance to win a set of up to ten copies of The Divorce Diet or up to ten autographed copies of Ghost Horse for your book club! We will randomly choose a winner at the end of the month. This contest is open to clubs in the US only (our apologies to friends in other countries). 
Best of luck!
We 
LOVE

 Book Clubs!