__________________________________
Love, Faith, and Everyday Miracles: Book Clubs Will Love Mitch Albom's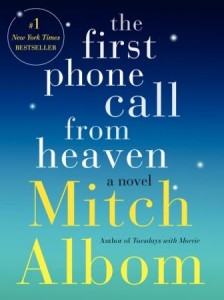 The First Phone Call From Heaven by Mitch Albom
"What if the end is not the end?"
From the beloved author of the number-one New York Times bestsellers Tuesdays with Morrie and The Five People You Meet in Heaven comes his most thrilling and magical novel yet—a page-turning mystery and a meditation on the power of human connection.
One morning in the small town of Coldwater, Michigan, the phones start ringing. The voices say they are calling from heaven. Is it the greatest miracle ever? Or some cruel hoax? As news of these strange calls spreads, outsiders flock to Coldwater to be a part of it.
At the same time, a disgraced pilot named Sully Harding returns to Coldwater from prison to discover his hometown gripped by "miracle fever." Even his young son carries a toy phone, hoping to hear from his mother in heaven.
As the calls increase, and proof of an afterlife begins to surface, the town—and the world—transforms. Only Sully, convinced there is nothing beyond this sad life, digs into the phenomenon, determined to disprove it for his child and his own broken heart.
Moving seamlessly between the invention of the telephone in 1876 and a world obsessed with the next level of communication, Mitch Albom takes readers on a breathtaking ride of frenzied hope.
The First Phone Call from Heaven is Mitch Albom at his best—a virtuosic story of love, history, and belief.
Download the reading group guide for your book club!
Mitch Albom and readers share stories about the everyday miracles in their lives. Share your miracles on social media using #everydaymiracles.
__________________________________
Regret, forgiveness, and the healing power of family-
Book clubs will love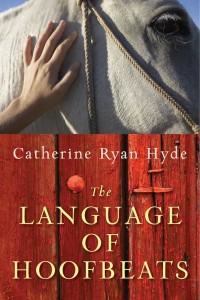 The Language of Hoofbeats by Catherine Ryan Hyde
From the bestselling author of Pay It Forward comes a story of the heartbreak and healing power of family. New to a small town, Jackie and Paula envision a quiet life for their kids: a young adopted son and two teenage foster children, including the troubled Star. However, they quickly butt heads with their neighbor, Clementine, who disapproves of their lifestyle and is incensed when Star befriends her spirited horse, Comet. Haunted by past tragedy and unable to properly care for Comet, Clem nevertheless resents the bond Star soon shares with the horse. When Star disappears with Comet, the neighbors are thrown together—far too close together. But as the search for the pair wears on, both families must learn to put aside their animosity and confront the choices they've made and the scars they carry. Plumbing the depths of regret and forgiveness, The Language of Hoofbeats explores the strange alchemy that transforms a group of people into a family.
__________________________________
 A coming-of-age story set in 1920's Singapore-
Book clubs won't want to miss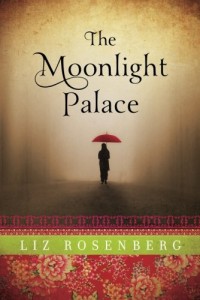 The Moonlight Palace by Liz Rosenburg
Agnes Hussein, descendant of the last sultan of Singapore and the last surviving member of her immediate family, has grown up among her eccentric relatives in the crumbling Kampong Glam palace, a once-opulent relic given to her family in exchange for handing over Singapore to the British.
Now Agnes is seventeen and her family has fallen into genteel poverty, surviving on her grandfather's pension and the meager income they receive from a varied cast of boarders. As outside forces conspire to steal the palace out from under them, Agnes struggles to save her family and finds bravery, love, and loyalty in the most unexpected places. The Moonlight Palace is a coming-of-age tale rich with historical detail and unforgettable characters set against the backdrop of dazzling 1920s Singapore.
__________________________________
What happens when you die? Astonishing true stories of life after death.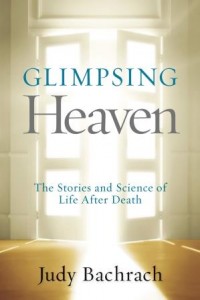 Glimpsing Heaven by Judy Bachrach
If you caught a glimpse of heaven, would you choose to come back to life? Many people alive today have experienced clinical death—a heart that has stopped beating, brain activity that has flat lined—and returned to life with lucid, vivid memories of what occurred while they were dead. Judy Bachrach, investigative journalist and contributing editor at Vanity Fair, presents their astonishing stories here, giving us a rare glimpse of life after death. She consulted the world's leading scientific and medical experts on death experience to explore whether the science supports the stories—and now, in Glimpsing Heaven, her surprising discovery puts death in a whole new light.
__________________________________
Please fill out our super short registration form (<—click here) by November 30th for a chance to win a set of up to ten copies of one of these great books for your book club! We will randomly choose a winner at the end of the month. This contest is open to clubs in the US only (our apologies to friends in other countries). 
Best of luck!
We 
LOVE

 Book Clubs!