__________________________________
"This sinister tale of twisted teenage love and obsession will pull you in from the first page–and haunt you long after you close the last one."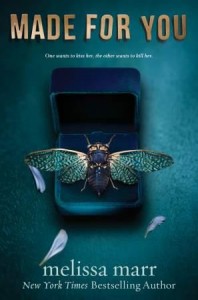 Made for You by Melissa Marr
When Eva Tilling wakes up in the hospital, she's confused – who in her sleepy little North Carolina town could have hit her with their car? Before she can consider the question, she finds that she's awoken with a strange new skill: the ability to foresee people's deaths when they touch her.
As she recovers from the attempt on her life, an old flame, Nate, turns up. Eva must traverse their rocky past and figure out how to use her new power – while the killer grows increasingly frantic. Can she stop him, or will he claim her?
For the first time, New York Times bestselling author Melissa Marr has applied her extraordinary talent to contemporary realism. Chilling twists, unrequited obsession, and high-stakes romance drive this racy thriller that Melissa's devoted fans and new readers alike will find enthralling.
Praise for Made for You
"Seductively creepy, disturbingly realistic, and intensely suspenseful. This sinister tale of twisted teenage love and obsession will pull you in from the first page–and haunt you long after you close the last one." — Hank Phillippi Ryan, Mary Higgins Clark, Agatha and Anthony award winning author
"A smart, sassy thriller! Melissa Marr shows off her killer instincts in this sensational tale of a southern debutante's scary ability to foresee death, and the man who'd like to end it, permanently."– Lisa Gardner, #1 NY Times bestselling crime novelist
"A must-read for all fans of romantic thrillers." — Suzanne Brockmann, NY Times bestselling author
__________________________________
Based on real life events! Book clubs will be fascinated by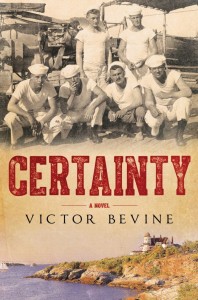 Certainty by Victor Bevine
When you're fighting an injustice, can it be wrong to do what's right?
Inspired by the scandalous true story that shocked a nation at the close of WWI.
With America's entry into World War 1, the population of Newport, Rhode Island seems to double overnight as twenty-five thousand rowdy recruits descend on the Naval Training Station. Drinking, prostitution, and other depravities follow the sailors, transforming the upscale town into what many residents—including young lawyer William Bartlett, whose genteel family has lived in Newport for generations—consider to be a moral cesspool.
.
When sailors accuse a beloved local clergyman of sexual impropriety, William feels compelled to fight back. He agrees to defend the minister against the shocking allegations, in the face of dire personal and professional consequences. But when the trial grows increasingly sensational, and when outrageous revelations echo all the way from Newport to the federal government, William must confront more than just the truth—he must confront the very nature of good and evil.
Based on real-life events, Certainty recalls a war-torn era when the line between right and wrong became dangerously blurred.
__________________________________
An explosive whodunnit from bestselling author
Robert Dugoni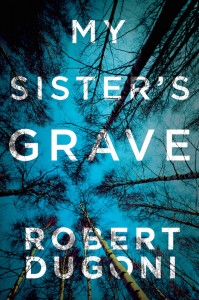 My Sister's Grave by Robert Dugoni
Robert Dugoni's bestselling legal thrillers have earned him comparisons to John Grisham, Scott Turow, and Nelson DeMille, among others. In MY SISTER'S GRAVE(Thomas & Mercer; October 14, 2014), Dugoni returns with the powerful and poignant story of a homicide detective determined to avenge the murder of her beloved younger sister – regardless of the cost.
Seattle cop Tracy Crosswhite was a high school chemistry teacher when her teenaged sister Sarah disappeared one night on her way home to their small town of Cedar Grove. A young ex-con, Edmund House, was quickly tried and convicted of her murder. Twenty years and a career change later, Tracy has dedicated her life to questioning whether the right man went to jail. When Sarah's remains are uncovered from a newly-exposed lake bed, new evidence seems to support Tracy's theory that the original prosecution was deeply flawed.
Working with a childhood friend, now an attorney, to exonerate House and find Sarah's true killer, Tracy begins to uncover long-held secrets that point to a shocking – and potentially catastrophic – truth about what happened to her sister on that long-ago night. Somewhere in Cedar Grove, a killer is waiting, and Tracy must summon the strength to confront the past in order to save her future.
An explosive whodunit with a family love story at its heart, MY SISTER'S GRAVE is a thriller that's difficult to put down, and marks an exciting new chapter for acclaimed writer Robert Dugoni.
"The names John Grisham and Scott Turow are mentioned when discussing the legal thriller genre. Robert Dugoni is as good, if not better." – Associated Press
 "One of the best legal thriller writers in the business today . . .  Dugoni knows the legal world well and produces a complicated puzzle that will resonate with fans of Grisham, and provide a jolt of adrenaline." – Los Angeles Review of Books
 "Few can deliver legal suspense as well as Dugoni." – Library Journal
 "Dugoni is the undisputed king of the legal thriller." – Providence Journal
__________________________________
Book clubs will love talking about long buried secrets after reading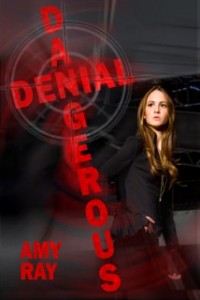 Dangerous Denial by Amy Ray
Denying the past proves deadly for BK Hartshaw and Trevor Mayhew in this gripping noir novel where nothing is as it seems.
BK is a rising star at a public relations firm, and tonight's charity ball should be a high point in her career. But a closely guarded secret threatens to destroy her chance for happiness with the only man she's ever loved… a man who is also hiding a deadly secret.
Trevor has tried to put the past behind him, pretending it never happened. But the conniving father he's been running from for years has finally found him—and is determined to settle the score once and for all.
BK and Trevor's deeply buried secrets are about to catch up with them—and everyone they know and love. Who will pay the ultimate price for their dangerous denials?
Praise for Dangerous Denial
"In Ray's debut thriller, lives converge at a charity ball, where someone has planned a deadly act of vengeance…Ray takes her time establishing her characters, including the bad guys, and with a rousing, indelible payoff, it's well worth it."   – Kirkus Reviews
__________________________________
Book clubs will love discussing the inspiring journey depicted in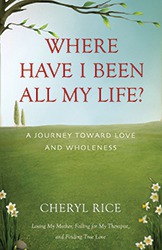 Where Have I Been All My Life? by Cheryl Rice
Where Have I Been All My Life? is a compelling memoir recounting one woman's journey from grief and a profound feeling of unworthiness, to wholeness and healing. It begins with the chillingly swift death of Cheryl's mother, and is followed by her foray into the center of mourning with poignant visits back to her childhood, and a sometimes hilarious yet powerful experience of erotic transference with her therapist.
With wisdom, grace and humor, Cheryl recounts the  grief games she plays in an effort to resurrect her mother, her misguided efforts to get her therapist to run away with her (or at least accept her gifts), and the transformation of her husband from fantasy man, to ordinary guy, to superhero. In the process of finding herself, she discovers aching revelations about her family and her past, what she must leave behind and what she can carry with her.
In this tender memoir,  readers will  recognize themselves, plumb their own life experiences, and find sustenance for the difficult yet vital journey toward love and wholeness—a journey we all must take if we want to be free.
Praise for Where Have I Been All My Life? 
"Where Have I Been All My Life? is an honest and inspiring look at the purposeful abandonment of striving for and maintaining the "perfect life" at all costs. Full of heart and humor, poignant snapshots of struggles with grief and longing; this book is a triumph and a tribute to love in all its manifestations." —Sara Rauch, Editor of Cactus Heart
"Cheryl Rice's memoir, Where Have I Been All My Life? is a beautifully written and courageous story told with grace, humor and grit.  Anyone interested in living a life of authenticity and self-compassion will greatly benefit from reading this compelling book." —Mike Robbins, author of Nothing Changes Until You Do
"Told with grace and clarity, Where Have I Been All My Life? is an emotionally naked, beautifully moving, and ultimately uplifting memoir.  Cheryl Rice poetically depicts the all-encompassing darkness of grief and the bottomless love between a mother and daughter.  You will relate to—and be stirred by Cheryl's journey to forgive the past, speak the truth, and find new heights of self-worth." —Selena Rezvani, award winning columnist for The Washington Post and author of Pushback: How Smart Women Ask—And Stand Up—For What They Want
Check out the Discussion Guide for Where Have I Been All My Life? here.
__________________________________
Please fill out our super short registration form (<—click here) by October 31st for a chance to win a set of up to ten copies of one of these great books for your book club! We will randomly choose a winner at the end of the month. This contest is open to clubs in the US only (our apologies to friends in other countries). 
Best of luck!
We 
LOVE

 Book Clubs!