__________________________________
The story of Maddy, a woman on the edge… and how she got there.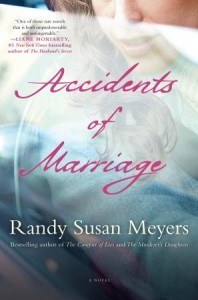 Accidents of Marriage by Randy Susan Meyers
Accidents of Marriage examines the effect of a husband—and father's—verbal rage and the aftermath of a serious accident caused by his unchecked anger.
For Madeline Illica, her husband Ben is her greatest blessing and biggest curse. Brilliant and caring, he turns into a raging bull when crossed—and despite her training as a social worker Maddy was never sure what would cross him. She kept a fragile peace by vacillating between tiptoeing around him and asserting herself for the sake of their three children until a rainy drive to work when Ben's temper gets the best of him and the consequences leave Maddy in the hospital, fighting for her life.
The novel explores emotional abuse, traumatic injury, and children lost in the shuffle of recovery. Accidents of Marriage is an account of life inside a troubled marriage and how the unexpected gift of clarity can make the difference between living in hell and salvation.
Praise for Accidents of Marriage
"Meyers puts a Boston family overwhelmed by a tragic accident under the literary microscope. Meyers, who has a background working with victims of domestic violence, examines the effects anger and violence can have on family members, as well as the courage that can be born from a new perspective and the lack of happily-ever-after in these real-life situations. The characters labor under intense pressure, and some crack while others rise to the challenge, giving Meyers' tale both realism and a bittersweet quality that, in the hands of a lesser writer, could have ended up simply maudlin and contrived. Beautifully written, poignant and thought-provoking, this novel refuses to succumb to stereotypical reader expectations, making it even more memorable." —Kirkus Starred Review
Many books are an absolute pleasure to read, but slip straight from your mind. Accidents of Marriage is one of those rare novels that is both unputdownable and unforgettable. I just loved it, and I'll now read everything Randy Susan Meyers writes. —Liane Moriarty, NYT bestselling author of The Husband's Secret
"Randy Susan Meyers is a genius of the human heart, and Accidents of Marriage is a profound education on the complexities of love, imperfection, damage, and responsibility. You'll feel as though a magically insightful friend is sharing the behind-the-scenes secrets of a family you may well know. She tells it like it is. No sugar-coating here, only truth in all its compelling beauty and might. "­ —Robin Black, author of Life Drawing
"I read Accidents of Marriage in one day. Like Meyers' first two novels, this one—about a family paying a high price for rage and trying to reknit itself in the aftermath of the unthinkable—is compulsive reading. It's amazing how warm Meyers' writing is even as her stories grip you by the hand and don't let go."  —Jenna Blum, New York Times bestselling author of Those Who Save Us
"With the heart of a novelist and the tenacity of an investigative journalist, Meyers flawlessly depicts the evolution and consequences of emotional abuse. A master of perspective with an uncanny understanding of human nature, she has managed to make us empathize with every member of this damaged family. This is an important story, one I'll be thinking about for a long time." —Brunonia Barry, New York Times and international bestselling author of The Lace Reader 

"Every marriage has its secret deals and compromises. In Accidents of Marriage, Randy Susan Meyers explores the vast complexity of this bond and lays out how passion, allegiance and love can go terribly wrong. She gives us characters we root for, even when they're at odds, and she asks the questions: What is forgivable? When does a marriage become too broken to fix? With wisdom, humor and great compassion, Meyers answers in a story you won't soon forget." —Ann Bauer, author of The Forever Marriage
"A bold and poignant look into the complicated, slippery world of what constitutes emotional abuse, Accidents of Marriage explores what happens when tragic circumstance forces one family to reexamine the dysfunctional dynamics that have long-defined them. Meyers deftly pulled me in to this story from the first page, tying me to its tender and fearless heartbeat, and didn't let me go until the extremely satisfying end." —Amy Hatvany, author of Safe With Me
_________________________________________________________
With Sea Creatures, book clubs can explore the high stakes of marriage and parenthood and the intricacies of the human heart.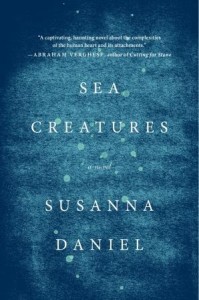 Sea Creatures by Susanna Daniel
When Georgia Quillian returns to her hometown of Miami, her family in tow, she's hoping for a fresh start. They've left Illinois trailing scandal in their wake, fallout from her husband's severe sleep disorder. For months, their three-year-old son, Frankie, has refused to speak a word.
On a whim, Georgia takes a job as an errand runner for a reclusive artist, and suddenly the future offers new possibilities: time spent with her intense but kind employer might, it seems, help Frankie find the courage to speak—and help Georgia reconcile the woman she was with the woman she has become. But late that summer, as a hurricane bears down on South Florida, she must face the fact that her decisions may have put her only child in danger.
A gorgeous story that "satisfies on every level" (Amazon Best Book of the Month citation), Sea Creatures is a mesmerizing exploration of the high stakes of marriage and parenthood.
Praise for Sea Creatures
"A captivating, haunting novel about the complexities of the human heart and its attachments, terrain as slippery and beautiful and disaster prone as Daniel's South Florida." —Abraham Verghese, author of Cutting for Stone
"What I found most stirring in Sea Creatures is how deftly Daniels exposes one of the most agonizing realities of parenthood: that no matter how hard we try, or how endless our love for our children, we are hampered by our own limitations, sometimes even tragically." —Helen Schulman, author of This Beautiful Life
"Daniel's writing is rich in description—of both its lush Florida settings and her characters' emotional landscapes—that draws the reader in." —Isthmus Review
_________________________________________________________
Wally Lamb returns with We Are Water, a powerful novel perfect for your book club.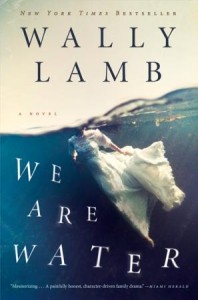 We Are Water by Wally Lamb
With humor and compassion, New York Times bestselling author Wally Lamb brilliantly captures human experience through vivid and unforgettable characters struggling to find hope and redemption in the aftermath of trauma and loss.
Annie Oh—wife, mother, and artist—has shaken her family to its core. After twenty-seven years of marriage and three children, Annie has fallen in love with Viveca, the wealthy, cultured, confident Manhattan art dealer who orchestrated her professional success. The two plan to wed in the Oh family's hometown of Three Rivers, Connecticut, where gay marriage has recently been legalized. But this provokes mixed reactions and opens a Pandora's box of toxic secrets—dark and painful truths that have festered below the surface of the Ohs' lives.
Told in the alternating voices of the Ohs—nonconformist Annie; her psychologist ex-husband, Orion; their do-gooder daughter, Ariane, and her rebellious twin, Andrew; and the free-spirited youngest, Marissa—We Are Water is vintage Wally Lamb: a compulsively readable and uplifting masterpiece that digs deep into the complexities of the human heart to explore the ways we search for love and meaning in our lives.
Praise for We Are Water
"Wally Lamb delivers a powerful and engaging novel filled with complexities and intricacies of human nature and family dysfunction. . . this is a book not to be missed." —The Advocate
"We are water: 'fluid, flexible when we have to be. But strong and destructive, too.' That's evident in this emotionally involving new novel from the author of She's Come Undone….Clear and sweetly flowing; highly recommended." —Library Journal, starred review
"Wally Lamb's latest, We Are Water, works the same magic as his 1992 Oprah-anointed breakthrough, She's Come Undone, capturing a snapshot of modern life (class struggle, racial violence) through the lens of a family faced with jarring news from its matriarchal figure." —Out.com
 _________________________________________________________
Book clubs will be mesmerized by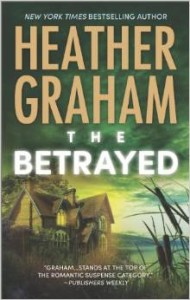 The Betrayed by Heather Graham
One night, New York FBI agent Aiden Mahoney receives a visitor in a dream—an old friend named Richard Highsmith. The very next day he's sent to Sleepy Hollow because Richard's gone missing there. 

Maureen—Mo—Deauville now lives in the historic town and works with her dog, Rollo, to search for missing people. She's actually the one to find Richard…or more precisely his head, stuck on a statue of the legendary Headless Horseman. 

Mo and Aiden, a new member of the Krewe of Hunters, the FBI's unit of paranormal investigators, explore both past and present events to figure out who betrayed Richard, who killed him and now wants to kill them, too. As they work together, they discover that they share an unusual trait—the ability to communicate with the dead. They also share an attraction that's as intense as it is unexpected…if they live long enough to enjoy it!
 _________________________________________________________
19th Century Venice and a seductive muse…
Book Clubs will be enchanted by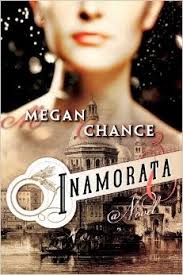 Inamorata by Megan Chance
American artist Joseph Hannigan and his alluring sister, Sophie, have arrived in enchanting nineteenth-century Venice with a single-minded goal. The twins, who have fled scandal in New York, are determined to break into Venice's expatriate set and find a wealthy patron to support Joseph's work.
But the enigmatic Hannigans are not the only ones with a secret agenda. Joseph's talent soon attracts the attention of the magnificent Odilé Leon, a celebrated courtesan and muse who has inspired many artists to greatness. But her inspiration comes with a devastatingly steep price.
As Joseph falls under the courtesan's spell, Sophie joins forces with Nicholas Dane, the one man who knows Odilé's dark secret, and her sworn enemy. When the seductive muse offers Joseph the path to eternal fame, the twins must decide who to believe—and just how much they are willing to sacrifice for fame.
 _________________________________________________________
Fascinating non-fiction!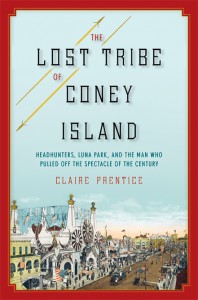 The Lost Tribe of Coney Island by Claire Prentice
Readers of Erik Larson will love this tale of sex, greed, and the American dream: A huckster imports a tribe of Filipinos to Coney Island's Luna Park, and two cultures collide.
The Lost Tribe of Coney Island unearths the forgotten story of the Igorrotes, a group of "headhunting, dog-eating savages" from the Philippines, who were transported to New York in 1905 to appear as "human exhibits" alongside the freaks and curiosities at Coney Island's Luna Park. Millions of fair-goers delighted in their tribal dances and rituals, near-nudity, tattoos, and stories of headhunting.
Journalist Claire Prentice, who has spent years researching the topic, brings the story to life with her fluid prose and vivid descriptions. The book boasts a colorful cast of characters, including the disgraced lieutenant turned huckster Truman K. Hunt; his Filipino interpreter, Julio Balinag; the theme park impresarios behind Luna Park, Fred Thompson and Elmer "Skip" Dundy; and Dogmena, a beautiful girl who became a favorite with New York's social elite. The Lost Tribe of Coney Island  is a fascinating social history and a tale of adventure, culture-clash, and the American dream.
 _________________________________________________________
Please fill out our super short registration form (<—click here) by September 30th for a chance to win a set of up to ten copies of one of these great books for your book club! We will randomly choose winners at the end of the month. This contest is open to clubs in the US only (our apologies to friends in other countries). 
Best of luck!
We 
LOVE

 Book Clubs!