__________________________________
Book clubs will love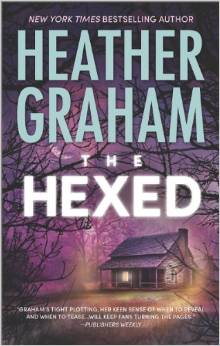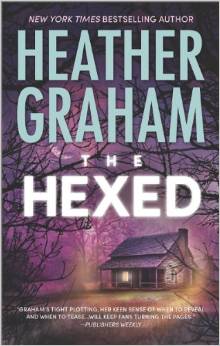 The Hexed by Heather Graham
A place of history, secrets…and witchcraft. 

Devin Lyle has recently returned to the Salem area, but her timing couldn't be worse. Soon after she moved into the eighteenth-century cabin she inherited from her great-aunt Mina—her "crazy" great-aunt, who spoke to the dead—a woman was murdered nearby. 

Craig Rockwell—known as Rocky—is a new member of the Krewe of Hunters, the FBI's team of paranormal investigators. He never got over finding a friend dead in the woods. Now another body's been found in those same woods, not far from the home of Devin Lyle. And Devin's been led to a third body—by…a ghost? 

Her discovery draws them both deeper into the case and Salem's rich and disturbing history. Even as the danger mounts, Devin and Rocky begin to fall for each other, something the ghosts of Mina and past witches seem to approve of. But the two of them need every skill they possess to learn the truth—or Devin's might be the next body in the woods…
__________________________________
A road trip down South turns into the journey of a lifetime in Carolyn T. Dingman's Cancel the Wedding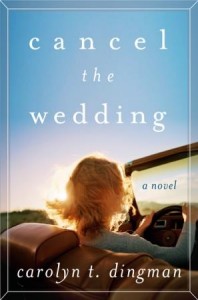 Cancel the Wedding by Carolyn T. Dingman
A heartfelt tale of one woman's journey to discover the secrets of her mother's hidden past and confront her own uncertain future, this compelling, emotionally resonant novel about the frustrations of blood ties will appeal to fans of Emily Giffin and Jennifer Weiner.
On the surface, Olivia has it all: a high-powered career, a loving family, and a handsome fiancé. She even seems to be coming to terms with her mother Jane's premature death from cancer. But when Jane's final wish is revealed, Olivia and her elder sister, Georgia, are mystified. Their mother rarely spoke of her rural Southern hometown, and never went back to visit—so why does she want them to return to Huntley, Georgia, to scatter her ashes?
Jane's request offers Olivia a temporary escape from the reality she's long been denying: she hates her "dream" job, and she's not really sure she wants to marry her groom-to-be. With her fourteen-year-old niece, Logan, riding shotgun, she heads south on a summer road trip looking for answers about her mother.
As Olivia gets to know the town's inhabitants, she begins to peel back the secrets of her mother's early life—truths that force her to question her own future. But when Olivia is confronted with a tragedy and finds an opportunity to right a terrible wrong, will it give her the courage to accept her mother's past—and say yes to her own desire to start over?
__________________________________
This is the Water is an intense novel in both style & plot, full of unsettling twists that will get your book club chattering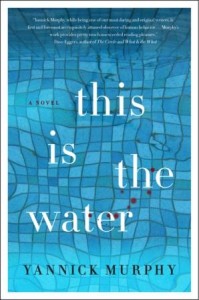 This is the Water by Yannick Murphy
At a swim meet in their quiet New England town, Annie watches as her daughters glide through the water. Her thoughts drift lazily from whether she fed her daughters enough carbs that morning to why her husband doesn't kiss her anymore, to Paul, a swim-team parent, who's taken notice of her and seems to embody everything she's beginning to think her life is missing.
When a girl on the team is murdered at a nearby highway rest stop—the same spot where Paul made a gruesome discovery years ago—Annie and her fellow swim-parents find themselves adrift. With a serial killer too close for comfort, they must make choices about where their loyalties lie. And as a series of shocking events unfolds, Annie must discover what it means to follow her intuition—even if love, as well as lives, could be lost.
__________________________________
Dive deep into this fun and meaningful read!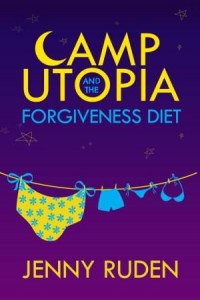 Camp Utopia and the Forgiveness Diet by Jenny Ruden
Sixteen-year-old Baltimore teen Bethany Stern knows the only way out of spending her summer at Camp Utopia, a fat camp in Northern California, is weight-loss. Desperate, she tries The Forgiveness Diet, the latest fad whose infomercial promises that all she has to do is forgive her deadbeat dad, her scandalous sister, and the teenage magician next door and (unrequited) love of her life. But when the diet fails and her camp nemesis delivers the ultimate blow, Bee bids sayonara to Camp-not-Utopian-at-all to begin what she believes will be her "real" summer adventure, only to learn that running away isn't as easy—or as healing—as it seems.
Her wry and honest voice bring humor and poignancy for anyone, fat or thin, tired of hearing "you'd be so pretty if…[insert unwelcome judgment about your appearance from loved one or perfect stranger]."
Praise for Camp Utopia and the Forgiveness Diet
"A funny, poignant, emotionally intelligent and beautifully written novel that takes the reader on a journey that is by turns heartbreaking and inspiring. I highly recommend it." -Alisa Valdes, New York Times and USA Today bestselling author
"Ruden's debut novel is more than merely funny. It skewers our cultural obsession with the superficial, lampooning everything from fad diets to reality television and self-help gurus. And Bethany's inner journey from bitterness to forgiveness is one that will resonate with all readers. Read it for the laughs, reread it for Ruden's profound insight into the transformative power of forgiveness." -Mike Mullin, author of Ashfall
__________________________________
Please fill out our super short registration form (<—click here) by August 31st for a chance to win a set of up to ten copies of one of these great books for your book club! We will randomly choose winners at the end of the month. This contest is open to clubs in the US only (our apologies to friends in other countries). 
Best of luck!
We 
LOVE

 Book Clubs!