__________________________________
Book clubs will love the political thrill ride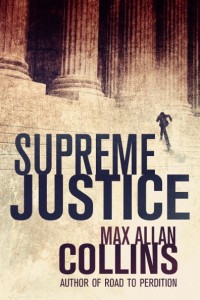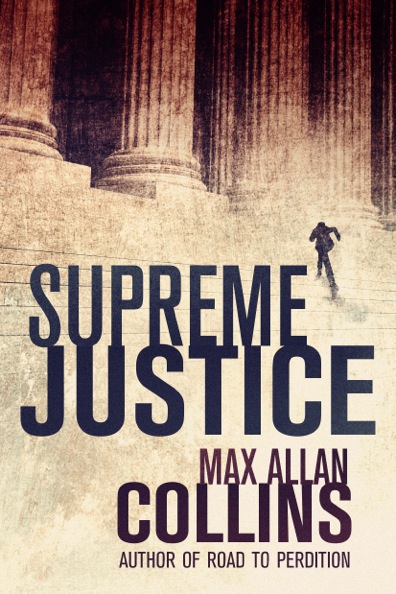 Supreme Justice by Max Allan Collins
A new standalone thriller from the creator of The Road to Perdition and the Nathan Heller series. 
After taking a bullet for his commander-in-chief, Secret Service agent Joseph Reeder is a hero. But his outspoken criticism of the president he saved—who had stacked the Supreme Court with hard-right justices to overturn Roe v. Wade, amp up the Patriot Act, and shred the First Amendment—put Reeder at odds with the Service's apolitical nature, making him an outcast.
FBI agent Patti Rogers finds herself paired with the unpopular former agent on a task force investigating the killing of Supreme Court Justice Henry Venter. Reeder—nicknamed "Peep" for his unparalleled skills at reading body language—makes a startling discovery while reviewing a security tape: the shooting was premeditated, not a botched robbery. Even more chilling, the controversial Venter may not be the only justice targeted for death…
Is a mastermind mounting an unprecedented judicial coup aimed at replacing ultra-conservative justices with a new liberal majority? To crack the conspiracy and save the lives of not just the justices but also Reeder's own family, rising star Rogers and legendary investigator Reeder must push their skills—and themselves—to the limit.
_________________________________________________________
Two women form an unlikely bond in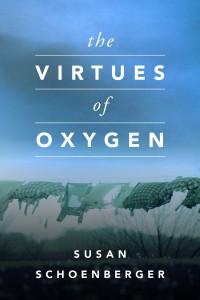 The Virtues of Oxygen by Susan Schoenberger
From the award-winning author of A Watershed Year comes a heartrending story of unlikely bonds made under dire straits. Holly is a young widow with two kids living in a ramshackle house in the same small town where she grew up wealthy. Now barely able to make ends meet editing the town's struggling newspaper, she manages to stay afloat with help from her family. Then her mother suffers a stroke, and Holly's world begins to completely fall apart.
Vivian has lived an extraordinary life, despite the fact that she has been confined to an iron lung since contracting polio as a child. Her condition means she requires constant monitoring, and the close-knit community joins together to give her care and help keep her alive. As their town buckles under the weight of the Great Recession, Holly and Vivian, two very different women both touched by pain, forge an unlikely alliance that may just offer each an unexpected salvation.
_________________________________________________________
Love, Basketball, and Murder-
Book Clubs will have fun with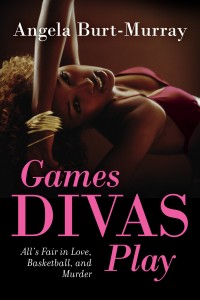 Games Divas Play by Angela Burt-Murray
The former Editor-in Chief of Essence magazine, Angela Burt-Murrary's new novel takes readers inside the high-stakes world of professional basketball—where everyone plays to win. In GAMES DIVAS PLAY, the first book in the Diva Mystery Series, Burt-Murray introduces an ambitious entertainment reporter battling backstabbing colleagues and reeling from murderous threats, the desperate wife of NBA star Marcus King, who's as popular with the ladies as he is with hoops fans, and a scandalous groupie shopping a reality show based on her affair with Marcus. These three women soon learn what it really takes to stay on top when they engage in a ruthless battle for love and the limelight. GAMES DIVAS PLAY is a juicy, gossipy, and flat-out fun read; James Patterson meets Real Housewives of Atlanta.
______________________________________________________________
Book Clubs will learn how to live their best life in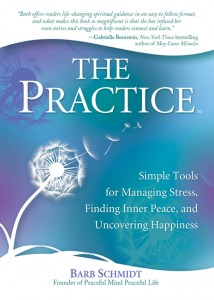 The Practice: Simple Tools for Managing Stress, Finding Inner Peace, and Uncovering Happiness 
by Barb Schmidt
"In The Practice, you will learn that a wellspring of inner peace and happiness exists inside each one of us, and is easily accessible with simple techniques that require only minutes a day."- Barb Schmidt 
Barb Schmidt believes that making subtle shifts in the day will improve inner happiness, creating a positive ripple effect on all areas of life. In her new book, The Practice (HCI Books, On Sale May 13, 2014), Barb has structured an easy-to-implement, three-part daily routine- Waking Up, Living Present, Letting Go-that will help you look inward, cultivating the beautiful qualities of acceptance, gratitude, patience, compassion, strength, and courage. Barb provides readers with a set of practical tools that can be used throughout the day to help cultivate a peaceful mind so that readers can
live their best lives filled with happiness, love, mindfulness, and purpose – the magnificent life that we are all meant to live.
The Practice is a set of practical tools that can be used throughout the day to guide us along life's path. It is a compilation of the great Truths taught by authentic teachers and masters throughout the centuries from various religious and spiritual traditions. It is for people who are looking to deepen their connection to their innermost selves.
Barb has garnered followers from across the globe through her charismatic and radiant personality driven by the quest to find happiness and peace. The Practice begins with Barb's own personal path of self-discovery, which began as a part of her recovery from her personal battle with bulimia. Throughout The Practice, Barb shares with readers the timeless truths and wisdoms she has learned through her nearly thirty years of study and practice with many of the modern-day masters. Each chapter concludes with "Parting Seeds" – key takeaway points discussed in the chapter to keep in mind as you go about your day.
"Barb Schmidt writes in such a gentle, relaxed conversational style that it felt to me as if she were taking me by the hand and introducing me to the world of meditation and spiritual healing that she knows so well. And the quotes are just perfect—introduced at just the right time and in an unobtrusive way. It is a very moving piece of work."—Doris Kearns Goodwin, Pulitzer Prize–winning American biographer, historian, and political commentator
 "Barb Schmidt is a transformational leader who fearlessly shares her authentic truth. In her book, The Practice, Barb offers readers life-changing spiritual guidance in an easy to follow format. What makes this book so magnificent is that Barb has infused her own stories and struggles to help readers connect and learn."—Gabrielle Bernstein, New York Times bestselling author of May Cause Miracles
 _________________________________________________________
Book clubs will find much to discuss in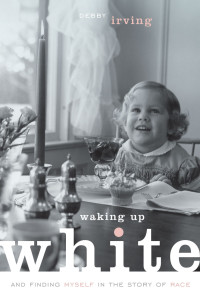 Waking Up White by Debby Irving
On the heels of a year when films such Django, The Butler, and 12 Years a Slave have made real the lived experience of black Americans, Waking Up White exposes critical aspects of the white experience. White people are thirsting for clarity on racial issues and the confidence to engage in conversation about them. Many people of color yearn for authentic, informed dialogue about racism with white friends, family, and colleagues.Waking Up White bridges this divide by functioning both as a "Racism 101" for white people and a rare exposé on whiteness for people of color. The book is a catalytic kick-starter that provides people of all colors and levels of racial awareness with the language and tools necessary to enter into cross-racial conversations about race within a less threatening context. For white readers wanting to further their own awakening, Irving includes short prompts and exercises at the end of each chapter.
"When I finally came to understand the way racism worked," she explains, "I spent a lot of time thinking about what might have enlightened me earlier. I decided it wouldn't have been an academic book, an essay, or a book from the perspective of a person of color — it would have been another white person describing their own awakening. What I needed was a memoir so irresistible that I would have read it even if racism weren't on my mind."
Praise for Waking Up White
"Debby Irving's powerful Waking Up White opens a rare window on how white Americans are socialized. Irving's focus on the mechanics of racism operating in just one life — her own — may lead white readers to reconsider the roots of their own perspectives — and their role in dismantling old myths. Readers of color will no doubt find the view through Irving's window fascinating, and telling." — Van Jones, author, Rebuild The Dream, The Green Collar Economy: How One Solution Can Fix Our Two Biggest Problems; President, Rebuild The Dream; Co-host, CNN Crossfire
"I read Waking Up White in one sitting. To say I loved it is an understatement. It's such a raw, honest portrait …. Irving's experience on display – warts and all – will help white people, who haven't noticed the role systemic privilege has played in their lives, start to see the world in a new way." — Jodi Picoult, author, The Storyteller, My Sister's Keeper
 _________________________________________________________
Please fill out our super short registration form (<—click here) by July 31st for a chance to win a set of up to ten copies of one of these great books for your book club! We will randomly choose winners at the end of the month. This contest is open to clubs in the US only (our apologies to friends in other countries). 
Best of luck!
We 
LOVE

 Book Clubs!