About Beyond Hollywood Strip
Publisher:  Vigliano Books
Page count: 339 pages
Callie Lambert is the hottest starlet in Hollywood. With a hit TV show under her belt, the tabloid-targeted actress–christened one of "The 20 Most Tantalizing Angelenos"–leads a charmed life, hobnobbing with fashionistas in Paris and industry bigwigs in Los Angeles .  She's sexy, sassy, and unsinkable….and currently unemployed.
Beyond Hollywood Strip offers an inside look into the realities of being famous and beautiful, following Callie as she navigates the seedy underbelly of the entertainment industry. Juggling hunky ex-boyfriends, battling lawsuits from rival actresses, staying one step ahead of the press, organizing a charity event to honor her murdered friend…Callie's got it all under control. But when she receives a mysterious letter from a young woman claiming to be her long-lost sister, Callie's world begins to crack around the edges and all bets are off.
An ode to the literary popcorn of Jacqueline Susann, Beyond Hollywood Strip is a steamy, action-packed ride down Sunset Boulevard. Better buckle your seat belt…it's going to be bumpy…
First book, Hollywood Strip, selected as a Finalist for the Pacific Book Review Award.
 "Does for Hollywood what Sex and the City did for New York…So hot the pages will singe your fingers." William Martin, NYT bestselling author
 "Doesn't suffer from the constant label-naming of some contemporary women's fiction, and fans of Cecily von Ziegesar and Lauren Weisberger will adore this insider's view of an aspiring actress' struggles and successes." Booklist

.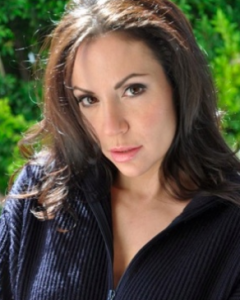 About Shamron Moore

The chronicles of Callie Lambert are loosely based on author Shamron Moore's real life experiences as an actress and model. Shamron left her home state of Michigan to pursue the excitement of Los Angeles. She has appeared in numerous commercials, television shows and feature films. FHM named her one of the 100 Sexiest Women in the World. Nowadays, she prefers to focus on writing, one of her lifelong passions. Beyond Hollywood Strip is her second novel.
Connect with Shamron
Shamron Moore's TLC Book Tours TOUR STOPS:
Monday, August 18th: From the TBR Pile
Wednesday, August 20th: Steph the Bookworm
Thursday, August 21st: Mom in Love with Fiction
Monday, August 25th: Bewitched Bookworms
Thursday, August 28th:  The Suburban Eclectic Review – Book Spotlight
Wednesday, August 27th: Harlie's Books
Monday, September 1st: Read – Love – Blog
Tuesday, September 2nd: Sveltlana's Reads and Views
Wednesday, September 3rd: Shelf Pleasure -author guest post, "The Godmother"
Friday, September 5th:  Seaside Book Nook
Wednesday, September 10th:  Traveling with T