__________________________________________________
Book clubs will enjoy unfolding a passionate affair as they swirl through the classical music world in Sight Reading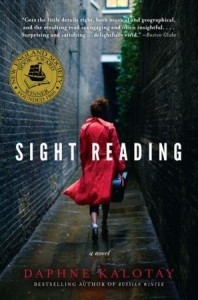 Sight Reading by Daphne Kalotay
On a Boston street one warm spring day, Hazel and Remy spot each other for the first time in years. Though their meeting might seem insignificant, Remy, a gifted violinist, is married to the composer Nicholas Elko—once the love of Hazel's life. It has been twenty years since Remy, an ambitious conservatory student; Nicholas, a wunderkind on the cusp of success and its challenges; and the beautiful and fragile Hazel first met. From Europe to America, from conservatory life to the Boston Symphony Orchestra, they have forged crisscrossing paths of thrills and doubts, wonders and betrayals, each discovering how the quest to create something real and true can lead to deep personal revelations. As Remy and Hazel find themselves once more linked by shifting fate, Sight Reading explores the mysteries of intuition and perception while unspooling a transporting story of marriage, family, and long-held secrets.
__________________________________________________
"[This little yellow book] has re-read value…readers will discover something new from it each time." —5 star review from San Francisco Book Review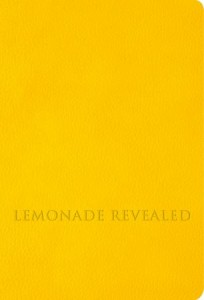 Lemonade Revealed by Will Chluho
FICTION: A boy on a voyage to find his true father regained consciousness on an unknown island to the curious stares of three old men: a warrior, a trader, and a priest. The lost boy would later discover through a mysterious man–a skinhead with an eye tattoo on his neck–that one among the trio could be the father he'd been looking for….
NONFICTION: This "little yellow book" is a good place to reclaim such good old-fashioned gems as "faith" and "hope" under the demythologized light of human reason. It is a phenomenological examination on the possibility and probability of a divine existent vis-à-vis a real world of human frailties and frictions. Lemonade Revealed is a timely discourse in a timeless (and engaging) story.
__________________________________________________
Book Clubs will find much to discuss in this
modern search for identity and responsibility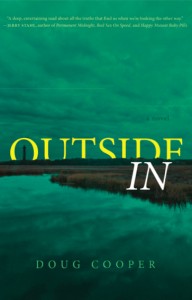 Outside In by Doug Cooper
From Memorial Day until the student workers and tourists leave in the fall, the island community of Put-In-Bay, Ohio, thrives on alcohol, drugs, sexual experimentation, and any other means of forgetting responsibilities. To Brad Shepherd–recently forced out of his job as a junior high math teacher after the overdose death of a student–it's exactly the kind of place he's looking for.
Allured by the comfort and acceptance of the hedonistic atmosphere, Brad trades his academic responsibilities and sense of obligation for a bouncer's flashlight and a pursuit of the endless summer. With Cinch Stevens, his new best friend and local drug dealer, at his side, Brad becomes lost in a haze of excess and instant gratification filled with romantic conquests, late-night excursions to special island hideaways, and a growing drug habit. Not even the hope from a blossoming relationship with Astrid, a bold and radiant Norwegian waitress, nor the mentoring from a mysterious mandolin player named Caldwell is enough to pull him out of his downward spiral. But as Labor Day approaches, the grim reality of his empty quest consumes him. With nowhere left to run or hide, Brad must accept that identity cannot be found or fabricated, but emerges from within when one has the courage to let go.
A look at one man's belated coming of age that's equally funny, earnest, romantic, and lamenting, Doug Cooper's debut novel explores the modern search for responsibility and identity, showing through the eyes of Brad Shepherd how sometimes, we can only come to understand who we truly are by becoming the person we're not.
"Rarely does an author capture the frenzied descent into drug and alcohol abuse as Doug Cooper in his tumultuous novel Outside In. A story of disillusion drowned in excess, tempered by the decisions we make to survive another day. A searing debut. — Stephen Jay Schwartz, Los Angeles Times bestselling author of Boulevard and Beat
"Outside In takes readers on a wild ride with the final destination being a rediscovered sense of self." — Colleen Hoover, author of the New York Times bestseller Slammed
"This modern take on finding oneself shows readers what can happen when you completely lose control and become someone you are not. It reminds us all of Shakespeare's council, 'To thine own self be true.'"–Weldon Long, author of the New York Times bestseller The Power of Consistency
__________________________________________________
A brazen theft forces a man to confront his past
in the psychological thriller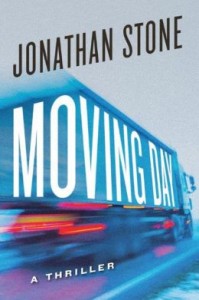 Moving Day by Jonathan Stone
Forty years' accumulation of art, antiques, and family photographs are more than just objects for Stanley Peke—they are proof of a life fully lived. A life he could have easily lost long ago.
When a con man steals his houseful of possessions in a sophisticated moving-day scam, Peke wanders helplessly through his empty New England home, inevitably reminded of another helpless time: decades in Peke's past, a cold and threadbare Stanislaw Shmuel Pecoskowitz eked out a desperate existence in the war-torn Polish countryside, subsisting on scraps, dodging Nazi soldiers. Now, the seventy-two-year-old Peke—who survived, came to America, and succeeded—must summon his original grit and determination, to track down the thieves, retrieve his things, and restore the life he made for himself.
Peke and his wife, Rose, trace the path of the thieves' truck across America, to the wilds of Montana, and to an ultimate, chilling confrontation with not only the thieves, but with Peke's brutal, unresolved past.
__________________________________________________
A young girl's terrifying nightmare, five mysterious oil paintings and a red, flaming firebird all carry the same message: Stop  running, stand still and let the funnel cloud suck you up inside.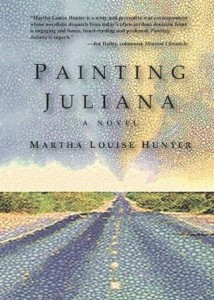 Painting Juliana by Martha Louise Hunter
A young girl's terrifying nightmare, five mysterious oil paintings and a red, flaming firebird all carry the same message:
Stand still, look up and let the funnel cloud suck you up inside.
It's the last thing Juliana Birdsong wants to hear.  Now a woman who's losing everything, she's still running from the dream, and it's catching up fast. When her Alzheimer's-stricken father's canvases come to life exposing secrets, heartbreak and yearnings that mirror her own, Juliana discovers that some memories can be a blessing to forget.
Hit with devastating loss and betrayals, her old life stripped away, Juliana has no choice but to call on the person who's never helped her before. Steering the chrome handlebars of a vintage motorcycle down a long, tapering highway, she must face her defining moment.  It's the only way she'll gain the strength and courage to begin painting Juliana.
Engaging and funny, heart-rending and profound. Painting Juliana is superb. -Joe Holley, Columnist, Houston Chronicle
Hunter is a first-rate writer with a lot to say in a voice that is new, vivid and exceptional. -Cindy Bonner – Author of Lily and Right from Wrong
__________________________________________________
Please fill out our super short registration form (<—click here) by June 30th for a chance to win a set of up to ten copies of one of these great books for your book club! We will randomly choose winners at the end of the month. This contest is open to clubs in the US only (our apologies to friends in other countries). 
Best of luck!
We 
LOVE

 Book Clubs!