__________________________________________________
Book clubs will enjoy the wonderfully layered saga of suspense, betrayal, and redemption in The Orphans of Race Point.

The Orphans of Race Point by Patry Francis
Set in the close-knit Portuguese community of Provincetown, Massachusetts, The Orphans of Race Point traces the relationship between Hallie Costa and Gus Silva, who meet as children in the wake of a terrible crime that leaves Gus parentless. Their friendship evolves into an enduring and passionate love that will ask more of them than they ever imagined.
On the night of their high school prom, a terrible tragedy devastates their relationship and profoundly alters the course of their lives. And when, a decade later, Gus—now a priest—becomes entangled with a distraught woman named Ava and her daughter Mila, troubled souls who bring back vivid memories of his own damaged past, the unthinkable happens: he is charged with murder. Can Hallie save the man she's never stopped loving, by not only freeing him from prison but also—finally—the curse of his past?
Told in alternating voices, The Orphans of Race Point illuminates the transformative power of love and the myriad ways we find meaning in our lives.
"Set against the coast of Provincetown, Patry Francis's fierce, ravishing epic cuts deep to the bone about how love binds us together and breaks us apart, and how the past's thumbprint rests on the present. Tender, violent, and alive, it's also unforgettable." — Caroline Leavitt, New York Times-bestselling author of Pictures of You
"In The Orphans of Race Point, Patry Francis has poured a lifetime of wisdom into a thrilling, twisting plot, which holds up the human heart as a prism, turning it to show its many facets, its shadows and light. Grief is cut with rage, fear, courage. Love is bruised, guarded, redemptive. The story is at once intimate and far-reaching, tackling the biggest of themes-faith, forgiveness, and gratitude in the midst of hardship. This is a book that satisfies right down to the last perfect lines which raised the hair on my arms. Profound, liberating, and unforgettable!" — Susan Henderson, author of Up from the Blue
"…this beautifully wrought novel is a sometimes wrenching but ultimately uplifting story of murder and betrayal in the face of faith, family in its truest sense, and—most of all—love." — Booklist (starred review)
Check out the reading group guide for your book club discussion!
__________________________________________________
Scandal in Ancient Rome!
Book Clubs will be enthralled by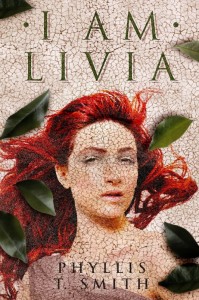 I Am Livia by Phyllis T. Smith
In this wonderfully imagined historical novel, a noblewoman skirts the political perils and pitfalls of ancient Rome while navigating the dangerous landscape of her own heart.
At the tender age of fourteen, Livia Drusilla overhears her father and fellow aristocrats plotting the assassination of Julius Caesar. Proving herself an astute confidante, she becomes her father's chief political asset—and reluctantly enters into an advantageous marriage to a prominent military officer. Her mother tells her, "It is possible for a woman to influence public affairs," reminding Livia that—while she possesses a keen sense for the machinations of the Roman senate—she must also remain patient and practical.
But patience and practicality disappear from Livia's mind when she meets Caesar's heir, Octavianus. At only eighteen, he displays both power and modesty. A young wife by that point, Livia finds herself drawn to the golden-haired boy. In time, his fortunes will rise as Livia's family faces terrible danger. But her sharp intellect—and her heart—will lead Livia to make an unbelievable choice: one that will give her greater sway over Rome than she could have ever foreseen.
"Seamlessly written, this novel will appeal mightily to fans of historical fiction." – Publishers Weekly
"I Am Livia is a wonderful journey to ancient Rome that provides amazing, thoughtful insight into one of its most influential and unconventional citizens … Smith's Livia is such a dynamic character, so approachably human, at times fearless and forceful but also merciful and just…The historical backdrop of Rome becomes more accessible, less academic, when seen through the lives of Smith's characters." —Historical Novels Review
__________________________________________________
Book clubs will be fascinated by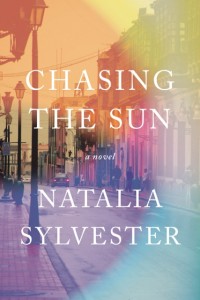 Chasing the Sun by Natalia Sylvester
Partially inspired by her grandfather's kidnapping in Peru, CHASING THE SUN: A Novel (Lake Union/New Harvest; on sale June 3, 2014) is Natalia Sylvester's suspenseful debut about a man whose wife is kidnapped just as their marriage is falling apart.
After going out for an errand, Marabela Jimenez doesn't return home and her husband suspects she has left him – again. Only, the next day a letter arrives in the mail that reads:  
Querido Andres,
I'm being held by three men who say they'll keep me safe as long as you cooperate. They say that means no cops and no media. They say they'll call when they're ready to talk to you. Kiss our children for me and tell them not to worry. Keep me in your thoughts as I will be keeping you in mine.
Marabela
Despite their crumbling relationship, Andres quickly realizes he must do whatever it takes to get Marabela home. He can't possibly afford the ransom the kidnappers demand or handle this threat to his family alone so he hires a consultant to help negotiate with the terrorists. He also reaches out to his estranged mother, who has never cared for Marabela and even reconnects with an old friend who may hold the key to his past and his wife's future. As each day passes without the return of his wife, Andres is forced to come to terms with whether or not what he and Marabela have left is worth saving and how far he'll go to bring her home.
Set against the backdrop of the political turmoil and terrorist threats of 1992 Peru,CHASING THE SUN is a story of how trauma has a way of exposing our most difficult truths and healing past wounds and regrets.
"A fascinating, brooding depiction of a kidnapping in Peru and how the price of a happy marriage is much higher than any ransom."—Jamie Ford, author of Hotel on the Corner of Bitter and Sweet
 "In Chasing the Sun, Natalia Sylvester paints an intimate portrait of a Peruvian businessman whose wife is kidnapped and held for ransom. The story resonates with every tortured breath of a loyal husband caught between money and family, a troubled marriage, and an aching heart."—Leslie Lehr, author of What a Mother Knows
 "With wonderful writing and subtle insight, Natalia Sylvester has created a stunning combination of domestic drama and high political adventure. Chasing the Sun is a remarkable accomplishment."—Stephen Dau, author of The Book of Jonas
 "An intimate, unflinching portrait of a marriage, examined against the suspenseful backdrop of a terrifying kidnapping. Natalia Sylvester writes masterfully about the many ties that bind and the sacrifices that may be necessary in order to truly free ourselves. Wise, lyrical, and intriguing throughout—this book stole me away, refusing my return until I finished the last page."—Seré Prince Halverson, author of The Underside of Joy
__________________________________________________
A hilarious and romantic (mis)adventure, about facing your demons and being happy with who you really are.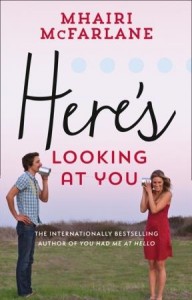 Here's Looking at You by Mhairi McFarlane
Despite the oddballs that keep turning up on her dates, Anna couldn't be happier. As a 30-something with a job she loves, life has turned out better than she dared dream. However, things weren't always this way, and her years spent as the butt of schoolyard jokes are ones she'd rather forget.
So when James Fraser – the architect of Anna's final humiliation at school – walks back into her life, her world is turned upside down. But James seems a changed man. Polite. Mature. Funny, even. People can change, right? So why does Anna feel like she's a fool to trust him? Full of laugh out loud humor, Here's Looking At You is a novel about facing your demons and being happy with who you really are.
Full of laugh out loud humor, Here's Looking At You is a novel about facing your demons and being happy with who you really are.
__________________________________________________
Filled with stunning suspense, a novel that New York Times bestselling author Christina Baker Kline calls "a haunting and provocative debut"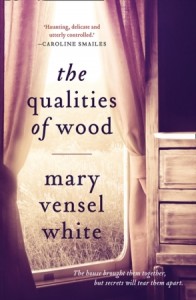 The Qualities of Wood by Mary Vensel White
When Betty Gardiner dies, leaving behind an unkempt country home, her grandson and his young wife take a break from city life to prepare the house for sale. Nowell Gardiner leaves first to begin work on his second mystery novel. By the time his wife Vivian joins him, a real mystery has begun: a local girl has been found dead in the woods behind the house. Even after the death is ruled an accident, Vivian can?t forget the girl, can?t ignore the strange behaviour of her neighbours, or her husband. As Vivian attempts to put the house in order, all around her things begin to fall apart.
The Qualities of Wood is a stunning novel from an exciting new writer. Perfect for readers of Anne Tyler and Anita Shreve.
__________________________________________________
Tim Anderson's hilarious memoir about
growing up gay and diabetic in the 80's
Book clubs will love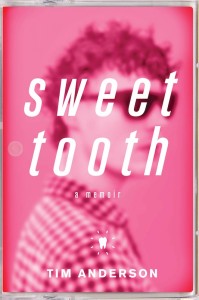 Sweet Tooth by Tim Anderson
"To a boy whose ideal snack was Little Debbie Zebra Cakes, the existence of a disease like diabetes seemed like the dark work of a mean God."
So begins Sweet Tooth (March 2014 | Lake Union Publishing), the much-anticipated new memoir by Tim Anderson, author of the bestselling Tune in Tokyo: The Gaijin Diaries. An impishly witty tale of growing up a Southern, gay, type-1 diabetic in the '80s and '90s, Sweet Tooth is perfect for fans of David Sedaris and Sarah Vowell.
What's a sweets-loving young boy growing up gay in North Carolina in the eighties supposed to think when he's diagnosed with type 1 diabetes? That God is punishing him, naturally.
This was, after all, when Jesse Helms was his senator, AIDS was still the boogeyman, and no one was saying, "It gets better." And if stealing a copy of an x-rated magazine from the newsagent was a sin, then surely what the guys inside were doing to one another was much worse.
Sweet Tooth is Tim Anderson's uproarious memoir of life after his hormones and blood sugar both went berserk at the age of fifteen. With Morrissey and The Smiths as the soundtrack, Anderson self-deprecatingly recalls love affairs with vests and donuts, first crushes, coming out, and inaugural trips to gay bars. What emerges is the story of a young man trying to build a future that won't involve crippling loneliness or losing a foot to his disease—and maybe even one that, no matter how unpredictable, can still be pretty sweet.
__________________________________________________
Please fill out our super short registration form (<—click here) by May 31st for a chance to win a set of up to ten copies of one of these great books for your book club! We will randomly choose winners at the end of the month. This contest is open to clubs in the US only (our apologies to friends in other countries). 
Best of luck!
We 
LOVE

 Book Clubs!