__________________________________________________
A young woman's journey through lost love, labor turmoil and the rise of American Communism.

A Snug Life Somewhere is about Penny Joe Copper, daughter of a roustabout shingle weaver, who is caught up in a 1916 union tragedy known as the Everett Massacre. Her brother Horace is killed, as is the cousin of a radical organizer, Gabe. When her love affair with Marcel, a music student seven years her junior, is thwarted, she is pulled into Gabe's campaign to avenge the "Everett Martyrs." She follows Gabe to Mexico (where they live in a household of Bolsheviks bent on smuggling jewels) then to Chicago (where she rediscovers Marcel, steals a Faberge egg and escapes from Gabe). Then a second event intervenes — the Seattle General Strike of 1919. Penny Joe returns to Seattle to confront Gabe and meets up with a mysterious stranger who turns out to be J. Edgar Hoover. Should she give the Faberge egg to Hoover as evidence against Gabe or just disappear and start a new life. Is she ever going to reunite with her lost love Marcel?
__________________________________________________
How Real is Reality TV?
Book Clubs will find much to discuss in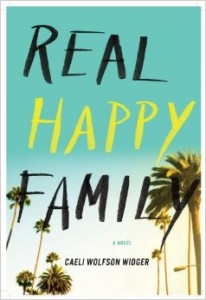 Real Happy Family by Caeli Wolfson Widger
Part-time actress, full-time party girl Lorelei Branch isn't famous yet, but she's perfected a Hollywood lifestyle full of clubbing, fashion, and the latest juice cleanse. When Robin, her sister-in-law and agent, throws a plum job her way, Lorelei jumps at the chance and auditions to be the new girl on television's hottest reality show, Flo's Studio.
Enter Colleen, Lorelei's pill-popping mother, who wants nothing more than to see her daughter win the fame and glory she never had a chance to pursue herself. But Lorelei's dream of becoming the next reality star is dashed when she loses the spot on Flo's Studio to a stunning African woman. In an attempt to defend her daughter against what she calls a rigged contest, Colleen goes ballistic and delivers a racist rant on live television, sparking a national media frenzy. Lorelei flees the limelight, humiliated and broke, with her slacker boyfriend Don and heads for Reno where she begins to self-destruct.
Meanwhile, the rest of the Branch family starts to come apart at the seams. Colleen and her husband, Carl, are quietly drifting apart. Darren, Lorelei's older half-brother, is stuck in Florida working on a contentious film set while his wife, Robin, continues the tedious regimen of fertility drugs meant to help them conceive a child. Desperate to bring the family together again and make things right, Colleen hatches a plan to stage an intervention for Lorelei on the reality show Real Happy Family. Soon the entire Branch family is entangled in a mission to bring the prodigal daughter back into the fold.
Will Lorelei ever forgive Colleen? Will Real Happy Family air their most sensational intervention yet? All roads lead to a seedy Reno hotel room, where a reality TV crew is waiting.
"Cinematic in its rendering, Real Happy Family glides effortlessly between the lives of characters living the underbelly and upper crust of the Hollywood dream, and the bottom dwellers who feed off the fallout. With the precision of an expert director, Widger leads the reader gawking and cringing past the train wrecks of Colleen and Lorelei, but exposes their hearts, and somehow leaves you cheering for a real happy ending for them all." —Chandra Hoffman, author of Chosen

"Reminiscent of The Corrections, Caeli Wolfson Widger's Real Happy Family is everything you hope for from a first novel but rarely find: a must-keep-reading-even-though-it's-2 am-plot packed with turbo-flawed yet loveable characters, all capped off with electric prose. I could not put it down. Had me hooked from page one. Bound to be read and talked about from coast to coast. I feel lucky to have been in on the secret before the rest of the country discovers Widger's smart and funny debut." —Deirdre Shaw, author ofLove or Something Like It
"Real Happy Family is the twenty-first century version of Nathanael West's Day of the Locust, a report in 2013 on what has happen to West's Hollywood—and America—during the last seventy-five years.  Like West's book, it is both an anatomy of the times and a prophecy of our continuing confusion." —Jay Martin, author of Nathanael West: The Art of His Life
__________________________________________________
Maternal narcissism and family dysfunction –
Book Clubs will have a lot to discuss in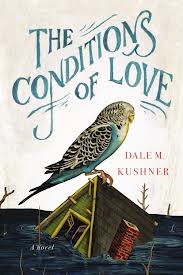 The Conditions of Love by Dale M. Kushner
Dale M. Kushner's novel The Conditions of Love traces the journey of a girl from childhood to adulthood as she reckons with her parents' abandonment, her need to break from society's limitations, and her overwhelming desire for spiritual and erotic love. In 1953, ten-year-old Eunice lives in the backwaters of Wisconsin with her outrageously narcissistic mother, a manicureeste and movie star worshipper.
Abandoned by her father as an infant, Eunice worries that she will become a misfit like her mother. When her mother's lover, the devoted Sam, moves in, Eunice imagines her life will finally become normal. But her hope dissolves when Sam gets kicked out, and she is again alone with her mother. A freak storm sends Eunice away from all things familiar. Rescued by the shaman-like Rose, Eunice's odyssey continues with a stay in a hermit's shack and ends with a passionate love affair with an older man. Through her capacity to redefine herself, reject bitterness and keep her heart open, she survives and flourishes. In this, she is both ordinary and heroic. At once fable and realistic story, The Conditions of Love is a book about emotional and physical survival. Through sheer force of will, Eunice saves herself from a doomed life.
This engaging examination of a mother and daughter's relationship will appeal to the same audience that embraced Mona Simpson's acclaimed classic Anywhere But Here and Elizabeth Strout's bestselling Amy and Isabelle.
The Conditions of Love received a TLA Lariat Award nomination for Outstanding Adult Fiction 2013.
"A fine exploration of growing up, weathering heartbreak and picking oneself up over and over." (Kirkus)
"A coming-of-age story that wonderfully combines literary style with heartbreaking plot twists and still manages to be uplifting, even before the epilogue that ties everything together." (Booklist)
"An immaculately written, enthralling and passionate debut" – Margot Livesay
__________________________________________________
Book Clubs will bond over how many times in their lives they fell in love with The Idea of Him.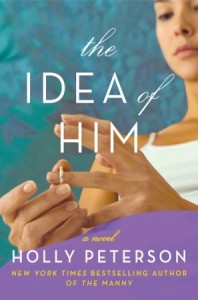 The Idea of Him by Holly Peterson
From the New York Times bestselling author of The Manny—a vibrant novel of love, life lessons, and learning to trust yourself
Allie Crawford has the life she always dreamed of—she's number two at a high-profile P.R. firm; she has two kids she adores; and her husband is a blend of handsome and heroic. Wade is everything she thought a man was supposed to be—he's running a successful newsmagazine and, best of all, he provides the stable yet exciting New York City life Allie believes she needs in order to feel secure and happy.
But when Allie finds Wade locked in their laundry room with a stunning blonde in snakeskin sandals, a scandal ensues that flips her life on its head. And when the woman wants to befriend Allie, an old flame calls, and a new guy gets a little too close for comfort, she starts to think her marriage is more of a facade than something real. Maybe she's fallen in love not with Wade—but with the idea of him.
Captivating and seductive, told in the whip-smart voice of a woman who is working hard to keep her parenting and career on track, The Idea of Him is a novel of conspiracy, intrigue, and intense passion—and discovering your greatest strength through your deepest fears.
Praise for The Idea of Him
"The Idea of Him is a coming-of-age book for grown ups. It's fast-paced and intriguing, glamorous and real — not only a great, great read but a tutorial in how to be your own best friend." – Elin Hilderbrand, author of Beautiful Day
"Holly Peterson has written a gripping, sophisticated story of high life suspense that kept me riveted till I'd finished.  The Idea of Him is hugely enjoyable and vividly satisfying." –Tina Brown of Tina Brown Live Media
"Holly Peterson's The Idea of Him is the perfect novel if you want to plunge into great dialogue, a twisting and unexpected plot, shady Wall Street schemes, betrayal, girl friends.. and sex.  It is unputdownable." –Lesley Stahl, CBS News 60 Minutes Anchor
"The Idea of Him is a deeply intriguing book filled with hilarious social satire and sexy longing. This book explores falling in love with the idea of someone rather than the person themselves…and how we cope with reality once we wake up!" –Kelly Bensimon, Author and Television Personality
__________________________________________________
Please fill out our super short registration form (<—click here) by April 30th for a chance to win a set of up to ten copies of A Snug Life Somewhere by Jan Shapin, a set of up to ten copies of Real Happy Family by Caeli Wolfson Widger, a set of up to ten copies of  The Conditions of Love by Dale M. Kushner, or a set of up to ten copies of The Idea of Him by Holly Peterson for your book club! We will randomly choose a winner at the end of the month. This contest is open to clubs in the US only (our apologies to friends in other countries). 
Best of luck!
We 
LOVE

 Book Clubs!