______________________________________
Is it just a game?
Book Clubs will find much to discuss in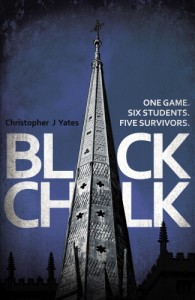 Black Chalk by Christopher J. Yates
One game. Six students. Five survivors.
It was only ever meant to be a game.
A game of consequences, of silly forfeits, childish dares. A game to be played by six best friends in their first year at Oxford University. But then the game changed: the stakes grew higher and the dares more personal, more humiliating, finally evolving into a vicious struggle with unpredictable and tragic results.
Now, fourteen years later, the remaining players must meet again for the final round.
______________________________________
Boys, bullies, wrestling and the roles
 we play are themes for discussion in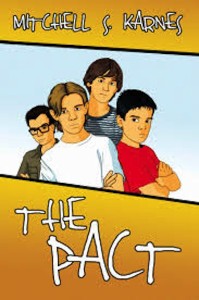 The Pact by Mitchell S. Karnes
Scott Addison never set out to be a hero.  But sometimes, no matter how hard you try, you can't run away from your destiny.  On the heels of his father's death, Scott and his mother move from Iowa City, Iowa to the small Southern Illinois town of Meadowbrook.
 Scott just wanted to blend in…to observe quietly…to be one of the kids.  Unfortunately for Scott, his instincts, heart, and integrity took over on his first day at his new middle school.  Scott stood up to and faced down three larger boys torturing a wiry little boy named Paul.  No one should ever have to stand alone.
 This simple act of kindness and chivalry put Scott in the midst of the conflict and on the receiving end of the bullies' antics.  When the hazing goes too far, Scott decides it is time to take a stand…no matter the cost.  Of course that's the price heroes must pay.
______________________________________
The power of healing and the
absurdity of life – book clubs will love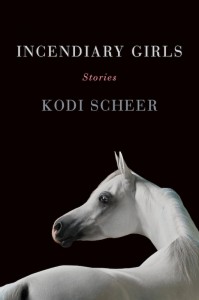 Incendiary Girls by Kodi Scheer
Kodi Scheer's debut story collection INCENDIARY GIRLS explores our baser instincts with vivid imagination and dark humor. With sharp and tender language, Scheer interrogates our expectations of reality, melding the surreal – visions of humans transforming into animals – with the emotions of everyday. In these stories, our bodies become strange and unfamiliar terrain, a medium for transformation. In "Fundamental Laws of Nature," a doctor considers her legacy, both good and bad, when she discovers that her mother has been reincarnated as a thoroughbred mare. In the title story, a mischievous angel chronicles the remarkable life of a girl just beyond death's reach.
 In Scheer's hands, empathy and attachment are illuminated by the absurdity of life. Inspired by her studies in medicine and science, INCENDIARY GIRLS is a reflection of the power of healing, with all of its magical twists (and will remind readers of Karen Russell's and Hannah Tinti's stories). When our bodies betray us, when we begin to feel our minds slip, how much can we embrace without going insane? How much can we detach ourselves before losing our humanity? Scheer's stories grapple with these questions in each throbbing, choking, heartbreaking moment.
"The story [When a Camel Breaks Your Heart] is bookended by a strange comedic twist. ('Remember the good times,' the narrator tells herself early on, 'when Mahir was still human.') But the bittersweet center of the story becomes even more affecting in the face of the poetic absurdity that undoes it." — Liz Colville, San Francisco Chronicle review of When a Camel Breaks Your Heart
______________________________________
The inner world of the mentally ill
is examined in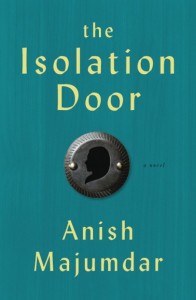 The Isolation Door by Anish Majumdar
From an award-winning journalist comes a haunting debut novel examining the inner world of the mentally ill and those within their gravitational pull.
Neil Kapoor, 23, is desperate to create a life beyond the shadow of his mother's schizophrenia. Years of successive relapses and rehabilitation's have forced his father into the role of caretaker and Neil into that of silent witness. But there is no light within this joyless ritual, and any hope for the future rests on finding an exit.
Amidst her latest breakdown, Neil attends drama school in pursuit of a role that might better express the truth of who he is. What started as a desperate gambit becomes the fragile threads of a new life. A relationship blooms with Emily, and each finds strength – and demons – in the other. New friendships with Quincy and Tim grow close and complex. But the emotional remove needed to keep these two lives separate destabilizes the family. Neil's father, the one constant in the chaos, buckles under the pressure. Enlisting the aid of an Aunt with means and questionable motives, Neil plies ever-greater deceptions to keep the darkness at bay. But this time there will be no going back. As his mother falls to terrifying depths a decision must be made: family or freedom?
In this powerful fiction debut, Anish Majumdar shines a much-needed light into the journey of those coping with serious mental disorders and the loved ones who walk alongside them. Incisive and filled with moments of strange beauty, it marks the arrival of a unique voice in American letters.
______________________________________
Good vs. Evil
Book Clubs will be thrilled by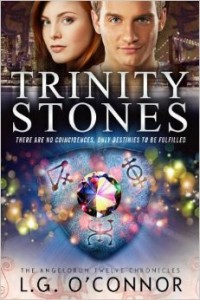 Trinity Stones by L. G. O'Connor
A thrilling debut novel that explores the impact of free will on the forces that sway our fate, and the most powerful force of all—love.
The struggle between good and evil is eternal, but modern science offers an opportunity to upset the balance. Set in a refreshingly current environment, Trinity Stones: The Angelorum Twelve Chronicles (She Writes Press / $18.95 / April 2014), by L.G. O'Connor, is the thrilling first story in this series about humans and angels brought together to fight a final battle against the Dark Ones.
New York investment banker, Cara Collins, has little to smile about on her 27th birthday. Her boss is a misogynistic pig and the love of her life is married to someone else. Top that off with a creepy man in the subway and then a homeless woman on the street grabbing her and asking to be healed, and Cara's panic disorder rears it's ugly head.  Cara wonders if things could get any worse until a mysterious letter arrives announcing she's inherited $50 million–which must remain secret or those close to her could die. As Cara unravels the truth surrounding her inheritance, she makes a startling discovery: angels walk among the living, and they're getting ready to engage in a battle that will determine the future of the human race. In the midst of these revelations, she meets the mysterious and sophisticated Simon who stirs her sleeping heart and offers her another chance at romance. But when the love of her life and his daughter are kidnapped by dark forces, Cara must choose: accept her place in a 2,000-year-old prophecy foretold in the Trinity Stones as the First of the Twelve who will lead the final battle between good and evil . . . or risk losing everything she holds dear.
Captivating and thrillingly romantic, Trinity Stones captures the eternal struggle of good and evil and the occasional need to bend the rules for the most important force of all: love.
______________________________________
Complex ethical questions are
at the heart of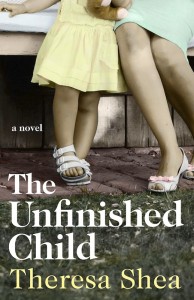 The Unfinished Child by Theresa Shea
When Marie MacPherson, a mother of two, finds herself unexpectedly pregnant at thirty-nine, she feels guilty. Her best friend, Elizabeth, has never been able to conceive, despite years of fertility treatments. Marie's dilemma is further complicated when she becomes convinced something is wrong with her baby. She then enters the world of genetic testing and is entirely unprepared for the decision that lies ahead.
Intertwined throughout the novel is the story of Margaret, who gave birth to a daughter with Down syndrome in 1947, when such infants were defined as "unfinished" children. As the novel shifts back and forth through the decades, the lives of the three women converge, and the story speeds to an unexpected conclusion.
With skill and poise, debut novelist Theresa Shea dramatically explores society's changing views of Down syndrome over the past sixty years. The story offers an unflinching and compassionate history of the treatment of people with Down syndrome and their struggle for basic human rights. Ultimately, The Unfinished Child is an unforgettable and inspiring tale about the mysterious and complex bonds of family, friendship, and motherhood.
The Unfinished Child was a finalist in the 2013 BookBundlz Book Pick Contest. The novel is currently long listed for the 2014 Alberta Readers' Choice Award.
"Gripping. Heart-wrenching. Thought-provoking. Riveting. Haunting. Unputdownable … I broke down in tears many times throughout this deftly imagined story, and although I wanted to be able to summon up some righteous outrage at times, what I mostly felt was enlightened and a deep compassion. It drives home the fact that despite the debates raging about prenatal testing, abortion, and inclusion, nothing is black and white, and there are no easy answers. This is a must read for not only parents in the Down syndrome community, but for all parents, and for anyone who appreciates masterful story-telling. I will not soon forget this book." –Lisa Morguess, Turn the Page blog
"Some readers have commented that this book would be an excellent selection for a book club. The Unfinished Child forces people to think about ethics and issues, and would be an excellent starting point for discussions. But in addition to all that, it's just a really good novel."–Daily Herald Tribune
______________________________________
Please fill out our super short registration form (<—click here) by March 31st for a chance to win a set of up to ten copies of Black Chalk by Christopher J. Yates, The Pact by Mitchell S. Karnes, Incendiary Girls by Kodi Scheer, The Isolation Door by Anish Majumdar, Trinity Stones by L.G. O'Connor, or The Unfinished Child by Theresa Shea for your book club! We will randomly choose winners at the end of the month. This contest is open to clubs in the US only (our apologies to friends in other countries). 
Best of luck!
We 

LOVE

 Book Clubs!