__________________________________________________
Alex's struggles with love, loss and faith will have book clubs pondering The Cost of Love and Sanity.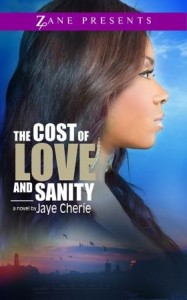 The Cost of Love and Sanity by Jaye Cherie
Can one woman's fear undo the rest of her life? Alex Carter's struggle with love, loss, and faith requires her to face long-held dreams and the man she once left behind.
For Alex Carter, everything is going according to plan—she's built a successful career and has a steady boyfriend—until life decides to throw a wrench in the mix. Suddenly, her company threatens to downsize and her boyfriend ends their relationship. It is then that she realizes that, like many women, she has neglected to pursue love and family—the goals closest to her heart—in favor of a career.
As a new year begins and Alex decides to focus on personal concerns, she runs into an old flame, Nathan Chestnut. Though she once had it bad for Nathan, she's careful about trusting him again. Alex's remedy is to ask him for an unexpected favor, which seems like the perfect resolution to her broken belief in happiness until she realizes that it can only grant her a piece of her dreams for a family.
As her heart and reality get in the way of her request, Alex reaches a major crossroad. Will she gather her faith and fix the situation? Or will she suffer in silence for the rest of her life?
__________________________________________________
Book clubs will be entranced by The Perfume Collector, a remarkable novel about secrets, desire, memory, passion, and possibility.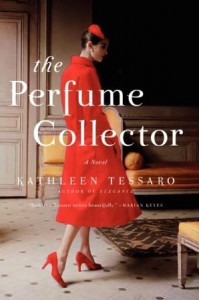 The Perfume Collector by Kathleen Tessaro
London, 1955: Grace Monroe is a fortunate young woman. Despite her sheltered upbringing in Oxford, her recent marriage has thrust her into the heart of London's most refined and ambitious social circles. However, playing the role of the sophisticated socialite her husband would like her to be doesn't come easily to her—and perhaps never will.
Then one evening a letter arrives from France that will change everything. Grace has received an inheritance from a mysterious benefactor, Eva d'Orsey, whom she's never met.
So begins a search that takes Grace to a long-abandoned perfume shop on Paris's Left Bank, where she discovers the seductive world of perfumers and their muses, and a surprising love story. Told by invoking the three distinctive perfumes she inspired, Eva d'Orsey's story weaves through the decades, from 1920s New York to Monte Carlo, Paris, and London.
But these three perfumes hold secrets. And as Eva's past and Grace's future intersect, Grace must choose between the life she thinks she should live and the person she is truly meant to be.
__________________________________________________
Book clubs will find The Good Luck of Right Now just as touching and meaningful as Matthew Quirk's bestselling novel, The Silver Linings Playbook.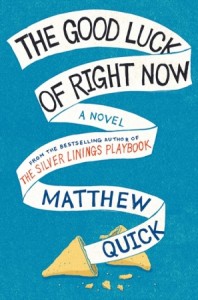 The Good Luck of Right Now by Matthew Quick
From Matthew Quick, the New York Times bestselling author of The Silver Linings Playbook, comes The Good Luck of Right Now, a funny and tender story about family, friendship, grief, acceptance, and Richard Gere—an entertaining and inspiring tale that will leave you pondering the rhythms of the universe and marveling at the power of kindness and love.
For thirty-eight years, Bartholomew Neil has lived with his mother. When she gets sick and dies, he has no idea how to be on his own. His redheaded grief counselor, Wendy, says he needs to find his flock and leave the nest. But how does a man whose whole life has been grounded in his mom, Saturday mass, and the library learn how to fly?
Bartholomew thinks he's found a clue when he discovers a "Free Tibet" letter from Richard Gere hidden in his mother's underwear drawer. In her final days, mom called him Richard—there must be a cosmic connection. Believing that the actor is meant to help him, Bartholomew awkwardly starts his new life, writing Richard Gere a series of highly intimate letters. Jung and the Dalai Lama, philosophy and faith, alien abduction and cat telepathy, the Catholic Church and the mystery of women are all explored in his soul-baring epistles. But mostly the letters reveal one man's heartbreakingly earnest attempt to assemble a family of his own.
A struggling priest, a "Girlbrarian," her feline-loving, foul-mouthed brother, and the spirit of Richard Gere join the quest to help Bartholomew. In a rented Ford Focus, they travel to Canada to see the cat Parliament and find his biological father . . . and discover so much more.
__________________________________________________
If your book club chooses Coincidence, it's fate.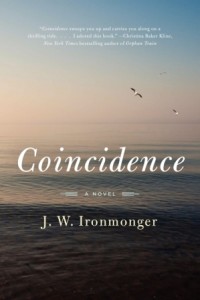 Coincidence by J. W. Ironmonger
What determines the course of our lives? Chance . . . or destiny? On Midsummer's Day, 1982, three-year-old Azalea Ives is found alone at a seaside fairground.
One year later, her mother's body washes up on a beach—her link to Azalea unnoticed.
On Midsummer's Day, 1992, her adoptive parents are killed in a Ugandan rebel uprising; Azalea is narrowly rescued by a figure from her past.
Terrified that she, too, will meet her fate on Midsummer's Day, Azalea approaches Thomas Post, an expert in debunking coincidences. Azalea's past, he insists, is random—but as Midsummer's Day approaches, he worries that she may bring fate upon herself.
"Playful, inventive, and fast-paced, Coincidence sweeps you up and carries you along. . . .Spinning theories and spilling revelations, its characters ponder weighty questions: fate vs. free will, rationalism vs. serendipity, synchronicity vs. random chance. But the droll, sharp-witted narrator spins this tale with the lightest of touches, all the way to its perfect ending. I adored this book." —Christina Baker Kline, New York Times bestselling author of Orphan Train
"An amazing journey. . . . Is it pure coincidence that turns Azalea Ives into Azalea Folley and then Azalea Lewis? Or is Azalea the victim of a profound plan? Read this brainy, delightful novel and decide for yourself." —Margot Livesey, New York Times bestselling author of The Flight of Gemma Hardy
"A haunting, lyrical meditation on how fates are woven together, for better or worse." —Simon Van Booy, author of The Illusion of Separateness
__________________________________________________
We all know these people! Book clubs will enjoy discussing
Our Love Could Light the World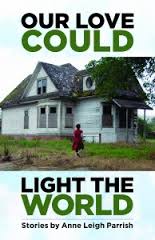 Our Love Could Light the World by Anne Leigh Parrish
You know the Dugans.  They're that scrappy family down the street.  Their five children run free, they never clean up after their dog, and the husband hasn't earned a cent in years.  You wouldn't want them for neighbors, but from a distance, they're quite entertaining.
Kirkus Reviews calls Our Love Could Light The World "a successful collage of linked stories set in a rich, dysfunctional world" using "the Gothic tropes of Southern literary fiction."  Set in the Finger Lakes region of upstate New York, Our Love Could Light The World has been compared to the works of Flannery O'Connor, Alice Munro, and Elizabeth Strout.  Our Love Could Light The World was a finalist in the 2013 International Book Awards.
__________________________________________________
Secrets and lies… book clubs will love this thriller!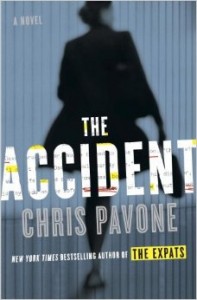 The Accident by Chris Pavone
From the author of the New York Times bestselling and Edgar Award-winning The Expats comes an elegant and riveting espionage thriller about spies, secrets, and the devastating power of the truth
In New York, in the early dawn hours, literary agent Isabel Reed is reading frantically, turning the pages breathlessly.  The manuscript—printed out, hand-delivered and totally anonymous—is full of shocking revelations that could bring down one of the most powerful men in the world, and initiate a tremendous scandal implicating multiple American presidents and CIA directors.  This is what Isabel has been waiting for: a book that will help her move on from a painful past, a book that could reinvigorate her career . . . a book that will change the world.
In Copenhagen, CIA agent Hayden Gray has been steadfastly monitoring the dangers that abound in Europe.  His latest task is to track a manuscript—the same manuscript that Isabel is reading.  As he ensures that The Accident remains unpublished, he's drawn into an elite circle where politics, media, and business collide.  On the one hand, the powerful mogul who has unlimited resources to get what he wants.  On the other, a group of book professionals—an eager assistant, a flailing editor, an ambitious rights director, and a desperate publisher—who all see their separate salvations in this project.  And in between, the author himself, hiding behind shadowy anonymity in what he hopes is safe, quiet Zurich.
In this tangled web, no one knows who holds all the cards, and the stakes couldn't be higher: an empire could crumble, careers could be launched or ruined, secrets could be unearthed, and innocent people could—and do—die.
__________________________________________________
Please fill out our super short registration form (<—click here) by February 28th for a chance to win a set of up to ten copies of The Cost of Love and Sanity by Jaye Cherie, up to ten copies of The Perfume Collector by Kathleen Tessaro, up to ten copies of The Good Luck of Right Now by Matthew Quick, up to ten copies of Coincidence by J. W. Ironmonger, up to ten copies of Our Love Could Light the World by Anne Leigh Parrish, or up to ten copies of The Accident by Chris Pavone for your book club! We will randomly choose a winner at the end of the month. This contest is open to clubs in the US only (our apologies to friends in other countries). 
Best of luck!
We 
LOVE

 Book Clubs!