__________________________________________________
Starter House is a compelling ghost story that will keep you turning the pages long into the night.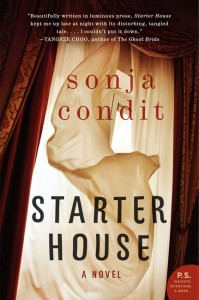 Starter House by Sonja Condit
Her dream home is about to become a house of nightmares…
From the moment Lacey glimpses the dusty-rose colonial cottage with its angled dormer windows and quaint wooden shutters, she knows she's found her dream house. Walking through its cozy rooms, the expectant mother can see her future children sitting on the round bottom step of the house's beautifully carved staircase, and she imagines them playing beneath the giant maple tree in the warm South Carolina sun. It doesn't matter to Lacey and her husband, Eric, that people had died there years before.
But soon their warm and welcoming house turns cold. There is something malevolent within the walls—a disturbing presence that only Lacey can sense. And there is Drew, a demanding and jealous little boy who mysteriously appears when Lacey is alone. Protective of this enigmatic child who reminds her of the troubled students she used to teach, Lacey bakes cookies and plays games to amuse him. Yet, as she quickly discovers, Drew is unpredictable—and dangerous.
Fearing for her baby's safety, Lacey sets out to uncover the truth about Drew and her dream house—a search for answers that takes her into the past, into the lives of a long-dead family whose tragic secrets could destroy her. To save her loved ones, Lacey must find a way to lay a terrifying evil to rest…before she, Eric, and their child become its next victims.
__________________________________________________
What I Had Before I Had You is a deeply poignant coming-of-age novel sure to captivate book clubs.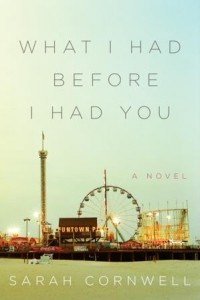 What I Had Before I Had You by Sarah Cornwell
Written in radiant prose and with stunning psychological acuity, award-winning author Sarah Cornwell's What I Had Before I Had You is a deeply poignant story that captures the joys and sorrows of growing up and learning to let go.
Olivia Reed was fifteen when she left her hometown of Ocean Vista on the Jersey Shore. Two decades later, divorced and unstrung, she returns with her teenage daughter, Carrie, and nine-year-old son, Daniel, recently diagnosed with bipolar disorder. Distracted by thoughts of the past, Olivia fails to notice when Daniel disappears from her side. Her frantic search for him sparks memories of the summer of 1987, when she exploded out of the cocoon of her mother's fierce, smothering love and into a sudden, full-throttle adolescence, complete with dangerous new friends, first love, and a rebellion so intense that it utterly recharted the course of her life.
Olivia's mother, Myla, was a practicing psychic whose powers waxed and waned along with her mercurial moods. Myla raised Olivia to be a guarded child, and also to believe in the ever-present infant ghosts of her twin sisters, whom Myla took care of as if they were alive—diapers, baby food, an empty nursery kept like a shrine. At fifteen, Olivia saw her sisters for the first time, not as ghostly infants but as teenagers on the beach. But when Myla denied her vision, Olivia set out to learn the truth—a journey that led to shattering discoveries about herself and her family.
Sarah Cornwell seamlessly weaves together the past and the present in this riveting debut novel, as she examines the relationships between mothers and daughters, and the powerful forces of loss, family history, and magical thinking.
__________________________________________________
The Golem and the Jinni will be your book club's favorite pick of the year.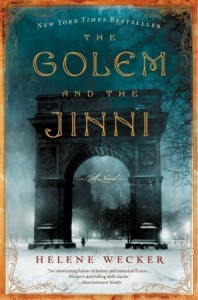 The Golem and the Jinni by Helene Wecker
Chava is a golem, a creature made of clay, brought to life by a strange man who dabbles in dark Kabbalistic magic. Ahmad is a jinni, a being of fire, born in the ancient Syrian Desert. Trapped in an old copper flask by a Bedouin wizard centuries ago, he is released accidentally by a tinsmith in a Lower Manhattan shop.
Struggling to make their way in 1899 New York, the Golem and the Jinni try to fit in with their immigrant neighbors while masking their true selves. Meeting by chance, they become unlikely friends whose tenuous attachment challenges their opposing natures, until the night a terrifying incident drives them back into their separate worlds. But a powerful menace will soon bring the Golem and the Jinni together again, threatening their existence and forcing them to make a fateful choice.
Marvelous and compulsively readable, The Golem and the Jinni weaves strands of folk mythology, historical fiction, and magical fable into a wondrously inventive and unforgettable tale.
__________________________________________________
Igniting passionate conversation among women from Dubai to Manhattan, The Beauty Experiment: how I skipped lipstick, ditched fashion, faced the world without concealer and learned to love the real me is funny, insightful, and never preachy. A must-read for book clubs whose members define womanhood for themselves.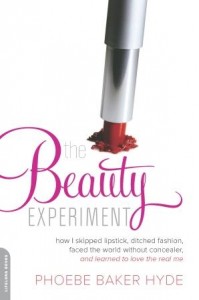 The Beauty Experiment by Phoebe Baker Hyde
Trapped in a personal, social, and professional slump, author Phoebe Baker Hyde perked herself up with a brand-new, red, designer dress, only to have it fail spectacularly on the night of her husband's important company party. Shortly thereafter, this new mother and expatriate fish-out-of-water set out to answer some of contemporary women's most pressing questions for herself: "How can I stop being at war with myself?  How can I transform my critical inner voice into a trusted and compassionate advisor? How will I become the role model I want to be for my daughter?" Set across two continents, this graceful, entertaining literary memoir combines the story of a year spent au natural with original beauty research,  an anthropology-inspired view of history and biology, and a mindful, compassionate approach to the imperfect self.  As Phoebe traces her gradual journey from beauty craziness to self-respect and personal activism, she sows seeds of inner peace for her readers as well.
__________________________________________________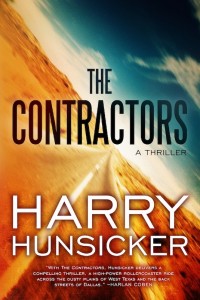 The Contractors by Harry Hunsicker
In THE CONTRACTORS (Thomas & Mercer; February 4, 2014), acclaimed thriller writer Hunsicker turns his attention to the shadowy world of private military contractors and the hypocrisies of the War on Drugs, delivering a heart-pounding, complex standalone thriller in the vein of James Ellroy's Underworld U.S.A. series.
Disgraced ex-Dallas PD officer Jon Cantrell carries a DEA badge, but he's not a federal agent. Rather, he works for a private contracting company, busting drug shipments along the U.S.-Mexico border for commission. When Cantrell and his partner-slash-lover Piper confiscate the wrong load, they find themselves in possession of a star witness in an upcoming cartel trial, a mysterious piece of hotly sought after scanning equipment, and the ire of the largest criminal cartel in the Americas.
To clear things up and collect their paycheck, all they need to do is deliver the witness, Eva Rodriguez, to the US attorney across the state in Marfa. Except Eva's got ideas – and pursuers – of her own, and the trio soon find themselves in the crosshairs of an all-out war between the cartel, a group of competing contractors, and a corrupt Dallas police officer with everything to lose.
A fast-paced, action-packed thrill ride into the strange borderlands of the modern global drug trade, THE CONTRACTORS will have you hooked until the explosive final act.
"With THE CONTRACTORS, Hunsicker delivers a compelling thriller, a high-power rollercoaster ride across the dusty plains of West Texas and the back streets of Dallas." –Harlan Coben
"THE CONTRACTORS is film noir without the film, cyberpunk without the cyber. It's a world to lose yourself in, a fascinating tale that lives in shades of grey. The prose is muscular, the images vivid, and the pace relentless. Simply put, Hunsicker kills it." –Marcus Sakey, author of BRILLIANCE 
"Hunsicker's first standalone packs a mean wallop. Helping to make this a standout are perfectly drawn characters, nifty surprises, and a frightening portrayal of the federal government's poorly monitored use and funding of "contractors" who are heavily armed and extremely dangerous. Hunsicker, author of the Lee Henry Oswald PI series (Crosshairs, etc.), has crafted a truly chilling thriller."–Publishers Weekly starred review
__________________________________________________
Plotting revenge? You might think twice after reading how revenge goes wrong in I'll Sleep When You're Dead.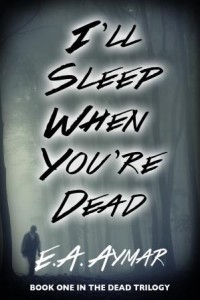 I'll Sleep When You're Dead by E.A. Aymar
Tom Starks has spent the three years since his wife's murder struggling to single-handedly raise their daughter, Julie, while haunted by memories of his dead spouse. When he learns that the man accused of her murder, Chris Taylor, has been released from prison, Tom hires a pair of hit men to get his revenge. But when the hit men botch the assassination, Tom is inadvertently pulled into their violent world. And now those hit men are after him and his daughter. I'll Sleep When You're Dead is a thriller about assassins, one man's search for vengeance, and also parenting. But mainly vengeance and assassins.
__________________________________________________
Please fill out our super short registration form (<—click here) by January 31st for a chance to win a set of up to ten copies of Starter House by Sonja Condit, up to ten copies of What I Had Before I Had You by Sarah Cornwell, up to ten copies of The Golem and the Jinni by Helene Wecker, up to ten copies of The Beauty Experiment by Phoebe Baker Hyde, up to ten copies of The Contractors by Harry Hunsicker, or up to ten copies of I'll Sleep When You're Dead by E.A. Aymar for your book club! We will randomly choose a winner at the end of the month. This contest is open to clubs in the US only (our apologies to friends in other countries). 
Best of luck!
We 
LOVE

 Book Clubs!