__________________________________________________
From the twists and turns of teenaged storytelling to a mother's search for the truth, book clubs will love the suspenseful tale of Reconstructing Amelia.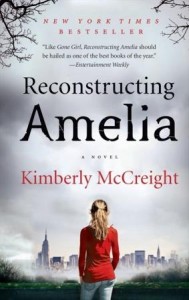 Reconstructing Amelia by Kimberly McCreight
Litigation lawyer and harried single mother Kate Baron is shocked when her daughter's exclusive Brooklyn private school calls to tell her that Amelia—her intelligent, high-achieving fifteen-year-old—has been caught cheating. But when Kate arrives at Grace Hall, she's blindsided by far more devastating news: Amelia is dead. Despondent, she's jumped from the school's roof. At least that's what Grace Hall and the police tell Kate. It's what she believes, too, until she gets the anonymous text: Amelia didn't jump. Now, Kate is going to find the truth—no matter where it leads. Sifting through Amelia's e-mails, text messages, and Facebook posts, Kate reconstructs the pieces of her daughter's life and the people in it, uncovering why she was on Grace Hall's roof that day—and how she died.
A superb blend of Tana French and Jodi Picoult, Reconstructing Amelia is a story of secrets and lies, friends and bullies. It's about how well any parent really knows their child and how far one mother will go to vindicate the memory of a daughter whose life she could not save.
__________________________________________________
The House Girl has something for everyone: history, art, mystery, and an engaging story that will make you recommend it to all your friends.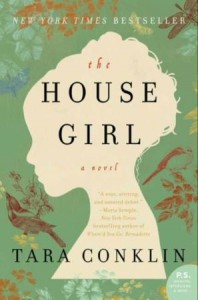 The House Girl by Tara Conklin
Lina Sparrow is an ambitious young lawyer working on a historic class-action suit seeking reparations for the descendants of American slaves. Josephine is a seventeen-year-old house slave who tends to the mistress of a Virginia tobacco farm—an aspiring artist named Lu Anne Bell. Alternating between antebellum Virginia and modern-day New York, The House Girl is a searing tale of art, history, love, and secrets that intertwines the stories of two remarkable women.
__________________________________________________
Set in the lush, rugged, and frozen emotional landscapes of the north country, book clubs will love discussing the diverse ensemble of characters in The Sense of Touch as they seek to uncover themselves and negotiate a meaningful communion with the world around them.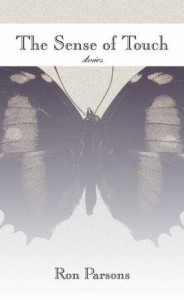 The Sense of Touch by Ron Parsons
Old friends uncomfortably reunited and lovers who cling to their distance from one another; disappearing fathers, fiercely loving grandfathers, and strangers who pass through and radically change lives…These are among the characters who populate the rugged Midwestern landscapes of the mesmerizing fiction world of Ron Parsons. In his debut collection, The Sense of Touch, Parsons captures people of various ages in the act of searching for meaning and connection and themselves. Firmly set in South Dakota, Minnesota, and Michigan, the lush but often brutally cold heartland of America, the eight stories explore universal themes–loneliness, betrayal, transformation, hope–in fresh, sometimes fanciful, sometimes comical, sometimes jarring, and always moving and memorable ways.
In The Sense of Touch, readers will meet:
* Naseem Sayem, the brilliant, troubled, and mystifying young man at the center of "Hezekiah Number Three." A native of Bangladesh abruptly transplanted to the stark white suburbs of Rapid City at age nine, Naseem never fit in and eventually moved on to study physics at MIT–where, shortly before graduation and after shocking news of his father's infidelity and abandonment, he apparently unraveled and vanished. Three months later, he reappeared out of the blue on his stepmom's doorstep, holding a three-legged cat. Naseem's long search for belonging reaches its apex in a hot air balloon floating over the Crazy Horse Monument.
* Waylon Baker, wheat farmer from birth, and Evie Lund, his wife of twenty-four years and counting, even though she had chosen to live far away–in the alien world of the Twin Cities–for eight years. The odd couple at the heart of "Beginning with Minneapolis," Waylon and Evie can't bear to live together or to divorce because they still love each other with a passion, reignited when they find themselves deep in the dirt, in a hole Waylon dug in his wheat field to serve as Evie's grave.
* The nameless narrator of "The Sense of Touch," a serious, young freshman at the University of Minnesota, fleeing yet still attached to his youth in Texas, haunted both by its predatory demons and its romantic dreams. His liberation comes through an alluring muse: his fiction-writing teacher. A ravishing, wild-haired, Memphis-born African-American graduate student, Vonda speaks directly to him when she makes her dramatic pronouncements. Like, "Our masks are not worn, people. They're grown, day by day." And "Never trust anything, not until you can touch it. With touch, you know you know."
The old friends in "The Black Hills," long separated by distance and tragedy, who unexpectedly compete for the affections of a lovely, vulnerable, and married Lakota woman…the young woman who, in the midst of a Halloween blizzard, stumbles into saving an elderly piano teacher's life and faces hard facts about her own snow-bound relationships and emotions in "As Her Heart Is Navigated"…the exceptional grandfather in "Big Blue" and the playboy reformed by someone else's grandson in "Moonlight Bowling"…and the professor of dead languages facing the mysteries of mortality in "Be Not Afraid of the Universe"… Through Ron Parsons, they all come to life, vividly and with emotional resonance, and work their way into the minds and hearts of readers.
__________________________________________________
Please fill out our super short registration form (<—click here) by December 31st for a chance to win a set of up to ten copies of Reconstructing Amelia by Kimberly McCreight or The House Girl by Tara Conklin or The Sense of Touch by Ron Parsons for your book club! We will randomly choose a winner at the end of the month. This contest is open to clubs in the US only (our apologies to friends in other countries). 
Best of luck!
We 
LOVE

 Book Clubs!