__________________________________________________
The Death of Bees is already a book club favorite, featuring dark comedy, strong characters, and an unforgettable story.

The Death of Bees by Lisa O'Donnell
Today I buried my parents in the backyard.
Neither of them were beloved.
Marnie and her little sister, Nelly, are on their own now. Only they know what happened to their parents, Izzy and Gene, and they aren't telling. While life in Glasgow's Maryhill housing estate isn't grand, the girls do have each other.
As the New Year comes and goes, Lennie, the old man next door, realizes that his young neighbors are alone and need his help. Lennie takes them in—feeds them, clothes them, protects them—and something like a family forms. But soon, the sisters' friends, their teachers, and the authorities start asking tougher questions. As one lie leads to another, dark secrets about the girls' family surface, creating complications that threaten to tear them apart.
Written with fierce sympathy and beautiful precision, told in alternating voices, The Death of Bees is an enchanting, grimly comic tale of three lost souls who, unable to answer for themselves, can answer only for one another.
__________________________________________________
Can real love be found in an arranged marriage?  Book clubs will find much to discuss in
An Incurable Insanity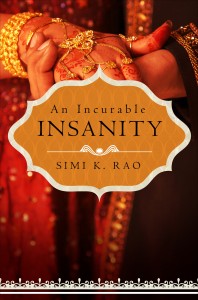 An Incurable Insanity by Simi K. Rao
Her heart fluttered when she heard the sound of the key turn in the lock. She quickly adjusted her maroon silk sari with the yellow border, the one that had caught his eye, and waited eagerly for his footsteps.
One, two, three, four, five, six, seven… Yes, exactly seven steps before he stopped, hesitated for a few moments, then removed his shoes one by one and arranged them neatly side by side on the shoe rack.
She smiled. He had been mindful of taking his shoes off every day now. "I am not used to it, but I will if you want me to. It's probably a good thing to do anyway."
As he settled down, he would pick up the TV remote and, without looking at her, would say in his smooth baritone, "So how did you spend your day, anything interesting?"
Shaan Ahuja found himself bowing to tradition and agreeing to an arranged marriage to the beautiful Ruhi Sharma. He went through the motions but had no intention of carrying through on his vows. His last foray into matters of the heart with an American girl had left him scarred and unwilling to try again. Thoroughly disillusioned and disgruntled he wasted no time in making his intentions clear to Ruhi on their wedding night. But, he was completely unprepared for what his new wife had in mind.
"In Rao's debut novel, an arranged Indian marriage sets the stage for an intimate look at the exasperating madness of love. The novel seems highly aware of its influences, using cultural expectations and delayed gratification in the same spirit, if not with the same deftness, as Jane Austen. An often intoxicating… will-they-or-won't-they tale." – KIRKUS
To learn more about the author and her work and read excerpts from An Incurable Insanity, please check her blog www.simikrao.com.
Also visit Goodreads, Barnes and Noble, or Amazon.com.
__________________________________________________
Four women make different, difficult choices to change their lives–and each other's. Would you have done the same?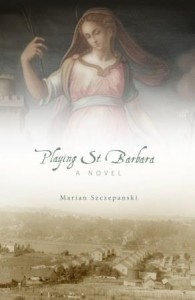 Playing St. Barbara by Marian Szczepanski
In the Depression-era coal patch known as The Hive, miner's wife Clare Sweeney keeps secrets to survive. Stripped of her real name, she hides her friendship with a town pariah, haunting guilt around the deaths of her three infant sons, and determination never to bear another. She defies her abusive husband and the town's rigid caste system to ensure a better future for her daughters, who harbor secrets of their own.
Deirdre conceals her attraction to a member of the despised Company police. Katie withholds her plans for a college education—and the convent—from her high school sweetheart.  And Norah suppresses the cause of her mother's frequent miscarriages, the devastating memory of one brother's death, and her love for a married man.
The four women's intertwined lives eerily mirror the 7th century legend of St. Barbara, patroness of miners, reenacted annually in the town pageant. Each daughter is cast as St. Barbara, but scandal and tragedy intervene, allowing just one to play the coveted role. In turn, they depart from The Hive, leaving Clare to endure her difficult marriage—till a mine explosion rocks the town. Forced to confront the ghosts of her past, she faces a life-changing choice. Her decision will test her capacity to forgive and challenge her to begin a courageous journey to self-redemption.
__________________________________________________
Please fill out our super short registration form (<—click here) by November 30th for a chance to win a set of up to ten copies of The Death of Bees by Lisa O'Donnell or up to ten copies of An Incurable Insanity by Simi K. Rao or up to ten copies of Playing St. Barbara by Marian Szczepanski for your book club! We will randomly choose a winner at the end of the month. This contest is open to clubs in the US only (our apologies to friends in other countries). 
Best of luck!
We 
LOVE

 Book Clubs!