Check out the great books we're offering in October!
__________________________________________________
With themes of memory, longing, passion, and loss, book clubs will find much to love about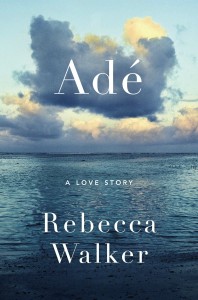 Known worldwide for her brilliant, frank memoirs, Rebecca Walker returns with a poetic, lushly written debut novella that is sure to garner major attention. Exploring the themes of memory, longing, passion, and loss, Walker gives us the story of two lovers in a volatile world where time and place mean everything.
In Adé, a free-spirited American woman and a Swahili Muslim man fall in love on the exquisite island of Lamu, off the coast of Kenya. There, they create their own paradise: living in a traditional small white house and creating their private language of intimacy. After an intense courtship, Adé asks for Farida's hand in marriage.
But when Adé and Farida are forced to leave the island in preparation for their wedding, Farida is faced by the unsettling and often violent realities of life on the mainland. And just as the Persian Gulf War begins, Farida succumbs to a disease that almost kills her, and alters her relationship with Adé forever.
A transcendent love story turned tale of survival, Adé explores what happens when one couple's private idyll is interrupted by a world in the throes of massive upheaval.
__________________________________________________
How far would you go to get what you want?  Book clubs will find much to discuss in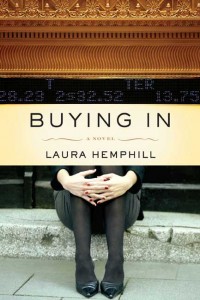 Buying In by Laura Hemphill
It's October 2007, and twenty-two-year-old Sophie Landgraf is a small-town girl who hopes her new job as a Wall Street analyst will be her ticket to the American elite. She knew that giving her life over to the bank would be hard on her boyfriend, family, and friends, but she hadn't realized it would send her into a spiral of self-doubt. After four months in this fast-paced, male-dominated world, Sophie is floundering-and things are about to get worse.
Boom times can't last forever. With the crash looming and layoffs inevitable, Sophie's attractive but ruthless boss Ethan Pearce pulls her into a multibillion-dollar merger that could make or break their careers. The problem? Ethan, devoted family-man Vasu Kumar, and straight-talking Ohio executive Jake Hutchinson each have very different reasons for advancing the merger, and Sophie doesn't know who to trust. When the deal goes awry, she must decide how far she'll go to get what she wants.
Set inside the fortresses of high finance, Manhattan's after-hours clubs, and factories in the Midwest and India, this is the high-powered, heartfelt story of a young woman finding her footing on Wall Street as it crumbles underneath her. Written by an industry veteran, BUYING IN tackles what it means to be a woman in a man's world, and how to survive in big business without sacrificing who you are.
"With assured prose, a compulsively readable plot, and insider savvy, Buying In offers a front-row seat to the downfall of Wall Street, with a terrific young heroine who outmans the men without sacrificing her soul." —Ayelet Waldman, author of Red Hook Road, Love and Other Impossible Pursuits, Bad Mother and Daughter's Keeper
"Laura Hemphill writes about Wall Street with the granular knowledge of an industry insider and the incisive empathy of an outsider. Buying In is an absorbing and affecting study of high finance and the toll it takes on one's non-capitalistic identity, with much to say about gender in the workplace, from a bright new literary talent." —Teddy Wayne, author of  The Love Song of Jonny Valentine and Kapitoil
_____________________________________________________
Book clubs will laugh, love the romance, and be on the edge of their seats with this fun whodunit.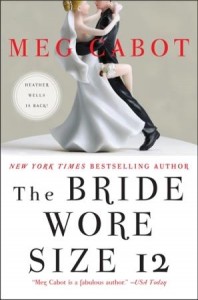 The Bride Wore Size 12 by Meg Cabot
Heather Wells is used to having her cake and eating it too, but this time her cake just might be cooked. Her wedding cake, that is.
With her upcoming nuptials to PI Cooper Cartwright only weeks away, Heather's already stressed. And when a pretty junior turns up dead, Heather's sure things can't get worse—until every student in the dorm where she works is a possible suspect, and Heather's long-lost mother shows up.
Heather has no time for a tearful mother and bride reunion. She has a wedding to pull off and a murder to solve. Instead of wedding bells, she might be hearing wedding bullets, but she's determined to bring the bad guys to justice if it's the last thing she does . . . and this time, it just might be.
_____________________________________________________
Oddities & Entities will take you by the hand into the surreal, unnerving realms of the supernatural and paranormal, spiced with doses of horror and dark humor.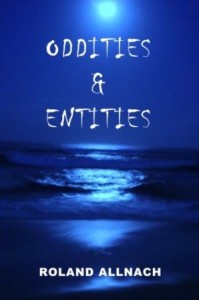 Oddities & Entities by Roland Allnach
Oddities & Entities is a surreal, provocative anthology of six tales within the supernatural/paranormal/horror genres, exploring a definition of life beyond the fragile vessel of the human body. The stories are: 'Boneview', in which a young woman struggles to balance her ability to see through people with the presence of a supernatural creature in her life; 'Shift/Change', in which a hospital worker struggles to regain his memory as he is confronted by a series of desperate people; 'My Other Me', in which a lonely college student finds himself displaced from his body by his alter ego; 'Gray', in which a frustrated man is stunned to discover a little creature has been living in his head; 'Elmer Phelps', in which a brother and sister find themselves linked in a strange reality by a bat bite in their youth; and lastly, 'Appendage', in which a cynical mercenary is hired by his son to protect a research lab on the verge of a stunning discovery.
Praise for Oddities & Entities
Bronze Medalist, Horror, 2012 Readers Favorite Book of the Year Awards
Finalist, Paranormal, 2012 Readers Favorite Book of the Year Awards
Award Winner-Finalist, Fiction/Horror, 2012 USA Book News Best Book Awards
Award Winner-Finalist, Fiction/Anthology, 2012 USA Book News Best Book Awards
Bronze Medalist, Horror, 2012 ForeWord Reviews Book of the Year Awards
Finalist, Short Stories, 2012 National Indie Excellence Awards
"If you only read one book this year, make it this one. Be prepared to have your comfort zone challenged." –Lee Ashford, Readers Favorite
"Allnach is a master storyteller with a powerful pen. The stories are gritty, gruesome, bewitching, and beautiful." –Cynthia Brian, NY Times bestselling author and host of World Talk Radio's 'Starstyle'
"The stories (Roland Allnach) writes are stealth bombs of suspense and they have a high creepiness factor…Oddities & Entities consists of six marvelous miniature masterpieces of horror." –Douglas R. Cobb, Bestsellersworld.com
"Oddities & Entities by Roland Allnach is composed of six engrossing, and sometimes grossing short stories. Each one is unique in its own way, and completely different from anything I have ever read before. Reading these stories gave me an awesome escape." –Paige Lovitt, Reader Views
"This is a great book. Nothing you expect to happen, happens. The author keeps you thinking and turning the page over and over." –Jason Lulos, Pacific Book Review
_____________________________________________________
Book clubs will be charmed by the royal adventures in Mrs. Queen Takes the Train.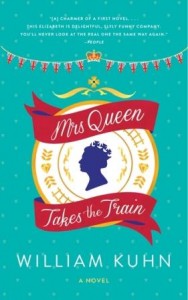 Mrs. Queen Takes the Train by William Kuhn
After decades of service and years of watching her family's troubles splashed across the tabloids, Britain's Queen is beginning to feel her age. An unexpected opportunity offers her relief: an impromptu visit to a place that holds happy memories—the former royal yacht, Britannia, now moored near Edinburgh. Hidden beneath a skull-emblazoned hoodie, the limber Elizabeth (thank goodness for yoga) walks out of Buckingham Palace and heads for King's Cross to catch a train to Scotland. But a colorful cast of royal attendants has discovered her missing. In uneasy alliance a lady-in-waiting, a butler, an equerry, a girl from the stables, a dresser, and a clerk from the shop that supplies Her Majesty's cheese set out to bring her back before her absence becomes a national scandal.
Comic and poignant, fast-paced and clever, Mrs Queen Takes the Train tweaks the pomp of the monarchy, going beneath its rigid formality to reveal the human heart of the woman at its center.
_____________________________________________________
Please fill out our super short registration form (<—click here) by October 31st for a chance to win a set of up to ten copies of Ade by Rebecca Walker or up to ten copies of Buying In by Laura Hemphill or up to ten copies of The Bride Wore Size 12 by Meg Cabot or up to ten copies of Oddities & Entities by Roland Allnach or up to ten copies of Mrs. Queen Takes the Train by William Kuhn for your book club! We will randomly choose a winner at the end of the month. This contest is open to clubs in the US and Canada only (our apologies to friends in other countries). 
Best of luck!
We 
LOVE

 Book Clubs!