Book clubs will love the blend of Southern atmosphere, comic mystery, and complex romance in Lowcountry Bombshell.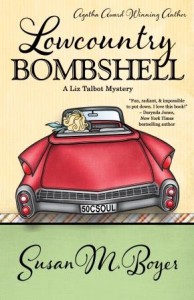 Lowcountry Bombshell by Susan M. Boyer
Private Investigator Liz Talbot thinks she's seen another ghost when she meets Calista McQueen. She's the spitting image of Marilyn Monroe. Born precisely fifty years after the ill-fated star, Calista's life has eerily mirrored the late starlet's—and she fears the looming anniversary of Marilyn's death will also be hers.
Before Liz can open a case file, Calista's life coach is executed. Suspicious characters swarm around Calista like mosquitoes on a sultry lowcountry evening: her certifiable mother, a fake aunt, her control-freak psychoanalyst, a private yoga instructor, her peculiar housekeeper, and an obsessed ex-husband. Liz digs in to find a motive for murder, but she's besieged with distractions. Her ex has marriage and babies on his mind. Her too-sexy partner engages in a campaign of repeat seduction. Mamma needs help with Daddy's devotion to bad habits. And a gang of wild hogs is running loose on Stella Maris.
With the heat index approaching triple digits, Liz races to uncover a diabolical murder plot in time to save not only Calista's life, but also her own.
Praise for Lowcountry Bombshell:
"Is there anything more enticing than curling up with a thrilling whodunit that keeps you guessing until the very end? Susan Boyer delivers big time with a witty mystery that is fun, radiant, and impossible to put down. I LOVE THIS BOOK!" –NY Times Bestselling Author Darynda Jones
Praise for Lowcountry Boil:
"Plenty of secrets, long-simmering feuds, and greedy ventures make for a captivating read…Boyer's chick lit PI debut charmingly showcases South Carolina island culture." — Library Journal
"Humor, a little romance, a charming location, and an intelligent detective with a few idiosyncrasies. Top it off with a murder mystery with a host of suspects. Lowcountry Boil might be Susan M. Boyer's first mystery, but it's an outstanding debut. Here's hoping Liz Talbot mysteries become a staple in the mystery field."   – Lesa Holstine, Lesa's Book Critiques
_____________________________________________________
Please fill out our super short registration form (<—click here) by September 30th for a chance to win a set of up to ten copies of Lowcountry Bombshell by Susan M. Boyer for your book club! We will randomly choose a winner at the end of the month. This contest is open to clubs in the US and Canada only (our apologies to friends in other countries).
Best of luck!
We
LOVE

Book Clubs!