We have three terrific books in our July contest!
_______________________________________________________________
A heartwarming, uproarious affair with love in all its forms.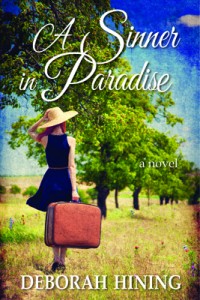 A Sinner in Paradise by Deborah Hining
Set in 1977 West Virginia, A Sinner in Paradise is a heartwarming, uproarious affair with love in all its forms. Jilted by her fiancé, Geneva watches her seemingly idyllic life suddenly fall apart. Bereft and desolate, she packs up her nine cats and leaves her home in Washington, DC to return to her native hills of West Virginia where she plans to rest and heal from her heartbreak. When Geneva's ambition, and machinations run up against rugged mountain ways, she finds herself flung from one perilous adventure, romance, crazy circumstance, and heartbreak to another. After facing illness, disaster in the wilderness and an encounter with an old mountain man who teaches her that her soul needs more than men, courtship, and adventure, Geneva finally finds what she's been missing. Ultimately, Geneva realizes she must face herself before she is free to truly love and be loved.
_____________________________________________________
Book Clubs will love the stylish and darkly funny thriller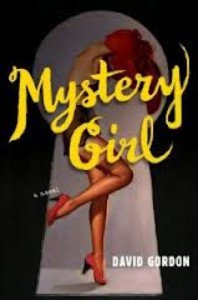 Mystery Girl by David Gordon
Vertigo meets Tarantino in this thriller by Edgar finalist David Gordon, whom Karen Thompson Walker, author of The Age of Miracles, has hailed as "one of the smartest, most stylish writers I've ever come across, a gifted storyteller whose work perfectly combines an incredibly sharp wit with moments of real transcendent beauty."
Sam Kornberg is a failed novelist living in L.A. with a collapsing marriage. Desperate for work, he becomes the assistant to a portly, housebound detective named Solar Lonsky. His assignment to track a mysterious woman is the trigger for a tense, smart, and often screamingly funny story involving sexy doppelgangers, insane asylums, south-of-the-border shootouts, mistaken identities, video-store-geekery, and the death of the novel. It's as if Tarantino had remade Vertigo after bingeing on Nero Wolfe novels.
Mystery Girl is both an entertaining thriller and a cunning inquiry into art, style, and deception.
"I'm a Lebowski, you're a Lebowski, and fans of the famous Coen Brothers film may find many of their favorite aspects mirrored in this dark comedy…An unpredictable farce."—Kirkus
"[Raymond] Chandler's shadow hangs over [Mystery Girl], as do the literary shades of Proust, Beckett, and Pynchon, and the equally strong cinematic influences of the Hitchcock of Vertigo and the Welles of Touch of Evil. The book is filled with literary and cinematic references… Gordon's appealing wit and obvious intellect propel this gripping tale to a finely wrought and mostly unexpected conclusion."—Booklist
"Mystery Girl is funnier, sadder, and smarter than seems mathematically possible: Dashiell Hammett divided by Don DeLillo, to the power of Dostoevsky – yet still pure David Gordon." —Rivka Galchen, author of Atmospheric Disturbances
"Mystery Girl is hilarious, sad, and a little bit horny. David Gordon somehow synthesizes every part of the human condition – from the sublime to the humiliating – into one whip-smart voice. Like Muriel Spark and John Fante, he's the genius who you never want to shut up." —Jay Caspian Kang, author of The Dead Do Not Improve
"David Gordon has written a passionate love story disguised as a mystery, a brainy tragicomedy, a bildungsroman wherein 'the gumshoe learns the shocking secret of himself.' His prose is by turns salacious, uproarious, and happily unhinged. A total delight." —Karen Russell, author of Swamplandia!
______________________________________________________
Book Clubs will be enthralled by this haunting debut novel,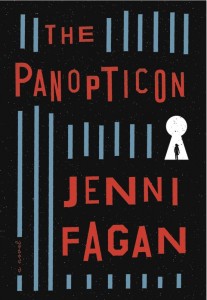 The Panopticon by Jenni Fagan
As THE PANOPTICON opens, we meet Anais Hendricks, a few months shy of her sixteenth birthday.  Anais sits in the back of a police car in Midlothian, Scotland, headed for the Panopticon, a home for chronic young offenders. She can't remember the events that led her there, but across town a policewoman lies in a coma and there is blood on Anais's school uniform.
Put in foster care at birth, Anais has moved through twenty-three placements before the age of seven.  Along the way, she has endured unspeakable hardships and abuse, and has been let down, or worse, by almost every adult she encounters. And yet, despite the parade of horrors visited upon her early life, Anais greets the world with a witty, blunt, and endlessly entertaining voice.  In the Panopticon, Anais fears that the system that has turned its back on her will beat her down and ultimately break her spirit.  Yet, she also finds in the other residents an ad hoc family and begins to make her first halting steps toward friendships, taking charge of her own fate and discovering the depth of her own strength.
"In the Margaret Atwood/The Handmaid's Tale vein—very literary and suspenseful. I like books set in an altered reality—one that feels familiar and yet also deeply unfamiliar, that embodies some of the dailiness of life, and yet slowly reveals itself to be a very different, much more sinister place." —Gillian Flynn, O, The Oprah Magazine
"The Panopticon is an exquisite first novel—Jenni Fagan has created a dark, disturbing, yet ultimately hopeful portrait of a young woman growing up alone in the Scottish foster care system.  To say it is haunting is an understatement–I kept wanting to set a place for Anais at the table with the rest of my children."—Vanessa Diffenbaugh, author of The Language of Flowers
"Jenni Fagan has created a high-resolution portrait of a throwaway kid. Fifteen-year-old Anais, born in a mental ward, tumbled through the social work system, violated and violent, high on whatever, each decision she makes is a jaunty wave as she sails past the next point of no return. This is a contemporary tragedy of the highest order."—Carol Anshaw, New York Times bestselling author of Carry the One 
"Told in Anais' raw voice, Fagan's novel peers into the world inhabited by forgotten children, and, in Anais, gives us a heartbreakingly intelligent and sensitive heroine wrapped in an impossibly impenetrable exterior. Readers won't be able to tear themselves away from this transcendent debut."—Booklist, starred review 
"Anais's ongoing internal dialog, her periodic reimagining of her life and situation, is enthralling…James Kelman's How Late It Was, How Late meets Ken Kesey's One Flew over the Cuckoo's Nest. Not to be missed."—Library Journal, starred review 
"Anais's story is one of abandonment, loss, and redemption, well suited for a paranoid age in which society finds itself constantly under the microscope."—Publishers Weekly 
"Dark and disturbing but also exciting and moving, thanks to a memorable heroine and vividly atmospheric prose…Fagan [paints] her battered characters' fierce loyalty to each other with such conviction and surprising tenderness."—Kirkus Reviews
_____________________________________
Please fill out our super short registration form (<—click here) by July 31st for a chance to win a set of up to ten copies of A Sinner in Paradise by Deborah Hining, up to ten copies of Mystery Girl by David Gordon, or up to ten copies of The Panopticon by Jenni Fagan for your book club! We will randomly choose a winner at the end of the month. This contest is open to clubs in the US and Canada only (our apologies to friends in other countries).
Best of luck!
We
LOVE

Book Clubs!