Is it possible to make a fresh start?
Book clubs will find out in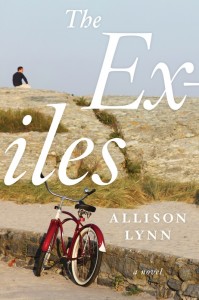 The Exiles by Allison Lynn
Nate, a mid-level investment banker on Wall Street, and his longtime girlfriend Emily can no longer afford their cramped apartment on Manhattan's Upper East Side. Tired of trying to keep up with their jet-set friends, they jump at a job offer for Nate in Newport, Rhode Island – complete with a bucolic, small, and comparatively affordable new house. They pack their belongings tightly in their Jeep Cherokee and head north to start a new life. Yet less than an hour after arriving in Newport, the car is stolen and they're left with nothing but the keys to their empty house and their bawling ten-month-old son.
THE EXILES: A Novel by Allison Lynn (Amazon Publishing/New Harvest; on sale July 2, 2013; $24.00) chronicles the next three days in Newport when Nate and Emily are confronted by the trappings of the life they tried to leave behind. As they watch their cash dwindle and tension increase, the secrets they kept from each other in the city emerge and threaten to destroy their relationship. Nate, the son of a famous architect, is forced to confront his family's past while Emily finds herself reckoning with a future that may not live up to her conception of it.
THE EXILES bravely explores how well we know those we love and whether or not a fresh start is possible. It's an enthralling story about losing it all, the complexities of family histories, tainted gene pools, art theft, architecture, and the mad grab for the American Dream.
"With beguiling wit and tenderness, and the narrative confidence of a true storyteller, Allison Lynn pulls us deep into the hearts and minds of a young couple caught up in a high-risk tangle of money, morality, and mortality."  —Hillary Jordan, author of When She Woke and Mudbound
_____________________________________________________
Book clubs will appreciate this elegant chronicle of single mother and only child, and the relationships they form in the aftermath of their troubled early years together.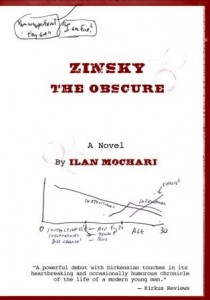 Zinsky the Obscure by Ilan Mochari
Thirty-year-old Manhattan bachelor Ariel Zinsky is still recovering from his abusive childhood when he realizes no one — including his few living relatives — is truly interested in his narrative. While they numb themselves with the latest celebrity rehab story or the third-world atrocities replayed without ceasing on cable news, he sets out to write his autobiography as an exercise in his own self-medication, recasting himself as the hero in a coming-of-age story. Fans of A Confederacy of Dunces and The Perks of Being a Wallflower will relate to this tale of overcoming your childhood's traumas, and the world's indifference to them.
Warning: this book contains graphic sexual content and violence; it may not be suitable for all readers.

Praise for Zinsky the Obscure
"A powerful debut with Dickensian touches in its heartbreaking and occasionally humorous chronicle of the life of a modern young man." – Kirkus Reviews
"This wry debut novel takes on the classic coming-of-age saga, and it makes the reader rethink common assumptions about how young people get from here to there." – Booklist
"This eloquent novel from Mochari…is both bleak and affecting." – Publishers Weekly
"Brutally funny….forged from the same literary hearth that has given us such delightful and fussy oddballs as Ignatius J. Reilly, Don Quixote, and Kilgore Trout….this book has the scope of something like Irving's The World According to Garp. It also has that book's heart. " – DigBoston
"A terrific novel, whose pileup of emotional honesty is visceral and powerfully real — just try to look away." – Dara Horn, National Jewish Book Award winner and two-time New York Times Book Review Editors' Choice selection
Zinsky the Obscure was chosen by Radio Boston as one of their Good Reads for the Summer!
The winning book club of Zinsky the Obscure will also win a Skype chat with the author!
_____________________________________________________
Book Clubs will find a lot to talk about when a miraculous sight takes the world by storm in Flight Behavior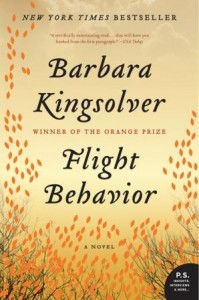 Flight Behavior by Barbara Kingsolver
Dellarobia Turnbow is a restless farm wife who gave up her own plans when she accidentally became pregnant at seventeen. Now, after a decade of domestic disharmony on a failing farm, she seeks momentary escape through an obsessive flirtation with a younger man.
She hikes up a mountain road behind her house toward a secret tryst, but instead encounters a shocking sight: a silent, forested valley filled with what looks like a lake of fire. She can only understand it as a cautionary miracle, but it sparks a raft of other explanations from scientists, religious leaders, and the media. The bewildering emergency draws rural farmers into unexpected acquaintance with urbane journalists, opportunists, sightseers, and a striking biologist with his own stake in the outcome.
As the community lines up to judge the woman and her miracle, Dellarobia confronts her family, her church, her town, and a larger world, in a flight toward truth that could undo all she has ever believed.
_____________________________________________________
This tale of romance, friendship, and healing the hurts of the past will entrance book clubs everywhere.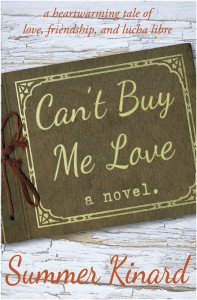 Can't Buy Me Love by Summer Kinard
Hurts from her past keep freegan Vanessa Fauchon stuck in a dead end relationship that feeds her heart about as much as an unvarying diet of stale bagels feeds her body. When she digs a scrapbook from the dumpster, the last thing she expects is to fall in love with the sexy Latino man in its pages. With the rich friendship and hands-on love of her strong and zany female friends a luchadora, a yarn-bombing midwife, a professor and foraging partner, a psychic Jewish grandmother, a savvy fellow bartender, and her deeply religious, unofficially adopted mothers, Vanessa heals from her past and begins to build the graceful life she thought was out of her reach. Her love story with Javier seems on course for a happy ending, until Vanessa is publicly humiliated and loses Javier's trust. Faced with losing Javier for good, Vanessa must decide if she's willing to fight for what she loves. This is a tale of romance, friendship, and healing the hurts of the past. Fans of The Sugar Queen (Sarah Addison Allen), The Lost Recipe for Happiness (Barbara O'Neal), or Julia's Chocolates (Cathy Lamb) are sure to wrap themselves around Can't Buy Me Love.
_____________________________________________________
Please fill out our super short registration form (<—click here) by June 30th for a chance to win a set of up to ten copies of The Exiles by Allison Lynn, Zinsky the Obscure by Ilan Mochari, Flight Behavior by Barbara Kingsolver or Can't Buy Me Love by Summer Kinard for your book club! We will randomly choose a winner at the end of the month. This contest is open to clubs in the US and Canada only (our apologies to friends in other countries). 
Best of luck!
We 
LOVE

 Book Clubs!