We have two terrific titles in our
Book Club of the Month Contest!
_______________________________
Book Clubs will enjoy discussing the mistakes and triumphs of motherhood in
Carry On, Warrior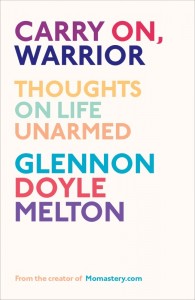 Carry On, Warrior:  Thoughts on Life Unarmed by Glennon Doyle Melton
An inspirational, sidesplittingly funny exploration of the power of living with love, forgiveness, and honesty.
In Carry On, Warrior, Glennon Doyle Melton shares new stories and the best-loved material from Momastery.com. She recounts her mistakes and triumphs with candor and humor, and gives language to our universal (yet often secret) experiences. She believes that by shedding our armor, we can stop hiding, competing, striving for the mirage of perfection, and making motherhood, marriage, and friendship harder by pretending they're not hard. In this one woman trying to love herself and others, readers find a wise and witty friend who will inspire them to forgive their own imperfections, make the most of their gifts, and commit to small acts of love that will change the world.
 Carry On, Warrior 
features new material and selections from 
Momastery.com
.
"Carry On, Warrior is a fierce, outrageous and laugh-out-loud book about emerging from addiction and living life at full-tilt."–Geneen Roth, author of Women, Food and God
"Glennon embodies all that we want to be and fear we are not: she is authentic, funny, wise, loving, and resilient in the face of extraordinary challenges. But the magic of Carry On, Warrior is that by the time you finish the book, you realize you ARE all those things, and more. It is a book that actually makes you feel that you are loved and cherished. Has a book ever accomplished anything more marvelous than that?"–Vanessa Diffenbaugh, author of The Language of Flowers
"Funny, honest, and brave, Glennon Melton joins the ranks of Anne Lamott, Sara Miles, and Barbara Brown Taylor by giving her readers a precious gift: permission–permission to doubt, permission to believe, permission to struggle, permission to laugh, permission to tell the truth, permission to do it all imperfectly. Carry On, Warrior takes its place among the best of spiritual memoirs as the kind of book readers will want to return to again and again. It reads like a conversation with a close friend, but impacts the heart like an encounter with the divine."–Rachel Held Evans, author of Evolving in Monkey Town and A Year of Biblical Womanhood
_________________________________________________________________
How does a man really feel after the break-up of a 20-year marriage? Book clubs will find answers in 
My Year as a Clown
 
My Year as a Clown by Robert Steven Williams
"Robert Steven Williams has written a novel of tremendous honesty, humor, and insight…does for men what Bridget Jones's Diary did for women."
— Joy Johannessen, editor, Alice Sebold, Amy Bloom, Michael Cunningham and My Year as a Clown
"Williams' characters give us the real-deal: a gut wrenching and often humorous look, showing us the everyday horrors of what it's like to start all over again as one approaches middle age."
— Suzan-Lori Parks, novelist, playwright and screenwriter. Winner, 2002 Pulitzer Prize for Drama for Topdog/Underdog
With MY YEAR AS A CLOWN, Robert Steven Williams introduces us to Chuck Morgan, a new kind of male hero—imperfect and uncertain—fumbling his way forward in the aftermath of the abrupt collapse of his 20-year marriage.
Initially, Chuck worries he'll never have a relationship again, that he could stand in the lobby of a brothel with a hundred dollar bill plastered to his forehead and still not get laid. But as the emotionally raw, 365-day odyssey unfolds, Chuck gradually relearns to live on his own, navigating the minefield of issues faced by being suddenly single—new routines, awkward dates, and even more awkward sex.
With My Year As a Clown, Robert Steven Williams will attract fans of the new breed of novelists that includes Nick Hornby, Jonathan Tropper, and Tom Perrotta, delivering painfully honest glimpses into the modern male psyche while writing about both sexes with equal ease and grace in a way that's hilarious and heartbreaking at the same time.
Robert Steven Williams is the recipient of the Silver Medal for popular fiction in the 2013 Independent Book Publisher Awards for My Year as a Clown.
Robert is also available for the contest winner via Google+ Hangouts to web conference with your book club to discuss My Year as a Clown as well as explore the themes of post break-up recovery, loyalty, relationships, writing, faith, football too.
_____________________________________________________
Please fill out our super short registration form (<—click here) by May 31st for a chance to win a set of up to ten copies of Carry On, Warrior by Glennon Doyle Melton or up to ten copies of My Year as a Clown by Robert Steven Williams for your book club! We will randomly choose a winner at the end of the month. This contest is open to clubs in the US and Canada only (our apologies to friends in other countries). 
Best of luck!
We 
LOVE

 Book Clubs!