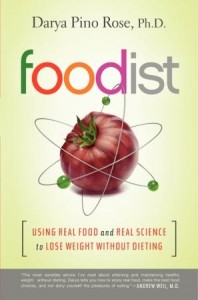 About Foodist
• Hardcover: 336 pages
• Publisher: HarperOne (May 7, 2013)
Darya Pino Rose, a neuroscientist and the creator of the popular blog SummerTomato.com, offers a first-of-its-kind "Healthstyle" book showing readers how to ditch the diets in order to achieve lasting weight loss, simply through the love of food.
In Foodist: Using Real Food and Real Science to Lose Weight Without Dieting, she introduces a revolutionary new idea: the best way for sustainable weight loss is to eat real food.  Cutting through the typical diet jargon—what to eat, how much to eat, and when to eat it—Foodist offers a proven solution to lasting weight control. Taking readers through the nutrition and psychology involved in not just eating, but eating well, Rose teaches us how to incorporate fresh, seasonal, and delicious ingredients into every meal—and reveals how to move beyond the daily obstacles and bad habits to keep the tasteless, empty, and unsatisfying food-like products off your plate.
According to Rose, losing weight should not be about sacrifice, deprivation, and willpower. We need to look at mealtime as a celebration rather than a battle. Offering a different way of looking at food—and helping readers make decisions with a clear understanding of how to optimize health and happiness—she shows us that enjoying good food is the key to sustainable weight loss.
Including tips, checklists, and recipes, she offers:
10 simple ways to eat less without noticing
A guide to willpower—and the best times to use it
How to shop for healthy food on a budget
The 10 most overrated "health" foods
Essential tools, groceries, and pantry items to get you started in the kitchen
Smart, accessible, and engaging, Foodist will help you tailor your eating habits to match your lifestyle and food preferences, making sure the path you choose works for you in the short and long-term. Not only will you permanently build healthier habits into your daily life, you'll lose weight and enjoy food like never before.
About Darya Pino Rose
Darya Pino Rose is the creator of Summer Tomato, one of TIME's 50 Best Websites. She received her Ph.D. in neuroscience from the University of California, San Francisco, and her bachelor's degree in molecular and cell biology from UC Berkeley.
Darya spends most of her time thinking and writing about food, health, and science. She eats amazing things daily and hasn't even considered "going on a diet" since 2007. Darya is now a dedicated foodist and advocate of local, seasonal foods.
Find out more about Darya at her website, summertomato.com, and connect with her on Facebook and Twitter.
Darya's Tour Stops
Tuesday, May 7th: Runner's Tales
Wednesday, May 8th: The Growing Foodie
Thursday, May 9th: A Fit and Spicy Life
Tuesday, May 14th: The Tippy Toe Diet
Tuesday, May 21st: 110 Pound and Counting
Monday, May 27th: Savvy Eats
Tuesday, May 28th: Food and Fitness 4 Real
Wednesday, May 29th: Adventures of the Yankee Kitchen Ninja
Tuesday, June 4th: Keeping the Pounds Off
Wednesday, June 5th: Sidewalk Shoes